Missouri S&T to celebrate National STEM Day Nov. 8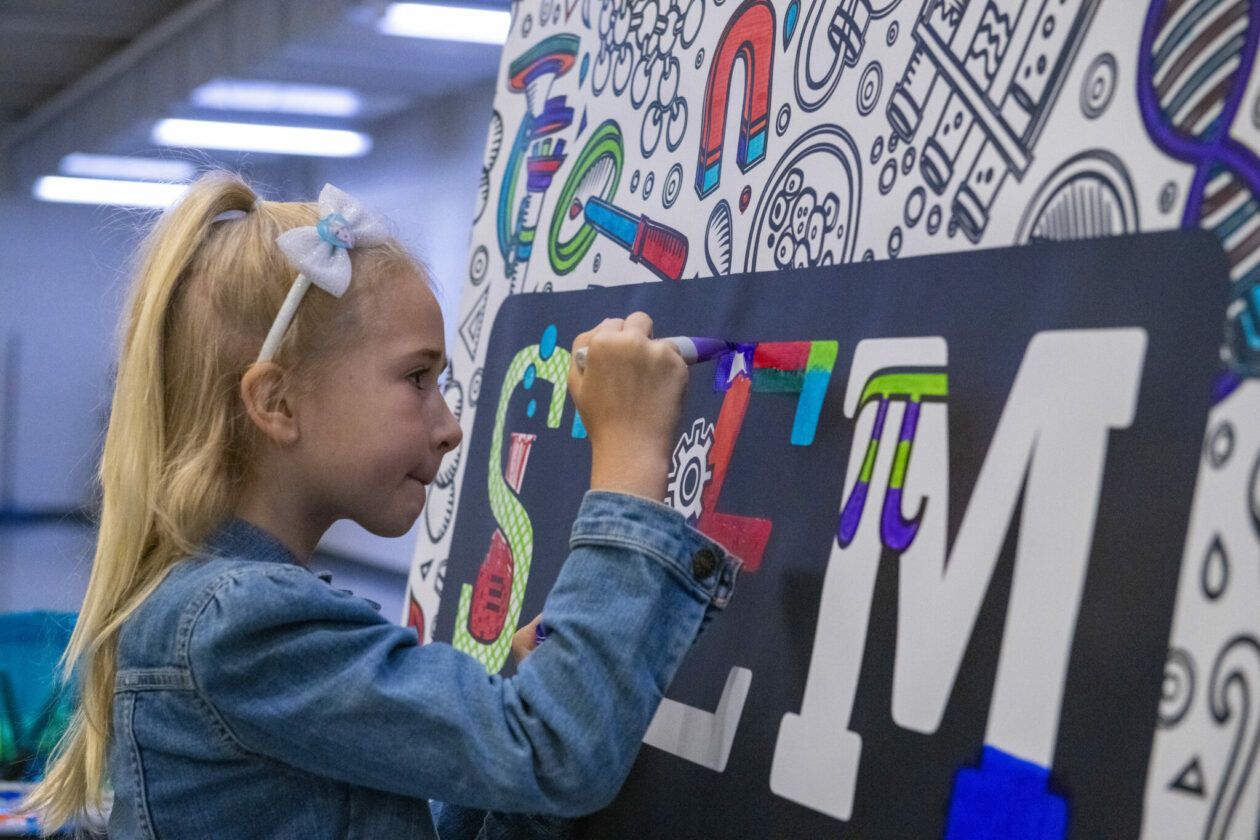 A theatrical demonstration of science experiments with audience participation, tours of a home automated by smart devices, and a workshop where powder is transformed into permanent art. These are just a few of the experiences awaiting over 900 students in grades kindergarten-12 who are signed up for Missouri S&T's celebration of National STEM Day, which takes place 9 a.m.-2 p.m. Tuesday, Nov. 8. The acronym STEM stands for science, technology, engineering and math.
"Our goal is to get kids engaged in STEM as early as possible," says Roxanne Hanna, associate director of the Kummer Center for STEM Education at Missouri S&T, which is sponsoring the event. "We've put together a day of activities that show young students that one of the most important parts of learning about STEM is having fun."
Upon checking in at Leach Theatre at 9 a.m., students will receive a badge, a pamphlet with a details of each activity and a campus map with locations highlighted. Supervised groups of up to 15 students will self-guide their participation.
The day's activities, led by Missouri S&T faculty and staff and community partners, reflect the breadth of STEM. Activity leaders include Dr. Garry Grubbs, associate professor of chemistry, who will take the stage for live science experiments that make pickles glow and show the power of electricity. Dr. David Bayless, professor and chair of mechanical and aerospace engineering and a team from the department will lead sessions that include building robots and rocket demonstrations. Dr. Catherine Johnson, Robert H. Quenon Associate Professor of Mining Engineering, will lead "Design, Create, Initiate," a workshop during which students will create designs with powder that is then burned to create permanent art.  
Hanna says the majority of the more than 900 students registered for the STEM Day celebration attend schools in small, rural districts or are homeschooled, which she says underscores the urgency of Missouri S&T's focus on STEM.
"Science equipment is expensive, so students from bigger districts with bigger budgets tend to have more opportunities," she says. "What we want to do on National STEM Day is stimulate the minds of children who may not have access to STEM education on a daily basis. We want to give those students an opportunity to engage with science without it being a burden on their district, and show them what's possible beyond what they've already imagined."
About Missouri University of Science and Technology
Missouri University of Science and Technology (Missouri S&T) is a STEM-focused research university of over 7,000 students. Part of the four-campus University of Missouri System and located in Rolla, Missouri, Missouri S&T offers 101 degrees in 40 areas of study and is among the nation's top 10 universities for return on investment, according to Business Insider. S&T also is home to the Kummer Institute, made possible by a $300 million gift from Fred and June Kummer. For more information about Missouri S&T, visit www.mst.edu.