Board of Curators Student Representative Remington Williams remembered as strong advocate, accessible leader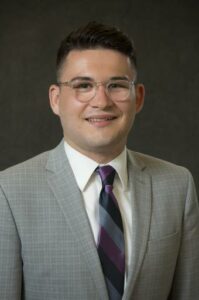 Remington Williams, student representative to the University of Missouri Board of Curators who died in a car accident last week, is remembered by Missouri S&T Chancellor Mo Dehghani and former student representative Avery Welker as a strong leader, engaging personality, and advocate for students at Missouri S&T and throughout the University of Missouri System.
Williams, 25, died in a car accident last Wednesday, June 8. He graduated from the University of Missouri-Kansas City School of Law in May and was also pursuing an MBA degree from the University of Missouri-St. Louis. Missouri Gov. Mike Parson appointed Williams as student representative to the Board of Curators in July 2020. As student representative, Williams served as the students' voice to the governing body of the UM System, which includes the University of Missouri-Columbia, Missouri S&T, UMKC and UMSL.
Related: Celebrating an Exceptional University Leader, UMKC Today
"Remington dedicated himself to representing every student of all four universities," Dehghani says. "He was a true advocate who sought to understand and present student perspectives and concerns to the curators. He had a keen intellect and a welcoming, engaging personality; he will be greatly missed by all who knew him."
"Remington was an exceptional student-leader, always accessible, jovial, and determined, setting the gold standard in whatever he did," says Welker, a three-time Missouri S&T graduate who served as student representative from 2018 until Williams' appointment and is now a third-year law student at MU. "Above all, he was a first-class friend, and I will miss him greatly. My heart goes to his wonderful family and vast network of friends and acquaintances."
While studying law at UMKC, Williams was a member of the Law Review and Honor Court. He earned a bachelor of science degree in business administration and Spanish from Georgetown College in Georgetown, Kentucky, in 2019. At Georgetown, he served as student body president, president of his fraternity and vice president of the Georgetown Activities Council. Williams was also a proud graduate of the National Leadership Conference in Shelby, Michigan.
Services for Williams will be held at 2 p.m. Wednesday, June 15, at St. Andrew's Episcopal Church, 6401 Wornall Terrace, Kansas City, Missouri. A reception will follow at the UMKC Student Union, Room 401.
About Missouri University of Science and Technology
Missouri University of Science and Technology (Missouri S&T) is a STEM-focused research university of over 7,200 students. Part of the four-campus University of Missouri System and located in Rolla, Missouri, Missouri S&T offers 101 degree programs in 40 areas of study and is among the nation's top 10 universities for return on investment, according to Business Insider. S&T also is home to the Kummer Institute, made possible by a $300 million gift from Fred and June Kummer. For more information about Missouri S&T, visit www.mst.edu.