Missouri S&T honors alumni for professional distinction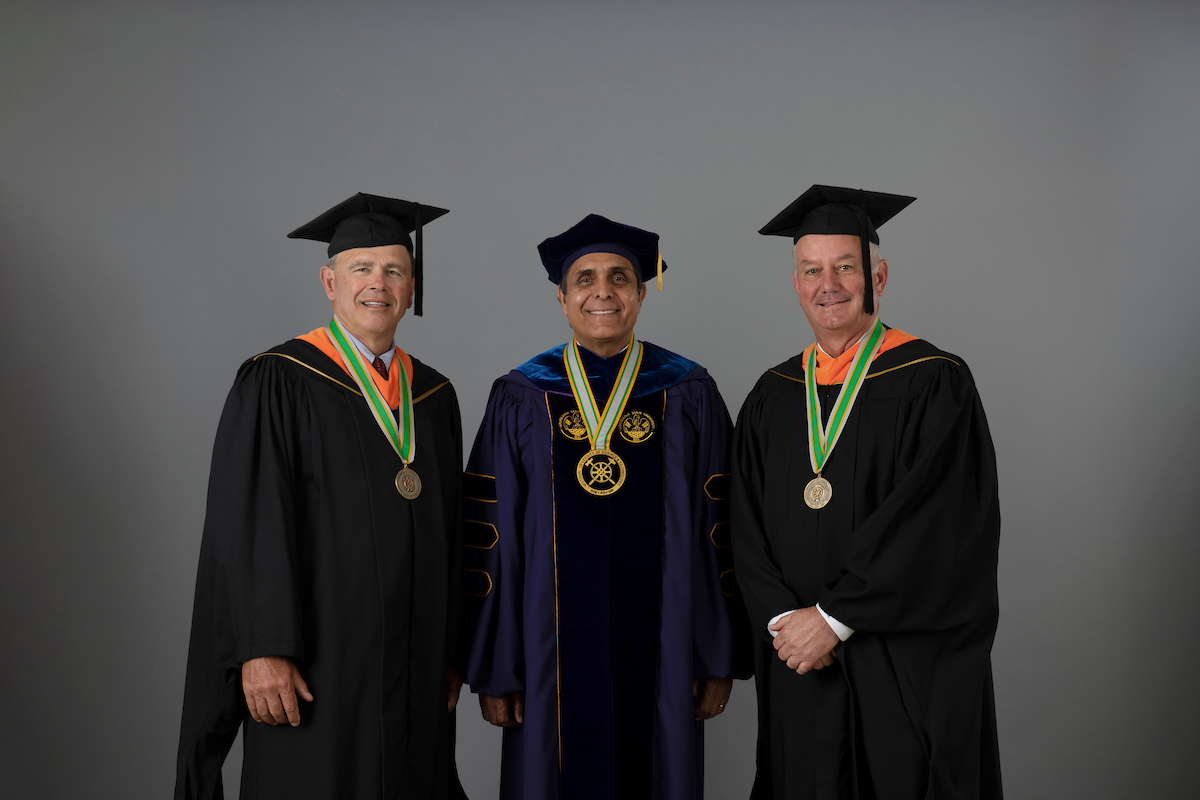 Missouri University of Science and Technology presented the Award of Professional Distinction to two alumni during a spring commencement ceremony held Saturday, May 14. The award recognizes outstanding Missouri S&T alumni for professional achievement.
The following S&T alumni received the Award of Professional Distinction:
John Andrew Komlos of St. Louis, vice president of ARCO Construction Co., received the Award of Professional Distinction in civil engineering. He earned a bachelor of science degree in civil engineering from Missouri S&T in 1985 and began his career as a project engineer for The R.W. Murray Co., then joined ARCO at its inception in July 1992. He oversees business development operations for the commercial and industrial office and has played an integral role in the company's success for the past 29 years.
At Rolla, Komlos was involved in several organizations, including serving as president of Beta Sigma Psi fraternity, where he is still an active alumni member. He also served as president of the Interfraternity Council and counts being thrown into Alice as a Student Knight in the Order of St. Patrick as his fondest college accomplishment.
Komlos is a member of S&T's Order of the Golden Shillelagh and past president of the Academy of Civil Engineers. He is a registered professional engineer in Missouri and member of the Engineers Club of St. Louis and is affiliated with the Industrial Asset Management Council and the National Association for Industrial and Office Parks. He is a member of the Busey Bank Advisory Board and is on the board of Lutheran Senior Services. Komlos' charitable activities include serving as a board member of YMCA Trout Lodge/Camp Lakewood and on the leadership committee of Fair St. Louis. He is a past chair of the Lutheran High School Association Board of Trustees and has chaired the Lutheran Family and Children Services Auction.
His wife, Linda, graduated from Missouri S&T with a degree in mechanical engineering. Their children, Ellen and Jack, also have degrees in mechanical engineering.
Jerry Lynn Pyatt of Eureka, Missouri, former president and CEO of The Doe Run Co., received the Award of Professional Distinction in mining engineering. He studied metallurgy at Missouri S&T for five years while working, after earning a bachelor's degree in agriculture with a minor in chemistry from the University of Missouri-Columbia. He is also a graduate of the Stanford University Executive Program.
Pyatt began his career with Doe Run predecessors St. Joe Minerals Corp. and Pea Ridge Iron Ore Co. He was director of quality assurance and metallurgy, and spent two years as plant superintendent at Pea Ridge then served 11 years as Doe Run's chief operating officer. Earlier, Pyatt served as general manager for Doe Run's resource recycling facility. He helped launch the company's secondary smelter as its chief metallurgical coordinator. The site recycles more than 13.5 million lead-acid batteries annually, making it a vital component to satisfying the domestic demand for secondary lead. Promoted to president and CEO in 2012, Pyatt guided Doe Run's strategic direction, exploration, research and technology projects, and mining and metals operations. The company has an annual economic impact in Missouri of over $1 billion. In 2014, Pyatt testified before the U.S. House of Representatives' Natural Resources Committee
Subcommittee on Energy and Mineral Resources about the need to protect the nation's domestic minerals supply. He retired from Doe Run in 2021.
Pyatt has served on various industry boards and committees, including the Battery Council International board of directors, and has previously served on the International Lead Association's board of directors. Pyatt remains grateful for the longtime partnership between Doe Run and S&T.