Missouri S&T to break ground on Innovation Lab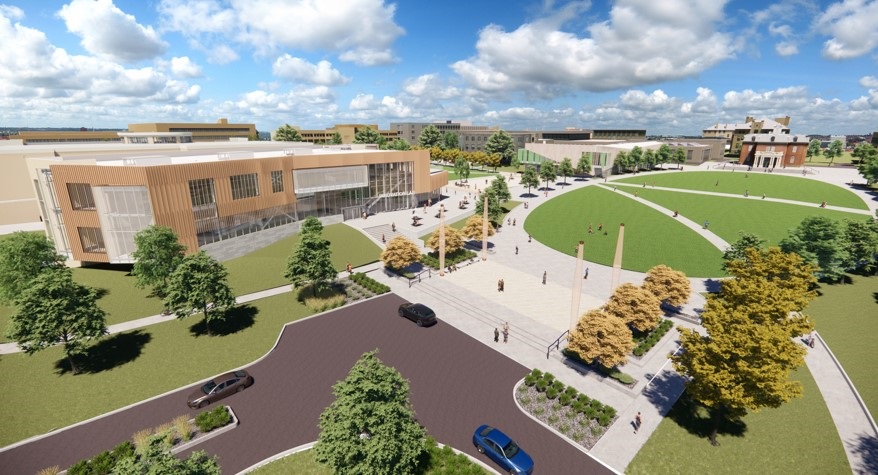 A groundbreaking ceremony for the 50,000-square-foot Innovation Lab at Missouri University of Science and Technology will begin at 8 a.m. Thursday, April 21, directly south of the Havener Center on the Missouri S&T campus in Rolla. The campus community and the public are invited. The event will also be livestreamed for those who are unable to attend in person.
When completed, the Innovation Lab will serve as a home for student innovation, creativity and discovery, says Missouri S&T Chancellor Mo Dehghani.
"From its inception, the Innovation Lab has been designed to foster a level of technological innovation, possibility thinking and interdisciplinary collaboration that is truly transformational," says Dehghani. "The Innovation Lab will be a place where our students come together to acquire the knowledge and insights that will equip them to have a meaningful impact in a rapidly evolving global economy. The building is a testament to the commitment we made to Fred and June Kummer to infuse the S&T educational experience with entrepreneurial thinking."
Construction of the Innovation Lab is fully funded by private gifts, including funds generated by the transformative $300 million gift from June and Fred Kummer in 2020. Fred Kummer was a 1955 civil engineering graduate of Missouri S&T and founder of HBE Corp., a St. Louis-based firm that became a world leader in the design and construction of health care facilities. He also founded the Adam's Mark Hotels & Resorts.
Other Missouri S&T alumni and supporters have provided significant gifts toward the project.
Speaking at the ceremony will be Darryl M. Chatman, chair of the University of Missouri Board of Curators, University of Missouri System President Mun Y. Choi, and Dehghani. Members of the University of Missouri Board of Curators will also participate in the event. The curators' spring meeting will be held in the Havener Center immediately following the ceremony.
The Innovation Lab is scheduled for completion in Fall 2023. The building sets the stage for increasing experiential learning at S&T with more than 32,000 square feet of programmable spaces designed to support creativity and community building. The Innovation Lab will feature active learning classrooms, labs designed to encourage and support cross-disciplinary work, the university's Student Success Center, maker spaces, spaces for collaboration and group and individual study, the Innovation Forum, and a studio equipped for digital content creation.
The Innovation Lab also reflects S&T's commitment to sustainability, with spaces throughout designed to foster student engagement and teamwork while also dramatically reducing the consumption of water and energy.
The Innovation Lab will be adjacent to S&T's new Arrival District, which will connect the entry from Interstate 44 to the campus through a series of landscape and building projects. A groundbreaking ceremony for the Arrival District is planned for this summer.
About Missouri University of Science and Technology
Missouri University of Science and Technology (Missouri S&T) is a STEM-focused research university of over 7,200 students. Part of the four-campus University of Missouri System and located in Rolla, Missouri, Missouri S&T offers 101 degrees in 40 areas of study and is among the nation's top 10 universities for return on investment, according to Business Insider. S&T also is home to the Kummer Institute, made possible by a $300 million gift from Fred and June Kummer. For more information about Missouri S&T, visit www.mst.edu.