Missouri S&T students forge a win at international bladesmithing competition
Posted by Nancy Bowles

On April 6, 2022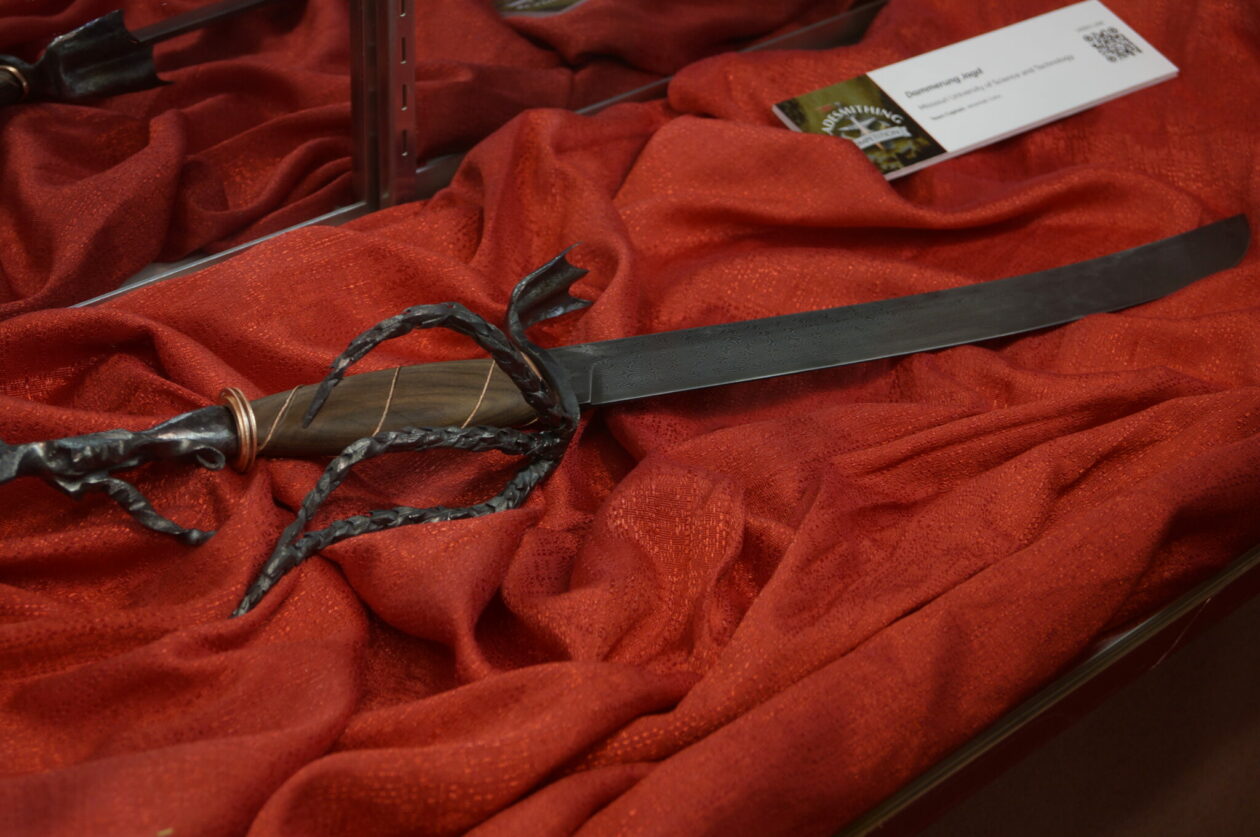 Overcoming hurdle after hurdle, a group of Missouri S&T students won the grand prize at the 2022 Wadsworth-Sherby TMS Bladesmithing Contest, an international competition sponsored by The Minerals, Metals and Materials Society (TMS). The students designed and handcrafted a sword, filmed a video, designed a poster and wrote a report about their process.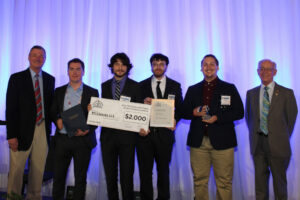 Five Missouri S&T students make up the bladesmithing team:
Jeremiah Cohn, a junior in metallurgical engineering from Palo Alto, California
Michael Fitzmaurice, a senior in metallurgical engineering from Wildwood, Missouri
Kyle Hayden, a senior in metallurgical engineering from Gladstone, Missouri
Hans Pommerenke, a Ph.D. student in materials science and engineering from Rolla, Missouri
Richard Tobey, a junior in chemical engineering from Cape Girardeau, Missouri.
All but Tobey, who was employed in a co-op program, traveled to Anaheim, California, in early March to compete in the event as a part of the 2022 TMS meeting, one of the largest metals and materials technical conferences in the United States. They were accompanied by their advisor, Dr. Joseph Newkirk, professor of metallurgical engineering at Missouri S&T.
Although team members had drawn up some preliminary designs in 2020 when the competition was canceled due to COVID-19, they still encountered hurdles that made their entry anything but a slam-dunk. For instance, the forge they needed to heat the steel needed maintenance.
"We had to wait about a month for ceramics we needed to fix the forge because there was such a limited supply," says Hayden.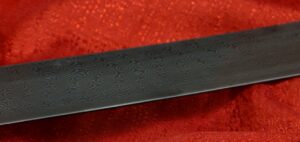 The blade was crafted by making a Damascus steel, which results in a strong blade with an intricate design. The team welded together layers of 15N20 and 1095 steel that react differently when dipped into acid. They then twisted and rewelded the layers. The acid bath darkened the 1095 and revealed the beautiful "Turkish twist" design. Another hurdle loomed.
"Our belt grinder was unavailable at the time," says Cohn. "Richard Tobey took the blade to his brother's workshop three hours away and used the grinder there."
Grinding done, the team heat-treated the blade and quenched it in a vat of canola oil.
"It bent like a banana," says Cohn. "We screamed. Then we clamped the blade into a vise and used an oxyacetylene torch to straighten it bit by bit."
The sword's handle is made of Honduran rosewood accented with copper and fitted into a hilt with a whimsical dragon design. The guard was formed by heating square bars of metal, cutting into them at a 45-degree angle and twisting them to form the dragon's "scales." When putting the handle and pommel to the blade, there was a three-sixteenths-inch gap. What's another hurdle to this team?
"I took the sword home to California over winter break," says Cohn. "I found an antique copper coin that was exactly three-sixteenths inch thick. We punched a hole in it and put the sword together."
As the team assembled the sword the night before the competition, they discovered that the antique-coin spacer didn't make the trip to Anaheim. The team would not be daunted.
"We walked down to Auto Zone about two hours before the deadline and bought some copper washers and a cheap soldering iron," says Hayden. "It worked."
During the awards ceremony, team members waited to hear their name. The citations were announced with no mention of S&T. Then South Dakota School of Mines won second place, so the S&T team knew they either won it all or nothing at all. They won.
The team is already looking ahead to the next competition and the possibility of creating their own alloy, which would be one of a few or perhaps the first alloy made specifically for bladesmithing. If history is a guide, they will overcome any challenge that comes their way.
Looking for something?
CASE Department News
CEC Department News
Kummer College Department News