Missouri S&T Academy of Civil Engineers inducts nine new members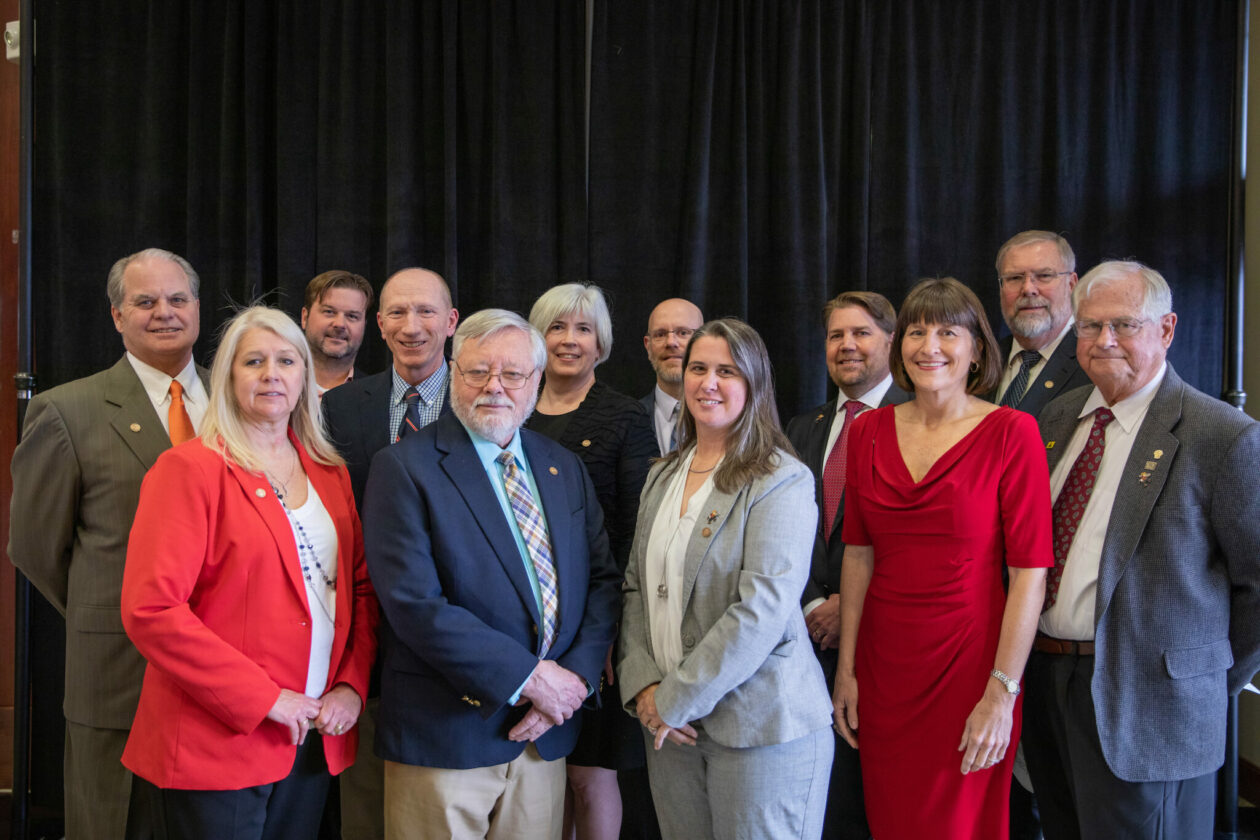 Nine professionals with ties to Missouri University of Science and Technology were inducted into the Missouri S&T Academy of Civil Engineers during an induction ceremony held Thursday, April 7, in Rolla. Two academy members who were inducted in 2021 but were unable to attend the ceremony were also recognized.
The academy recognizes outstanding alumni for their professional achievement and success. It also provides support and experience to help the civil, architectural and environmental engineering department at Missouri S&T to reach its collective mission and values.
New members are:
Scott Cole of Fort Worth, Texas, vice president and principal for Freese and Nichols Inc., earned a bachelor's degree in civil engineering from Missouri S&T in 2001, followed by a master's degree in engineering management from the University of Kansas. Cole leads a team of over 100 engineers, scientists, and technical professionals for the 127-year-old full-service engineering firm. He has led more than 100 water and wastewater projects including hydraulic studies, master plans, capital improvement plans (CIPs) and cost recovery studies and is a nationally recognized specialist in water system modeling and a member of the American Water Works Association's (AWWA) Engineering Modeling Applications Committee that establishes standards for hydraulic modeling. Cole, who co-authored AWWA's "M32 Computer Modeling of Water Distribution Systems" manual, has conducted hydraulic model workshops for utilities across the United States and presented over 40 technical papers at various conferences and seminars. He is a licensed professional engineer in Arkansas, Colorado, Florida, Georgia, Missouri, Oklahoma, North Carolina and Texas.
Kim Curry of Kansas City, Missouri, senior associate civil engineer for Burns & McDonnell, earned a bachelor's degree in civil engineering from Missouri S&T in 1986. Since joining Burns & McDonnell, Curry has enjoyed growing her career from a civil engineer to a transportation engineer managing and designing highly visible regional highway projects, including two-lane rural highways, expressways and freeways. Her experience has provided opportunities to participate in innovative designs, such as the first roundabout and the first diverging diamond interchange on the Kansas highway system. She is currently using her experience serving as the program manager consultant's engineering manager for the Kansas Department of Transportation's Eisenhower Legacy Transportation Program. Curry uses her time and talents to encourage and mentor students in STEM activities partnering with ASCE, Burns & McDonnell and the Women's Transportation Seminar (WTS). She also volunteers for professional and community-based organizations and was recently named WTS Kansas City Chapter's 2020 Member of the Year. For her many efforts, Kim received the Greg Graves Community Leadership Award in 2016.
Shawna L. Erter of St. Charles, Missouri, vice president of geotechnical engineering for SCI Engineering Inc., earned a bachelor's degree in geological engineering with a geology minor in 2000 and a master of engineering degree in geotechnical engineering in 2003, both from Missouri S&T. She earned Diplomat of Geotechnical Engineering certification in 2019. Erter has worked for SCI Engineering Inc. for more than 20 years. She was named ASEE's St. Louis Section Outstanding Younger Member in 2005 and was part of the Geotechnical Institute Section named 2019 Best Chapter. In 2020, she was one of CNR's Top 20 Women in Construction, and received MSPE's 2021 Outstanding Engineer in Private Practice Award. Erter chaired Younger Member group and Geo-Institute St. Louis Section committees, served as 2014-15 St. Louis Section Board president, was a member of the Geo-Institutes Site Characterization and Ground Modification Committee, and was Region 7 governor. Erter was named fellow in 2019. She serves on the ACEC Missouri board, the National ACEC Executive Committee for Geoprofessionals, two Geoprofessional Business Association (GBA) committees and was part of the task force to elevate the profession. She is active in the HBA and APWA St. Louis. A registered professional engineer in over 20 states, Erter conducts geotechnical investigations and evaluations, supervises geotechnical and construction projects, authors and reviews geotechnical reports, and provides technical guidance to staff across the Midwest. In 2010, she was project manager for the Patients First Hospital addition, which won the ACEC Engineering Excellence Award, and she has worked on some iconic St. Louis landmarks, including the Gateway Arch, Ballpark Village and the National GeoSpatial Agency.
R. Scott Goehri of Olathe, Kansas, retired senior vice president and transportation professional services director of HDR Inc., earned a bachelor's degree in civil engineering from Missouri S&T in 1983. He also earned master of arts degrees from Webster University in business management and computer resources management. Goehri began his career at the Missouri Pacific Railroad and Union Pacific Railroad before moving on to Sverdrup Corp., Intergraph Corp., and finally HDR. He is a recognized national leader in his field and served in multiple board, officer and committee roles in the American Railway Engineer and Maintenance of Way Association, National Railroad Contractors and Maintenance Association, the American Association of Railroads, and the Railroad Transportation Engineering Advisory Board at Penn State, Altoona. He is a member of ASCE, the National Society of Professional Engineers, American Railway Developers Association, and American Shortline Railroad Association. Goehri has been honored by ASCE with two certificates of appreciation and by HDR as the Transportation Project Manager of the Year in 2008. He has received many HDR Pathfinders awards, a recognition by his peers at HDR, including a Crystal Award for work he completed in Tanzania in association with the BNSF railroad. He also served as director for Fluor/HDR Global Design Consultants LLC focusing on design-build transportation projects with construction values over $500 million. In 2014 the National Railroad Contractors and Maintenance Association elected him to its national board. Goehri worked on legislation related to railroad transportation infrastructure and has given lectures and professional chapter talks at S&T and for other university students.
Thomas Gredell of Jefferson City, Missouri, founder and president of GREDELL Engineering Resources Inc., earned bachelor's and master's degrees in civil engineering from Missouri S&T in 1978 and 1980, respectively. He began his career at the Missouri Department of Natural Resources as a staff solid waste permit engineer and left as chief of the solid waste engineering section, then went to work for Environmental Concepts Inc. (ECI) advancing to vice president before Barr Engineering bought ECI in 1998. In 2001, he formed Gredell Engineering, which continues today. In 2014, Gredell joined his two brothers as co-owner and vice president of Vista Manufacturing Co., a precision manufacturing, machining and electronics assembly company in Kansas City, Kansas. He has held positions of committee chair, officer and board member in the Jefferson City Chapter of Missouri Society of Professional Engineers, the Missouri Waste Control Coalition, and American Council of Engineering Companies-Missouri. He is also active in the Jefferson City Chamber of Commerce, the East Side Business Association and Missouri Conservation Federation. MSPE's 1984 Young Engineer of the Year, he supports registration and licensure and follows the activities of the Missouri Legislature as a member of MSPE and ACEC-MO. At S&T, Gredell was an officer in Kappa Sigma fraternity and he has served on its alumni house corporation since the early 2000s. Gredell Engineering designed the civil site plan for the 2011 house renovation. He was a member of Phi Eta Sigma, Tau Beta Pi and Theta Tau Omega and was named freshman of the year. He played basketball his freshman year when the 1975-76 team won the MIAA conference championship and earned a berth to the NCAA Division II Tournament. The team was inducted into the Miner Athletics Hall of Fame in 1999.
Kristen Leathers-Gratton of Overland Park, Kansas, president of Affinis Corp., earned a bachelor's degree in civil engineering from Missouri S&T in 1990. She has spent her entire career at Affinis Corp., formerly part of Larkin Associates. In 2019, and was named president of the 40-person civil engineering and surveying company. Her career has focused on design and construction management of municipal streets and stormwater drainage projects. Working mostly for municipal clients, she helps neighborhoods find new life and solve problems that improve the quality of life for those residents. Leathers-Gratton is active in a number of professional and civic organizations including the American Council of Engineering Companies in Missouri serving on its board of directors and the Transportation and Kansas City Liaison committees. She is also a member of American Public Works Association, Kansas Society of Professional Engineers, Overland Park Chamber of Commerce's Public Policy Committee and the Engineer's Foundation of Kansas board, which focusses on fundraising for STEM-related programs. She also serves on the local leadership board of the greater Kansas City chapter of the American Lung Association. In 2021 she was recognized in the Kansas City Business Journal's 20 To Know in Engineering, and she is enrolled in the Greater Kansas City Chamber of Commerce Centurion's program.
Nancy Matteoni of Florissant, Missouri, project principal at Parsons Corp., earned a bachelor's degree in civil engineering from Missouri S&T in 1990. She began her career with Sverdrup/Jacobs Engineering Group as a bridge engineer, moved to Horner & Shifrin as a senior structural engineer and finally to Parsons Corp., ascending to her current role as project principal. Some of Matteoni's notable projects include MoDOT's "New I-64 Project," the Indiana Toll Road 80/90, the I-70 DB in Columbia, Missouri, SH183 Managed Lanes DB in Dallas, the Hurricane Deck Bridge Replacement in Camden County, Missouri; and her work on the Deer Creek Sanitary Systems projects for the Metropolitan St. Louis Sewer District, which includes a large water storage tunnel and pump station. Her work on this tunnel was highlighted in the December 2019 issue of Missouri S&T Magazine. Matteoni mentors prospective female students through school programs, scouts and job shadowing. She has been active in the Boy Scouts of America since 2011.
Dr. Jeff Neemann of Irvine, California, area director and associate vice president of Black & Veatch, earned a bachelor's degree in civil engineering in 1996 and a master's degree in environmental engineering in 1998, both from Missouri S&T, then earned a Ph.D. in civil engineering from the University of Kansas in 2016. Since joining Black & Veatch in 1998, he has been known for his technical expertise, mentorship of younger professionals, leadership in expanding business offerings, and focus and responsiveness to clients. In the water and wastewater world, Neemann is a known leader in research and applications of novel approaches that have seen wide adoption, such as the use of chlorine and ammonia prior to ozonation to reduce bromate formation. He served as president of the International Ozone Association, co-inventor on patents, and his role as a frequent speaker and moderator at events around the world.
Dave Vonarx of Hillsboro, Missouri, president and owner of VonArx Engineering Inc., earned a bachelor's degree in civil engineering from Missouri S&T in 1989, and a master's in civil engineering from Purdue University in 1993. He started his civil engineering career with the Indiana Department of Engineering and returned to the St. Louis area in 1993 to specialize in site development, transportation, storm water, and structural design consulting. As an engineering entrepreneur in South County and Jefferson County, Vonarx has faithfully served municipal, institutional and private clients in the region for three decades. He is a member of ASCE and the Engineers Club of St. Louis and is an associate member of the Southern Gateway Association of Realtors. Vonarx has also been active at S&T since graduation. He is a member of the 1985 men's cross country team, which was inducted in to the S&T Athletics Hall of Fame, and he currently serves as president-elect of the S&T Academy of Miner Athletics. He chaired the inaugural event for the Mullin/Elmore Leadership in Athletics speaker series that brought Olympian and Boston Marathon champion Des Linden to campus in November 2021, and he routinely returns to the S&T campus to participate in alumni events.
The following academy members, who were inducted in 2021 but couldn't attend the ceremony, were recognized during this year's event. They are:
David Bufalo of Denver, Colorado, who retired from the city and county of Denver public works department, earned a bachelor's degree from Missouri S&T in 1966. Over a 40-year career, Bufalo has been involved in virtually every aspect of the management of the design and construction of buildings, highways, heavy construction, and information management systems. He has been employed by Fortune 500 corporations, private consultants, federal, state and local governments, and Engineering News Record top 400 construction contractors. He has managed projects in Missouri, Arizona, California, Montana, Alaska, Canada and Colorado. Prominent projects in Denver include the Denver Central Library, the Denver Art Museum Expansion, the expansion of the Colorado Convention Center, the Red Rocks Visitor's Center, the Wellington E. Webb Municipal Office Building and the Ellie Caulkins Opera House. He is also a past director of the Denver building department. Bufalo's responsibilities with the city of Denver also included managing the final construction effort, except for the baggage handling system, to open Denver International Airport in February 1995. He was primarily responsible for creating a materials recycling program at the former Stapleton International Airport, which saved the city approximately $95 million in demolition costs, a project that was named Colorado Recycling Project of the Year. He also managed the city's Y2K remediation program. While on active duty with the U.S. Army he performed engineering facilities surveys on temporary duty in Germany, South Korea, Taiwan, Okinawa, the Eastern seaboard and Hawaii.
David Flanagan of Madison, Wisconsin, a mediator, arbitrator and reserve circuit court judge, earned a bachelor's degree in civil engineering from Missouri S&T in 1967 and a juris doctor degree from the University of Wisconsin Law School in 1974. He is a professional engineer registered in Wisconsin. In 1968 Flanagan earned a commission as an officer in the U.S. Navy Civil Engineer Corps. After completing the Navy's Deep Sea Diving program he served three years active duty as the diving officer designing and supervising underwater construction for a Seabee battalion on various projects including deployment to South Vietnam. After law school, he spent 24 years trying jury trials as an assistant attorney general. His work included criminal prosecution, construction and product liability matters as well as professional negligence cases. He was elected circuit court judge three times, serving from 1999 to 2016, with responsibility for criminal, civil and juvenile cases. He continues to serve as a reserve judge. While on the bench, Flanagan was invited to be a guest lecturer at the High Court, Shanghai, China, and was selected to participate in the International Judicial Academy, Den Haag, Netherlands. He founded the Veterans Treatment Court in Dane County, Wisconsin, and continues to serve as a mentor in that program. Since 2016, Flanagan has facilitated resolution of pending lawsuits by providing mediation and arbitration assistance. He represents veterans, as a volunteer, in disability claim cases before the Court of Appeals for Veterans Claims and serves as a circuit judge as needed. He currently serves as a faculty member with legal education programs in Kenya, Tanzania and the Czech Republic. He is a member of the Wisconsin Society of Professional Engineers and the National Society of Professional Engineers and has spoken on legal issues at their annual conventions.
Need to get in touch with our media relations team? For non-urgent requests, please email news@mst.edu or call 573-341-4328. Or contact one of the staff members below during or after office hours.