Gayla Olbricht is Missouri S&T's 2022 Woman of the Year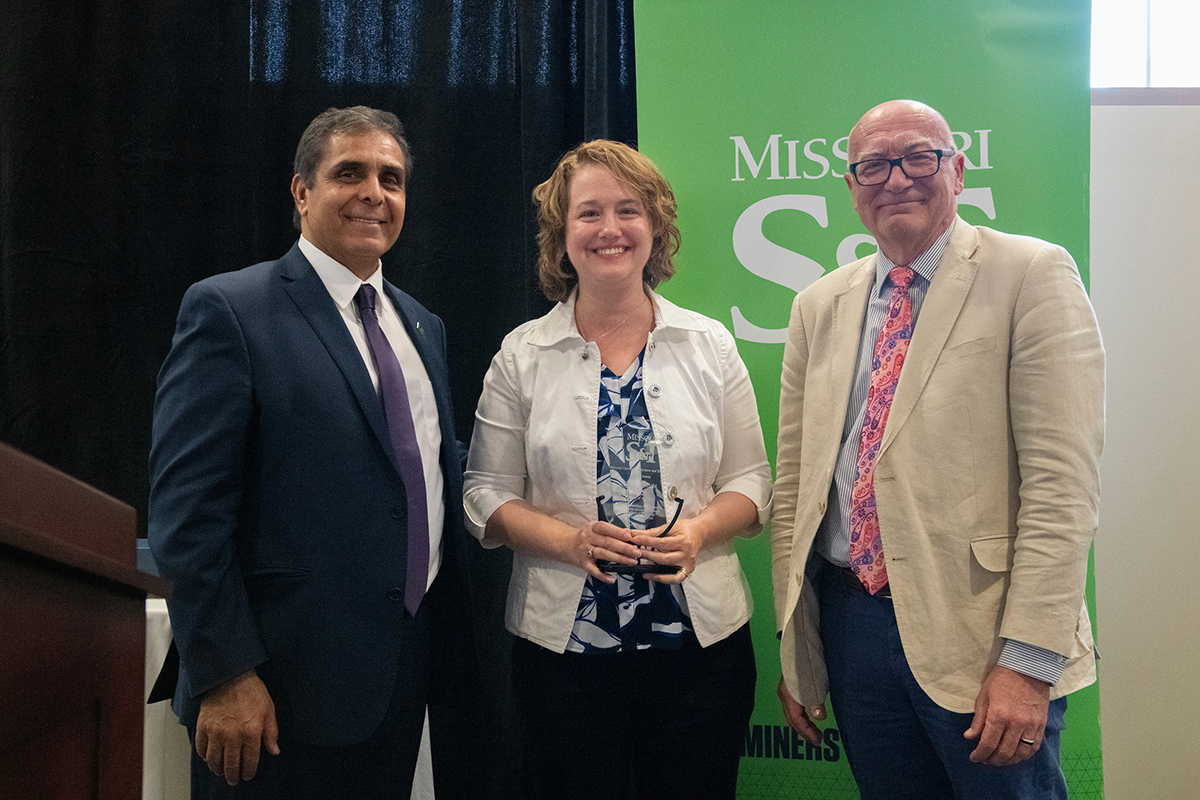 Missouri University of Science and Technology honored Dr. Gayla Olbricht, associate professor of mathematics and statistics, as the 2022 Woman of the Year today (Wednesday, April 27) during a reception at Hasselmann Alumni House.
The Woman of the Year award is given annually to a female full-time tenured or tenure-track faculty member in recognition of dedication to education and commitment to diversity. As part of the award, Olbricht received a $2,000 stipend funded by Missouri S&T graduate Cynthia Tang, founder and former chair of Insight Industries Inc.
Olbricht joined the university in 2011 as an assistant professor of mathematics and statistics. Prior to joining Missouri S&T, she worked as a visiting assistant professor of statistics at Purdue University. Her research interests include Markov models, regression analysis, statistical genomics and bioinformatics as well as STEM education.
The event also honored Missouri S&T's Women's Advocate of the Year, Dr. Agnes Vojta, teaching professor of physics.
In her time at Missouri S&T, Olbricht has served on 20 Ph.D. committees, advising on eight of them, and advised on eight master's theses. Former students write that Olbricht is an inspiring mentor who "works tirelessly to improve herself and ensure that all her students feel appreciated."
One of her nominators says that Olbricht is motivated by the awareness that "many students do not otherwise have the opportunity to interact with a scholar who not only successfully navigated a doctorate in statistics, but who also built an award-winning career as a teacher and researcher."
At Missouri S&T Olbricht has taught Engineering Statistics, Regression Analysis, Biostatistics and Statistical Methods for Bioinformatics, among others. In 2019 she co-authored "Learning Approaches to Data Analytics in Biomedical Applications." She has authored or co-authored 23 journal publications.
Olbricht has received Missouri S&T's Outstanding Teacher Award for the years 2014-2015, 2017-2018 and 2020-2021, as well as Missouri S&T's Outstanding Teacher Commendation for 2019-2020. From 2012 to 2018 she was affiliated with Science Education and Quantitative Literacy, a professional development program for K-12 teachers, through which she was able to provide training for hundreds of teachers in the state.
Olbricht earned a Ph.D. in statistics and a Master of Science degree in applied statistics from Purdue University in 2010 and 2004, respectively, and a bachelor of science degree in mathematics from Missouri State University in 2001.
About Missouri University of Science and Technology
Missouri University of Science and Technology (Missouri S&T) is a STEM-focused research university of over 7,200 students. Part of the four-campus University of Missouri System and located in Rolla, Missouri, Missouri S&T offers 101 degrees in 40 areas of study and is among the nation's top 10 universities for return on investment, according to Business Insider. S&T also is home to the Kummer Institute, made possible by a $300 million gift from Fred and June Kummer. For more information about Missouri S&T, visit www.mst.edu.