Space pioneer Sandra Magnus goes off script with S&T scholars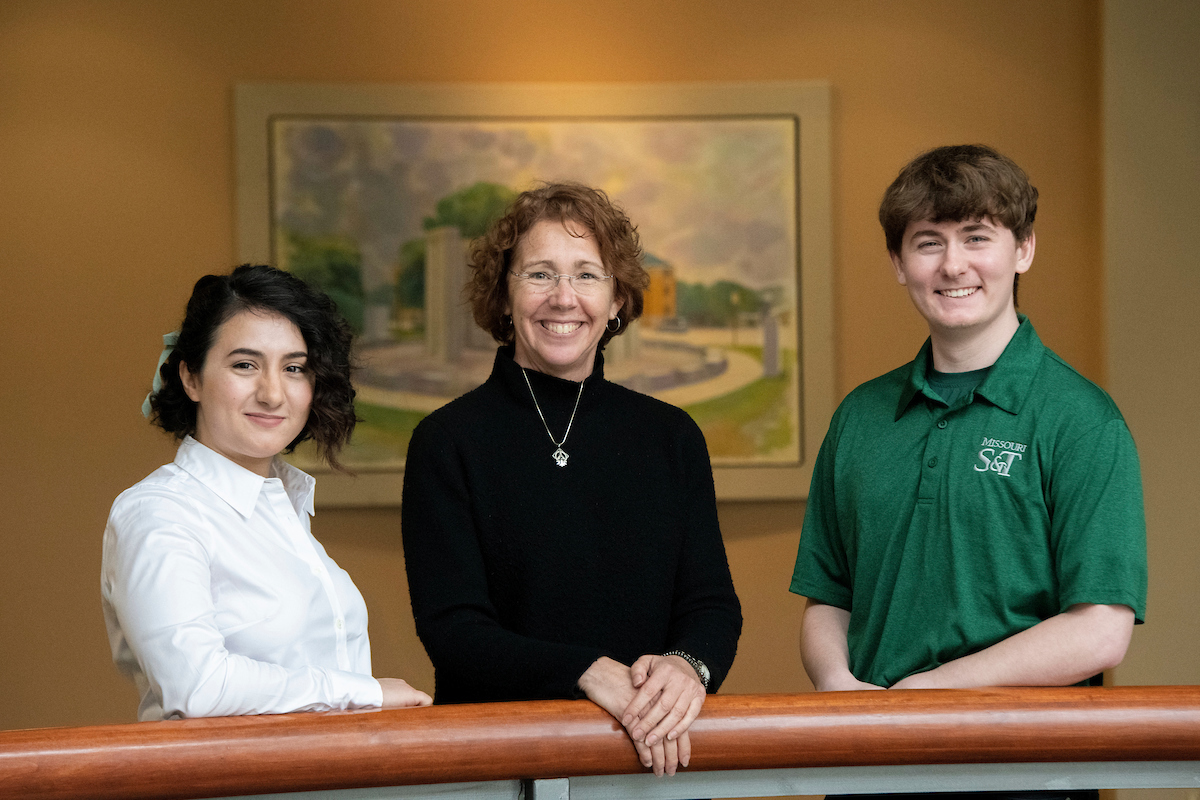 When Heath St. Denis applied for a Chancellor's Scholarship at Missouri S&T, his essay was about former NASA astronaut and S&T alumna Dr. Sandra Magnus, a two-time S&T graduate who served aboard the International Space Station (ISS) and flew on the final space shuttle mission.
Astronauts are the finest scientists out there, according to St. Denis, a freshman double majoring in biology and psychology with minors in chemistry and biomedical engineering. Further distinguishing herself by serving as the science officer on that final mission is a big part of his admiration for Magnus, but he also admires her tenacity. "Being in space is difficult and very dangerous," he says, "but her drive is out of this world. She is awesome."
Niloofar Zendehdel is a doctoral student in mechanical engineering. A self-described robotics obsessive since age 12, Zendehdel's dream is to land a job at NASA. "I want to work with challenges that come with working in space," she says.
Zendehdel feels as strongly as St. Denis about Magnus : "She is an icon of women in engineering."
Both met Magnus during a small gathering she attended during her recent visit to campus. Magnus earned a bachelor of science degree in physics at S&T in 1986, followed by a master of science degree in electrical engineering in 1990. She met with Kummer Vanguard Scholars and Kummer Innovation and Entrepreneurship Doctoral Fellows. Designed to support students as they pursue degrees in STEM-related fields, the two programs are among the many supported through funds from a gift of $300 million June and Fred Kummer made in 2020.
'Follow your passions and you'll never go wrong'
Any of Magnus' many accomplishments would be the crown jewel of most careers. From working for more than four months aboard the ISS, to her tenure leading the American Institute of Aeronautics and Astronautics, the world's largest aerospace-focused technical society, to her recent election to the National Academy of Engineering and her upcoming induction into the U.S. Astronaut Hall of Fame, Magnus' achievements are the stuff of which scientific-minded dreams are made.
But her answers to unscripted questions from students spoke more directly to life skills than technical capabilities.
Magnus encouraged students to follow their interests. "I knew I wanted to be an astronaut, and I knew physics," she says. "I came to S&T and discovered engineering. I got intrigued with electrical engineering, then I went to work and got intrigued with materials. You can pursue new things as you become interested in them. You don't have to live in a box."
Magnus' interests led to her working on her master of science degree, followed by an engineering job in the aerospace industry. When a program she was working on got cancelled, she began her doctorate at the Georgia Institute of Technology.
"It became my new job," she says.
"It was inspiring to learn that Dr. Magnus turned a canceled project into a focused Ph.D., applying her work experience," Zendehdel says. "I too believe that graduate studies must be taken as seriously as having a job."
Her decision to leave NASA — driven by the realization she'd have to wait a decade or more for her next mission — was largely pragmatic.
"My rational brain was arguing with my emotional brain," she says. "It was one of the most difficult decisions I've ever had to make, but I needed to be challenged."
'You're going to run into jerks'
As a woman studying engineering, spending a couple of hours with Magnus focused Zendehdel's appreciation for her. "As an international woman in STEM, I have been fortunate not to experience discrimination based on my gender or race," Zendehdel says, "and I owe that to the women in STEM."
Zendehdel says listening to Magnus underscored the importance of working hard and always striving for equity.
"Regardless of gender, you're going to run into a jerk," Magnus says. "Don't let anyone, especially a jerk, define who you are."
The jerks, she added, are often not malicious but clueless, a disconnect she believes communications can help resolve. Pro tip: When she was learning Russian during astronaut training, Magnus got into what's become a lifelong habit of paraphrasing back what the person she was in conversation with just said to make sure she understood correctly. In group situations, her approach is inclusive.
"Invite people into conversations," she says.
Learning to lead
"I had no idea what I wanted to do after NASA, because I'd always wanted to be an astronaut," she says. On the lookout for challenges, Magnus says the American Institute of Aeronautics and Astronautics was perfect because it was completely new.
Magnus spent her first several months on the job listening. Her notes, she says, became the five-year plan.
"Employees knew what needed to happen; my job, as the leader, was to energize the system," she says.
She believes good listening is also at the heart of good decision making.
"You need to ask your team questions, then make decisions," she says. "As a leader, you need to make sure everyone has a voice but not make decisions by committee."
And be prepared to make mistakes.
"Leaders are often afraid of being wrong," she says. "You're going to be wrong."
Zendehdel appreciated Magnus' pointers on leadership. "Our lives are non-linear, with uncertainties and variables," she says. "Each person in a group is on their own journey, with their own specific experiences and views. It's important that a leader make good decisions on behalf of the entire group."
Magnus said that everyone can — and should — lead, that it's not entirely based on title or rank. The way that Magnus dealt with grief after the Space Shuttle Columbia disintegrated as it reentered the atmosphere in 2003, killing all seven crew members, several of whom she knew personally, resonated deeply with St. Denis. Magnus processed her grief by helping figure out how to address what had gone wrong.
"It was emotionally devastating but intellectually stimulating to put all those pieces together," she says.
St. Denis said he too prefers responding to trauma by seeking a solution.
"I like to be hands-on," he says. "That disaster was a horrible thing. She drew on her expertise to figure out a way to keep others from being harmed. Her work reminds me that as a scientist we have an impact on people."
Tips for success
While nearly every student who attended the session is studying engineering, Magnus offered several tips that apply across majors:
Join a professional society and stay involved.
Be prepared for a project or program to get canceled, and when it happens look for the door that just opened.
Don't be afraid that people might think you're stupid if you ask a question.
Learning to manage your time is a super-important life skill.
Set boundaries: "I made a rule that I wasn't going to study on Friday nights," she says.
If you go to work every day and hate what you're doing for months on end, you may be in the wrong job.
Learn from mistakes but don't obsess over them.
Check out the Kummer Student Design Center. "The design center is a central and managed place where you have to work as a team across disciplines and develop critical business skills," she says.
Finally, Magnus assured students that the skills they're developing will be valuable.
"When you're wondering why you have to work through so many equations, it's because you're learning how to learn and how to solve complex problems," she says. "That's what you can take away from S&T. You will go far with that skill set."
About Missouri University of Science and Technology
Missouri University of Science and Technology (Missouri S&T) is a STEM-focused research university of over 7,200 students. Part of the four-campus University of Missouri System and located in Rolla, Missouri, Missouri S&T offers 101 degrees in 40 areas of study and is among the nation's top 10 universities for return on investment, according to Business Insider. S&T also is home to the Kummer Institute, made possible by a $300 million gift from Fred and June Kummer. For more information about Missouri S&T, visit www.mst.edu.