Nathan Swadley: finishing strong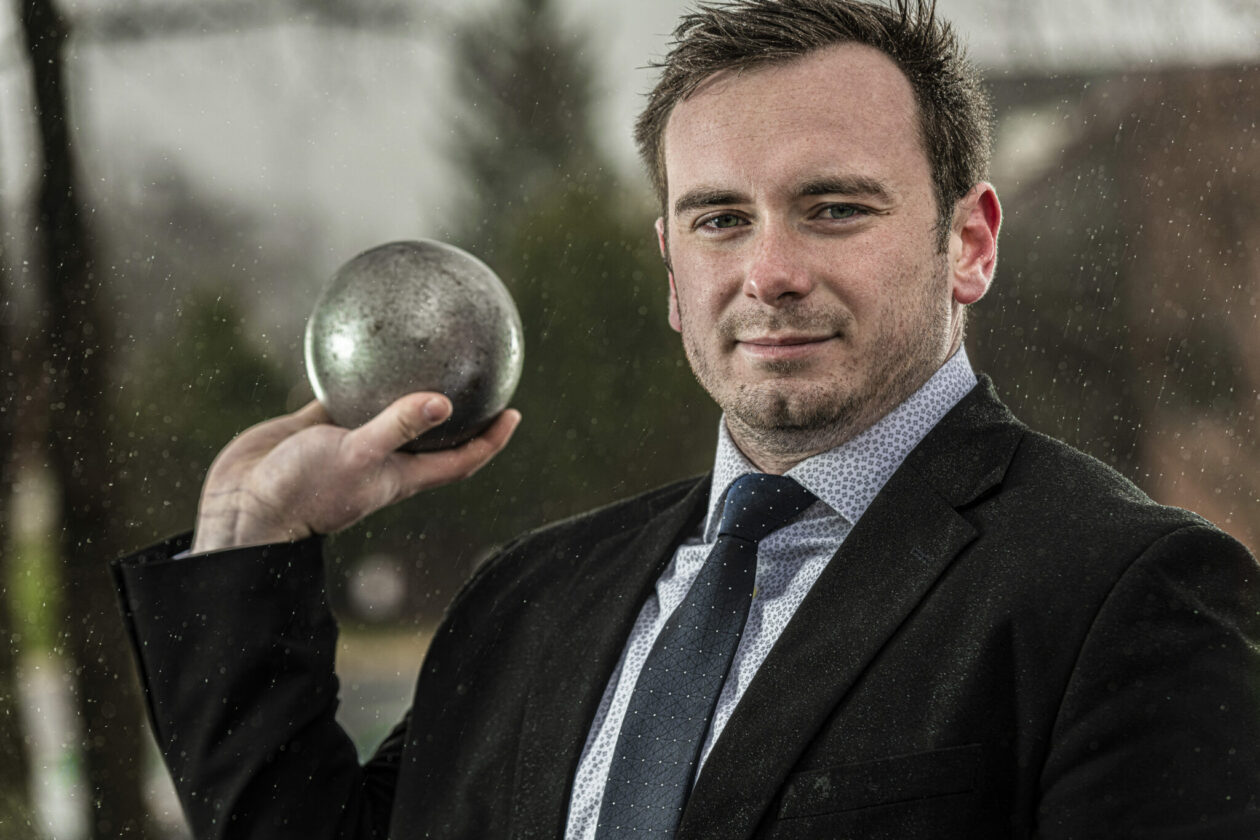 Less than 90 minutes before check-in time for the biggest meet of his collegiate track and field career, while other student-athletes were warming up for the event, Missouri S&T student Nathan Swadley was in a suit and tie, seated at a desk in a converted racquetball court, discussing mathematical models with his instructor and classmates some 200 miles away.
Presenting to the senior design class is one of the final academic hurdles for Swadley, a mechanical engineering student who graduates in May. For some students, the thought of delivering a presentation, remotely or in person, can be anxiety-inducing. Add a major athletic competition to the mix, and the stress could be almost unbearable for many.
But Swadley says he was not nervous about the prospect of competing in the NCAA Division II indoor track and field championship right after a significant class assignment. Nor was he worried about bombing his presentation prior to the competition. Zooming in to the Missouri S&T classroom in Rolla from the Robert W. Plaster Center at Pittsburg State University in Kansas, Swadley calmly described the mathematical modeling behind his group's project, a device designed to keep certain foods and drugs from degrading in warm temperatures.
Then he put away the suit, tie and laptop, and set a school record for the shot put, surpassing the record he set two weeks earlier. He also finished sixth in the national event.
"I was not particularly nervous," he says about delivering an important presentation just hours before the national meet. "I understood the models and the assumptions made. I generally take the approach that if I'm presenting something, I should know it, so nerves don't affect me too much."
But the S&T senior from Willard, Missouri, did deal with some unusual distractions. "There was a pretty big echo in the racquetball court," he says. And the groups presenting before Swadley's exceeded their time, delaying his group's start by 20 minutes.
"Because of the massive scope of the project, I didn't even start presenting the models until around noon, and we finished up around 12:15, leaving an hour for warmups, changing and getting into a competitive mode for throwing," Swadley says.
This was not the first time Swadley had to toggle between classwork and competition.
"Last spring I had to give a design presentation mid-competition," he says. "The first flight of hammer (throw) was competing, and I was presenting in the van during my flight's warmups. The official had to grant me additional warmups before the competition began."
Strong time-management skills are essential for any student-athlete, and Swadley is no exception. Besides the overlap of athletic competitions with tests and classroom presentations, Swadley works on a couple of research projects in the department and is a teaching assistant for a course in electrical engineering, where he is pursuing a minor.
Shaun Meinecke, Missouri S&T's head track and field coach, describes Swadley as a "quiet leader" and "one of the most exceptional people I've met."
"Nate has a great ability to handle multiple tasks simultaneously – not only to do multiple tasks, but to spend the time and energy needed to excel," Meinecke says. "He has a very calm demeanor and a very relentless drive to accomplish goals.
"I don't think I've ever heard him complain about things out of his control," Meinecke adds. "So when two major events are scheduled for the same day, you're not going to get an excuse, just a statement like, 'It's doable.' And it was, so he was right."
After graduation, Swadley plans to return to S&T to pursue a master's degree in mechanical engineering and complete his remaining year of track and field eligibility. "After that, I will likely move on to industry in a field related to control systems research and development, or if enough people convince me, pursue a Ph.D.," he says.
His more immediate post-graduation plans involve one more big competition: the NCAA D-II outdoor track and field championships scheduled for May 26-28 at Grand Valley State University in Allendale, Michigan.
"That championship is after the semester," Swadley says, "so no class conflicts there."
About Missouri University of Science and Technology
Missouri University of Science and Technology (Missouri S&T) is a STEM-focused research university of over 7,200 students. Part of the four-campus University of Missouri System and located in Rolla, Missouri, Missouri S&T offers 101 degree programs in 40 areas of study and is among the nation's top 10 universities for return on investment, according to Business Insider. S&T also is home to the Kummer Institute, made possible by a $300 million gift from Fred and June Kummer. For more information about Missouri S&T, visit www.mst.edu.