Missouri S&T selects 2022 St. Pat and court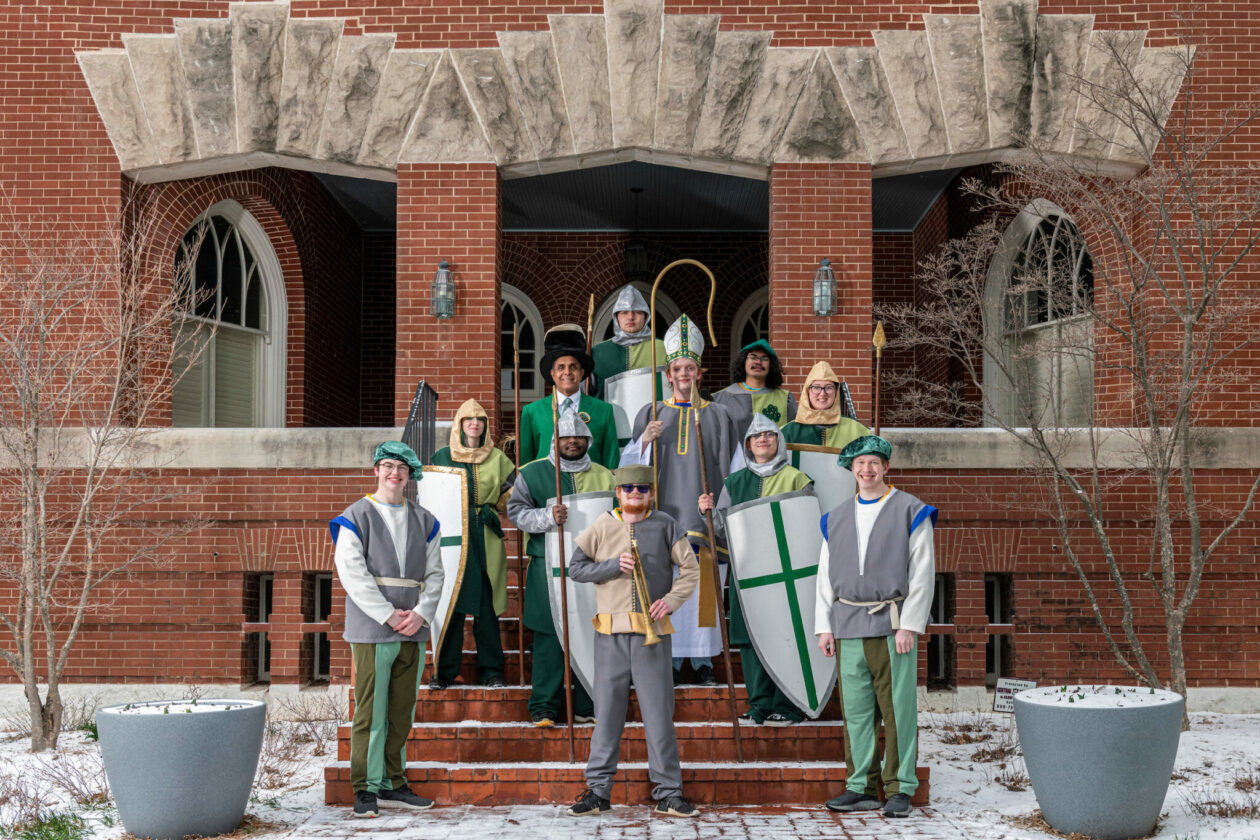 Tyllen King, a senior in electrical engineering from Garden City, Missouri, will portray St. Patrick during the 114th celebration of St. Pat's at Missouri S&T.
St. Pat and the court will officially arrive on campus at approximately 11 a.m. Wednesday, March 16. Following a procession starting from the corner of 6th and Pine streets, the court will preside over follies at the Jack Carney Puck and Plaza on the S&T campus.
The court will also participate in formal coronation ceremonies at 9 p.m. Friday, March 18, at Leach Theatre in Castleman Hall, located at 10th and Main streets in Rolla. Attendance is free and open to the public. At the event, 2020, 2021, and 2022 Honorary Knights will be knighted, the St. Pat's Queen of Love and Beauty will be crowned, and the Knight's Court will have titles bestowed.
The 2022 celebration continues at 11 a.m. Saturday, March 19, with the St. Pat's Parade on Pine Street in downtown Rolla.
The following students are members of St. Pat's Court this year:
Master guards: 1st Master Guard Elliot Sutalski, a senior in ceramic engineering from St. James, Missouri, and 2nd Master Guard Eliza Drake, a senior in petroleum engineering from St. Louis
Guards: 1st Guard Natalie White, a junior in chemical engineering from Wildwood, Missouri; 2nd Guard Harrison Diffley, a junior in information science and technology from St. Peters, Missouri; 3rd Guard Dylan Neece, a senior in electrical engineering from Lee's Summit, Missouri; 4th Guard Colby Rhine, a junior in aerospace engineering from Hazelwood, Missouri
Herald: Luis Valdez Griffin, a junior in biological sciences from Grain Valley, Missouri
Pages: 1st Page Zach Heisner, a senior in electrical engineering from St. Peters, Missouri, and 2nd Page Nathan Bailey, a junior in computer science from Tulsa, Oklahoma
Trumpeter: Casey Lane, a sophomore in undergraduate studies from Ballwin, Missouri.
About Missouri University of Science and Technology
Missouri University of Science and Technology (Missouri S&T) is a STEM-focused research university of over 7,200 students. Part of the four-campus University of Missouri System and located in Rolla, Missouri, Missouri S&T offers 101 degrees in 40 areas of study and is among the nation's top 10 universities for return on investment, according to Business Insider. S&T also is home to the Kummer Institute, made possible by a $300 million gift from Fred and June Kummer. For more information about Missouri S&T, visit www.mst.edu.