Missouri S&T announces 2022 Honorary St. Pats and Honorary Knights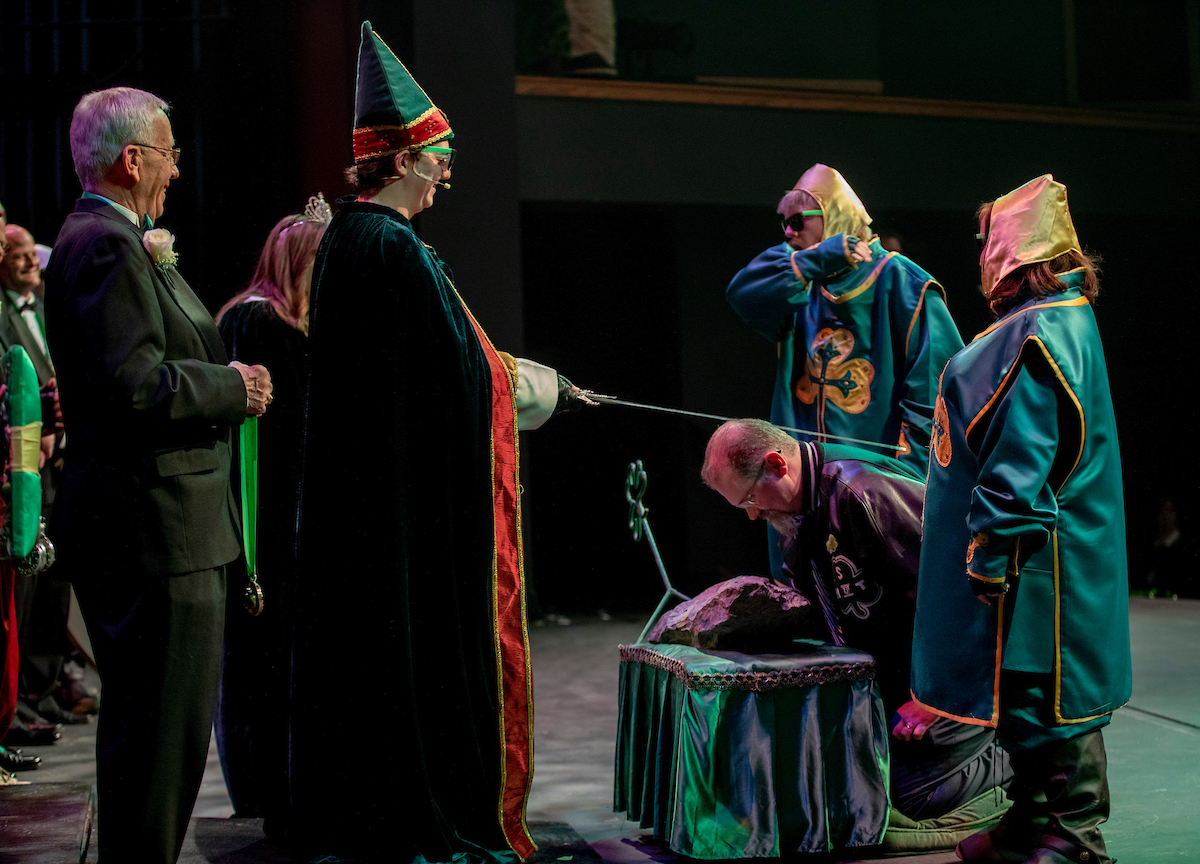 The St. Pat's Board at Missouri University of Science and Technology has announced that Kevin and Meg Brady will serve as Honorary St. Patricks and parade marshals for the 114th St. Pat's celebration. The two were originally scheduled to serve in the 2020 and 2021 events before they were postponed due to COVID-19 concerns. 
The board also announced the 2022 Honorary Knights of St. Patrick. This year's seven Honorary Knights are Dr. Richard Brow, Lorie Francis, Jaymie Greenway, Debra Griffith, Barb Sooter Prewett, Steve Rector and Dr. Dave Westenberg. 
The knights will be honored during a coronation ceremony at 9 p.m. Friday, March 18, at Leach Theatre in Castleman Hall, located at 403 W. 10th St. in Rolla. During coronation, the board will also recognize Honorary Knights from 2020 and 2021.
The 2021 Honorary Knights are Dr. Mo Dehghani, Deanne Jackson, Floyd Jernigan Jr., Dr. Merilee Krueger, Dr. Bruce McMillin, Helene Hardy Pierce, Sandy Simmons-Gamble and Dr. John Wagner. The 2020 Honorary Knights are Maurice B. Graham, Dr. Chris Maples, Sara Marcus, Dr. Susan Murray, Richard Myers, Douglas Roberts, Larry Stratman and John Wiggins.
The Honorary Knights and St. Pats will be a part of the 2022 St. Pat's Parade, which begins at 11 a.m. Saturday, March 19, on Pine Street in downtown Rolla.
Biographical information on this year's honorees is as follows:
— 2022 Honorary St. Pat and parade marshal Kevin Brady
Kevin Brady of Rolla, Missouri, is retired senior finance and accounting manager in student affairs at Missouri S&T, where he guided the budget and fiscal operations for the division and advised the S&T BBQ Club on campus. He is also the former advisor for Theta Tau Omega, now known as the Fraternal Order of Leaders. Brady earned bachelor's degrees in accounting and finance from Missouri State University and an MBA from Lindenwood University. He was named an Honorary Knight of St. Patrick in 2005, along with his wife, Meg. Brady attended S&T as an undergraduate student and his familial S&T ties include his father Stan Brady, who earned a bachelor of science degree in metallurgical engineering from S&T in 1949; his wife Meg, who is an alumna; his daughter Lauren, who earned a bachelor of science degree in psychology from S&T in 2008; and his son Mitchell, a 2017 St. Pat's Court student member, who earned a bachelor of science degree in engineering management from S&T in 2019.
— 2022 Honorary St. Pat and parade marshal Meg Brady
Meg Brady of Rolla, Missouri, is retired senior director of global learning at Missouri S&T. Brady served S&T for over 36 years, holding positions in information technology, global learning and the Center for Advancing Faculty Excellence (CAFE). While at S&T, she helped establish the first IT help desk on campus staffed 24-hours a day by students, served as advisor to Lambda Sigma Pi for nearly 30 years, earned a staff excellence award and was the recipient of the 2018 Women's Advocate of the Year Award. In 2007, Brady established the educational technology department on campus, which specialized in directly supporting faculty in teaching with technology. Brady earned bachelor of science and master of science degrees in computer science from S&T in 1983 and 1989, respectively. She also taught courses for the computer science department in the 1990s as an adjunct faculty member. Her father, Don Sparlin, is a professor emeritus of physics at S&T who served for over 30 years and then taught as an adjunct in S&T's mathematics and statistics department another 14 years after retiring.
— 2022 Honorary Knight Richard Brow
Dr. Richard Brow currently serves as the interim deputy provost for academic excellence at Missouri S&T. He has been a member of the materials science and engineering faculty since 1998 and was named Curators' Professor of ceramic engineering in 2005. He teaches courses on glass science and technology, and he and his students do research on glasses for a variety of engineering applications. Richard has served as president of the American Ceramic Society and presided over the 2019 International Congress on Glass, the largest meeting of the world's glass scientists. He is married to Theresa McCarthy Brow, a fellow ceramic engineer, and they have two adult daughters who have many fond memories of the St. Patrick's Day parade.
— 2022 Honorary Knight Lorie Francis
A native of Idaho, Lorie Francis has been a full-time faculty member at Missouri S&T since 2003. She is director of the S&T choirs and teaches several courses such as Music Appreciation, Music of Latin America, and Music Theory and serves as music director for many S&T musicals. She holds degrees from the University of Idaho and the University of Colorado – Boulder. Lorie is the current organist and pianist at First Presbyterian Church of Rolla and is former accompanist for the Rolla High School choirs and the Missouri All State Choir. The recipient of several teaching awards from S&T, Lorie is a founding member of the National Collegiate Choral Organization and a member of the American Choral Directors Association, the Missouri Choral Directors Association, and the Music Teachers National Organization. Her choir students have been featured as members of the Missouri Collegiate Honor Choirs as well as the Southwest Division of ACDA Collegiate Honor Choirs. Lorie has performed as piano soloist and accompanist throughout the United States and abroad and will be a featured soloist with the Missouri S&T University Orchestra performing the Concerto in d minor, K. 466 by W.A. Mozart in November 2022. Lorie is an endurance cyclist, and she loves to cook. She and her husband, John, have two cats. They enjoy travel and cycling in new places.
— 2022 Honorary Knight Jaymie Greenway
Jaymie Greenway is teacher, freelance writer and editor, Missouri S&T graduate, past employee of Missouri S&T, and former co-owner of The Grotto. Jaymie teaches social studies and media studies for grades 6-8 at St. Patrick Catholic School in Rolla. After earning a multidisciplinary studies degree in geology, biological science and technical communication from Missouri S&T, she worked as a media producer for the S&T Video Communications Center for over eight years. Jaymie is an alumna and past president of Lambda Sigma Pi service sorority and was honored as a student knight in 2005. She and her husband, Mike Greenway (Honorary Knight 2016), ran The Grotto for 18 years. Mike, an alumni member of the St. Pat's Board, and Jaymie took great pride in their relationship with the Board and the St. Pat's Celebration, and enjoyed being part of a community that helped in some small way to make each and every year the Best Ever. Jaymie and Mike have four children: Jack, Maddie (Coronation Page 2015 and 2019), Sam (Coronation Crown Bearer 2018), and Calvin. Jaymie loves history, Motown, is a terrible decorator and moonlights as a social media director for a fantasy literature convention.
— 2022 Honorary Knight Debra Griffith
Debra Griffith, currently of Rolla, Missouri, has been Missouri S&T's university archivist for five years. Prior to joining S&T she was the reference archivist for the Oregon Shakespeare Festival and previously was a processing archivist for the Wisconsin Historical Society. She holds bachelor of science and master of science degrees in industrial engineering and a master's degree in library and information science from the University of Wisconsin-Madison, and in a previous career was a Human Factors engineer for the Bureau of Mines-Twin Cities Research Center. She enjoys making 'old stuff' available and usable to others.
— 2022 Honorary Knight Barb Prewett
Barb Sooter Prewett of St. James, Missouri, is assistant dean of students and director of student support and community standards at Missouri S&T where she earned a bachelor of science degree in management information systems and computer science and a master of science degree in industrial organizational-psychology in 1997 and 2019, respectively. While at S&T, Prewett has served as the senior student conduct officer and helped found and establish UCARE, care management services, and the student emergency fund, which have grown into the new department of student support and community standards. Barb also leads strategic planning for student affairs and the student success and retention chatbot initiative. She has earned several awards including recognition for staff excellence and has chaired numerous committees both on campus and nationally. Barb is active with state and national organizations related to student affairs, crisis management, risk assessment, student behavior and support services. She is passionate about student wellbeing and success and continually looks for ways to enhance the S&T student experience. Prewett and her husband, Jerry, have one son, Charleton, who will carry on the Miner tradition studying engineering at Missouri S&T this fall.
— 2022 Honorary Knight Steve Rector
Steve Rector, who earned bachelor's and master's degrees in petroleum engineering from Missouri S&T in 1972 and 1973, has weathered the booms and busts of the oil industry from his early days as a reservoir engineer for Shell Oil Co. to his entrepreneurial success as the founder and president of RIM Operating Inc. The company provides field exploration and development services for the oil and gas industries in Montana, Wyoming, Utah, Arizona, Colorado and Texas. He has also established a number of other oil and gas companies involved in coal bed methane development, 3D seismic technology exploration, and oil, gas and carbon dioxide production in several states. Steve is the immediate past president of the Miner Alumni Association and led the association's finance committee during the planning and construction of Hasselmann Alumni House. He and his wife, Susan, support petroleum and geological engineering majors through their endowed scholarship, which has benefitted 30 to 40 students a year since its inception in 2007. In 2021, Steve was inducted into Missouri S&T's Alumni of Influence, the highest accolade bestowed by the university.
— 2022 Honorary Knight David Westenberg
Dr. Dave Westenberg is a professor of biological sciences at Missouri S&T. Dave fell in love with the microbial world as an undergraduate student, and his fascination with microbes and genetics led him to UCLA, where he earned his Ph.D. in microbiology and molecular genetics. Before coming to Missouri S&T, he spent two years in Germany and four years at Dartmouth College as a postdoctoral fellow. His passion is sharing the fascinating world of microorganisms with others. Dave is active in the microbiology education community through the American Society for Microbiology and chaired the ASM Committee on K-12 Education and Outreach. He has received numerous awards for teaching, advising and outreach, including the 2021 inaugural S&T College of Arts, Sciences, and Business Dean's Medal, the 2020 ASM Carski Award, the 2020 University of Missouri President's Award for Community Engagement, and the 2017 Science Educator Award from the Academy of Sciences, Saint Louis. He is advisor or co-advisor to several campus organizations including the Helix biology club, the National Society for Leadership and Success, the Humans vs. Zombies club, and the International Genetically Engineered Machines (iGEM) student design team. He is also the NCAA faculty athletics representative for Miner Athletics.