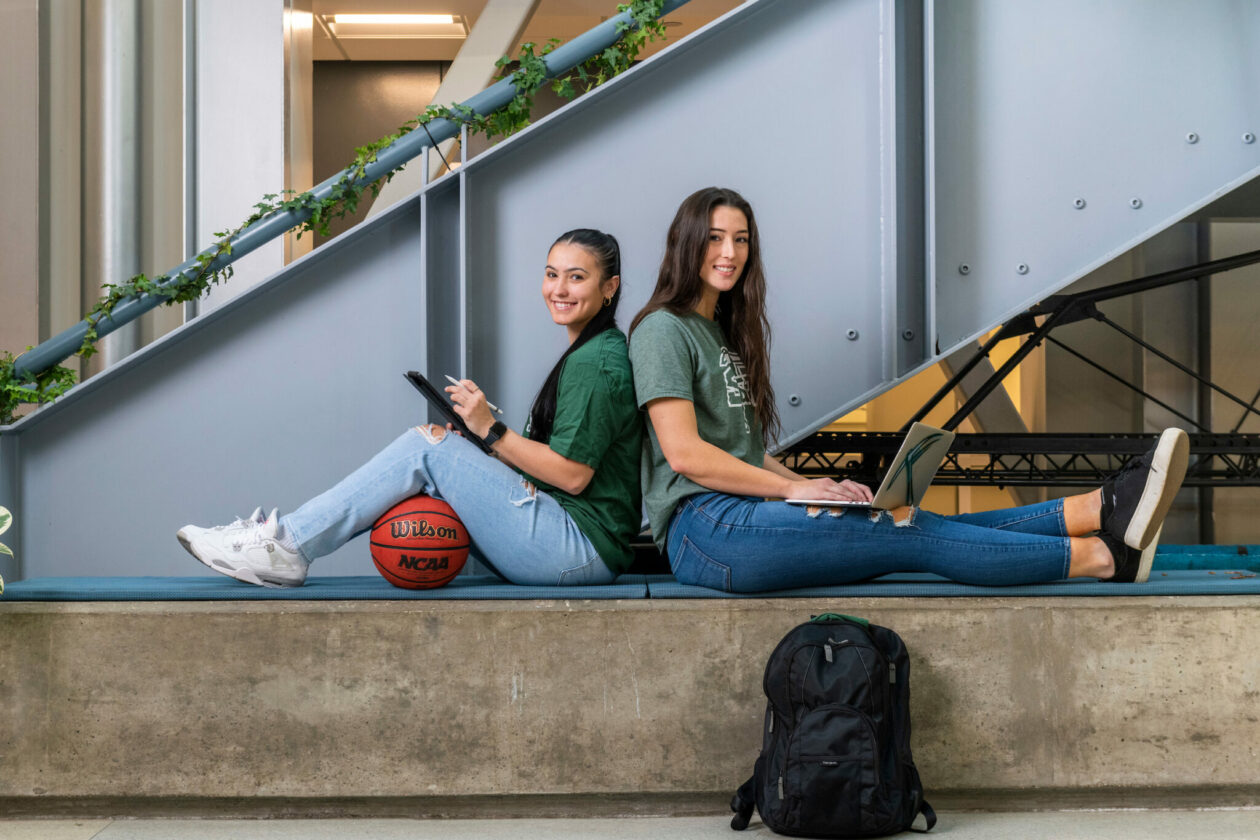 This season, Missouri S&T's Women's Basketball program saw not just one, but two team members surpass 1,000 points in their careers. Alex Kerr and Laura Rodriguez were the 16th and 17th members of the team in history, respectively, to earn the achievement.
The two friends have played on the team for all four years and, thanks to the NCAA granting all student-athletes another year of eligibility after shortened or canceled seasons due to the COVID-19 pandemic, they will both return to play for a final season in the 2022-23 year.
Kerr, a senior in biological sciences from Wildwood, Missouri, was the first to the record, but says she never set out in her career to achieve the milestone.
"My focus has always been to help my team in whatever way I can, including by playing good defense, rebounding and scoring," Kerr says. "We play in a competitive league and our team must put pressure on defense in as many ways as possible, so I always try to be a threat from the center position."
Rodriguez, a senior in psychological science from Gran Canaria, Spain, echoes the sentiment, saying that it was something that just happened naturally while playing.
"I was not aware that I was so close to reaching it until Alex reached hers and she told me about mine," Rodriguez says. "I feel extremely blessed to be part of those few players to reach this accomplishment because I think it shows the hard and constant work that we have put in for the three years and a half."
The path to Rolla
The two had unique paths to joining the S&T team. Kerr credits her father with being an early influence on her wanting to play basketball.
"He put a little basketball in my hand as soon as I could walk," says Kerr. "My dad was always a coach or assistant coach to my different basketball teams, which is a special experience. The support I have had from my parents throughout my life has been integral in my success as a player."
For Rodriguez, the Spain native was contacted by the S&T coaching staff and conducted a WhatsApp call to view the facilities and campus.
"I really liked what I saw so I decided to look for information regarding academics, and I saw that Missouri S&T offered a psychology degree, which is what I always wanted to do," Rodriguez says. "I knew that I wanted to continue my education in the United States and, after a couple of weeks, I committed to S&T."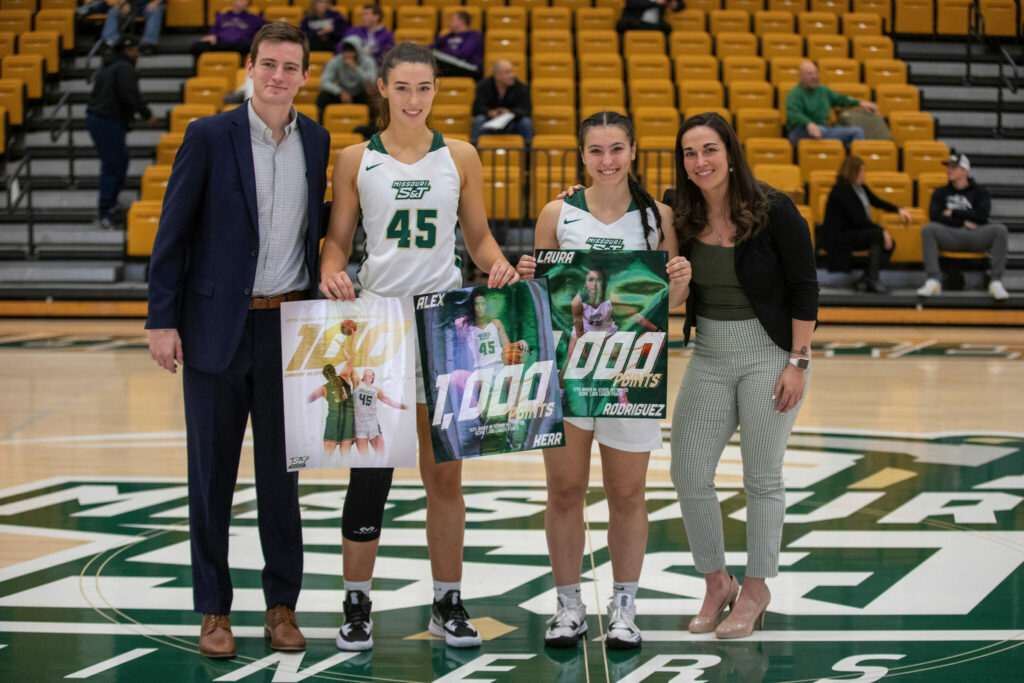 Off the court
Rodriguez and Kerr were even roommates and can reminisce about their earlier times at S&T.
"I honestly had a very hard time adapting to the language because I came to the U.S. with a very basic level of English, and it was very hard to have conversations with others," Rodriguez says. "I also struggled a lot academically because I was not able to follow up and understand the material that was being covered. Alex was my roommate during freshman year, and we used to communicate by using Google Translate."
Kerr says that the local Panera restaurant in Rolla is a special place for the two, due to a local slang misunderstanding from one of their first times visiting it.
"We always share a laugh together when we go to Panera, because as a St. Louis native, I refer to Panera as 'Bread Co.' (the chain's operational name in St. Louis is St. Louis Bread Co.), but Laura was, of course, not familiar with the local name," Kerr says. "During our first few weeks as freshman roommates, I suggested that we get out of our dorm and 'grab some Bread Co. for dinner' and Laura looked at me like I was crazy. Eventually, she just followed me into the car, and as we pulled up to Panera, the realization clicked and she said, 'Oh, I love this place!'"
Future plans
The two will remain at S&T for the next basketball season, but they are already planning what they want to do when they graduate.
"After college, I would like to stay in the U.S. and find a job in the human resources field," says Rodriguez. "I also would like to find a casual basketball league so I can stay active while still playing the game I love."
"While at Missouri S&T, I have had amazing opportunities and excellent professors to learn from as a student in the biological sciences department," says Kerr, who will graduate in the spring and plans to earn an MBA at S&T while playing next season. "After graduating with the MBA, I plan to attend law school. I ultimately would like to practice in the specialty area of patent law, which would allow me to combine my love of science with my interest in the law."
Along with a slew of Great Lakes Valley Conference (GLVC) basketball honors for the two players, they will also graduate with a close friendship and a strong idea of what they want to accomplish in the future – this time achieving great things on purpose.
Need to get in touch with our media relations team? For non-urgent requests, please email news@mst.edu or call 573-341-4328. Or contact one of the staff members below during or after office hours.