Miners en familia
Posted by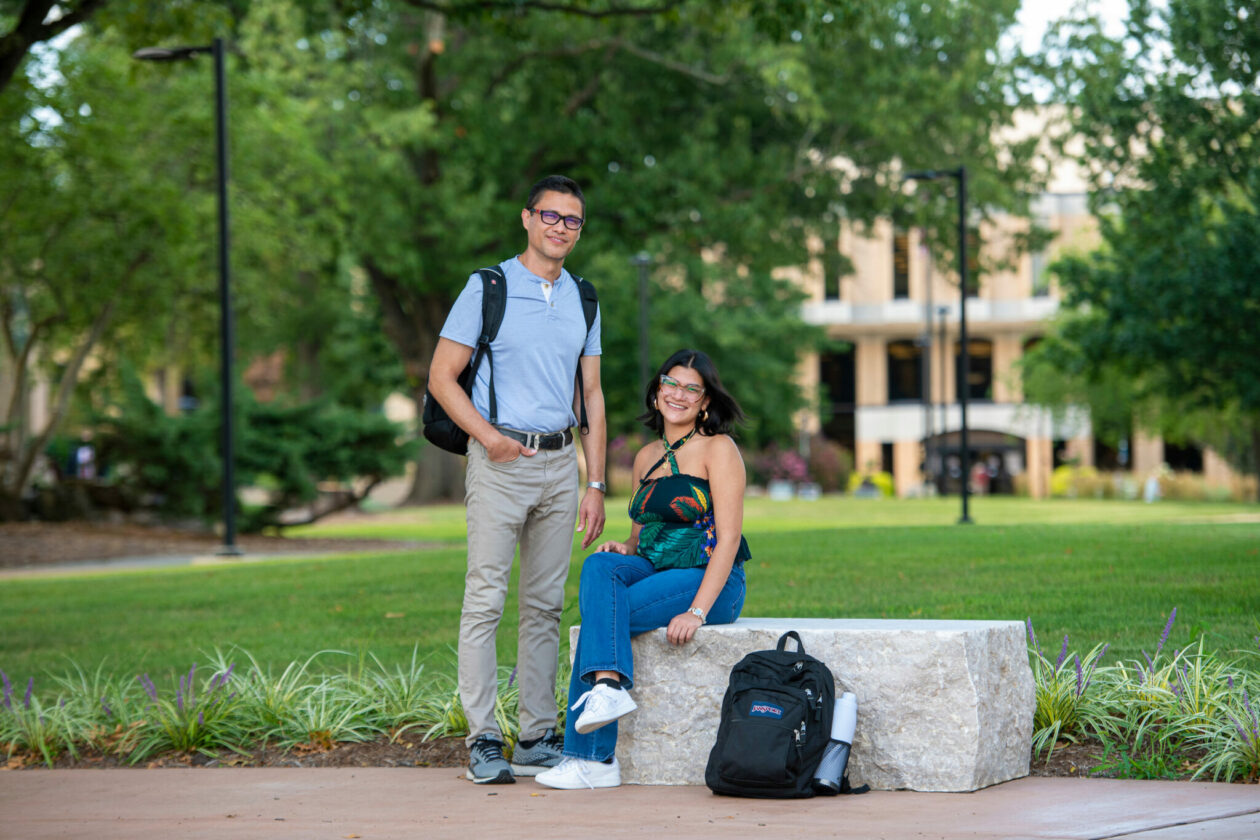 Javier Valentín-Sívico, a native of Mayagüez, Puerto Rico, earned a master's degree in electrical engineering from Missouri S&T in 1997 and is now working toward a Ph.D. in engineering management. His daughter, Lizbeth Valentín-Rodríguez, was born in San Germán, Puerto Rico, and is now a junior in business and management systems. Both plan to graduate from their respective programs in summer 2022.
Read on as this father-daughter duo talk about their experiences at Missouri S&T, their research and their post-college plans.
Javier Valentín-Sívico – Ph.D. student in engineering management
"It was UMR back then. I did my master's in electrical engineering 1995-97. I was a GEM fellow, and S&T was offering additional funding for GEM fellows, so I checked the electrical engineering program in control systems, and liked it. Basically, that made the full offer, and I came to Rolla. When I completed my master's, I was thinking of getting my Ph.D. We had just had our first child, a baby boy, at the end of my master's program, so we decided to go to work, but I always kept thinking about going back to school. When we lived in Puerto Rico, I worked with Hewlett Packard Enterprise. So, when our youngest child, Liz, went on to college, I started seriously thinking about going back to college myself. Then when I considered engineering management, there were only two programs that I really liked – S&T was one of them. At the time, the department offered a GAANN fellowship in the area of infrastructure, which was one of the areas of interest for my dissertation research. I met with Dr. Casey Canfield, who was recruiting Ph.D. students and was also participating in the GAANN-sponsored research. Dr. Canfield agreed to be my advisor, so I decided to apply for admission and for the GAANN Fellowship, and I was accepted.
"My Ph.D. dissertation research is on high-speed internet for rural communities. We are trying to understand the role of regional planning commissions in supporting the deployment of rural broadband infrastructure, how different organizations feel about the funding of rural broadband by the state and federal government, and the impact of high-speed internet in rural communities in Missouri. For this last initiative, we have deployed a high-speed wireless network in Turney, Missouri. We want to understand the impact to Turney residents with a focus on education, health and entrepreneurship.
"After graduation, I am open to different possibilities. I am exploring opportunities within diverse organizations, both in higher education and industry. As part of my Ph.D. program, I am also completing a business analytics and data science certificate from the business and information technology department. I want to work in a role where I could use business analytics and data science to inform business decisions.
"I feel good about living with my daughter. We live as a family as we are used to. The main difference is that I no longer have a full-time job, but I have course work and research, which is much more demanding than my former job as an engineer in industry. Finding time to share as a family is now more challenging as we need to align the schedules of the two students at home with my wife's work schedule. It will be neat if we end up graduating at the same time in summer 2022."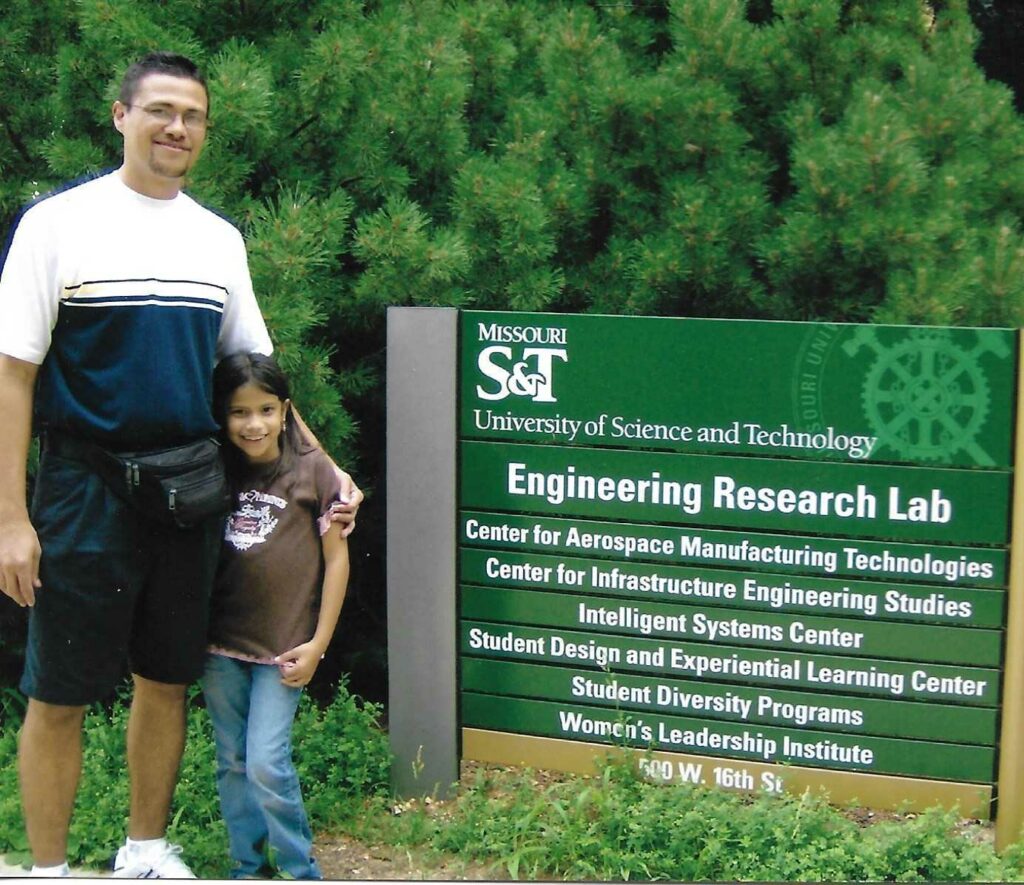 Lizbeth Valentín-Rodríguez, junior in business and management systems
"I never envisioned myself here. It is an engineering school, and for me that was just a line I was not going to cross because I am not interested in engineering – I was attending Mizzou for biological sciences and it was not a right fit, so I decided to apply here and transferred to business and management systems. My interest is more on the marketing side of the fashion, beauty and interior design industries but so far, the experience has been great, and the classes have been great, and the professors have taught me a lot about the business side that can be applied to the fashion industries. After graduation, I'm going to pursue a master's in fashion business and entrepreneurship. And as for future aspirations, I would someday like to link social justice with the fashion and beauty industry.
"My interests vary a little, but what I enjoy the most is centered in marketing. My current job as a social media student worker in marketing at S&T has opened a world of marketing for higher education, and it's been so fun learning and watching my collaboration and input produce actual results. As for what the future holds, I'm open to an array of things, but fashion, beauty, and interior design are three of my greatest interests, which influenced my decision to apply for a master's program in fashion business and entrepreneurship. At some point during my career, I would like to include social justice into the mix, because as a Latina I have seen some of the struggles that minorities face, and I would like to add my voice to help change and restructure systems for the better.
"When I give it a lot of thought, sometimes it feels a little weird living and going to college with my dad, just because as a kid, you never really imagine attending college at the same time as your parents. However, it's actually been kind of fun! I get along with him really well, and we already lived together. We've even taken classes with the same professors, so it's fun to compare what we're both working on and visit each other's offices."
---