First-year scholars undeterred by unusual beginning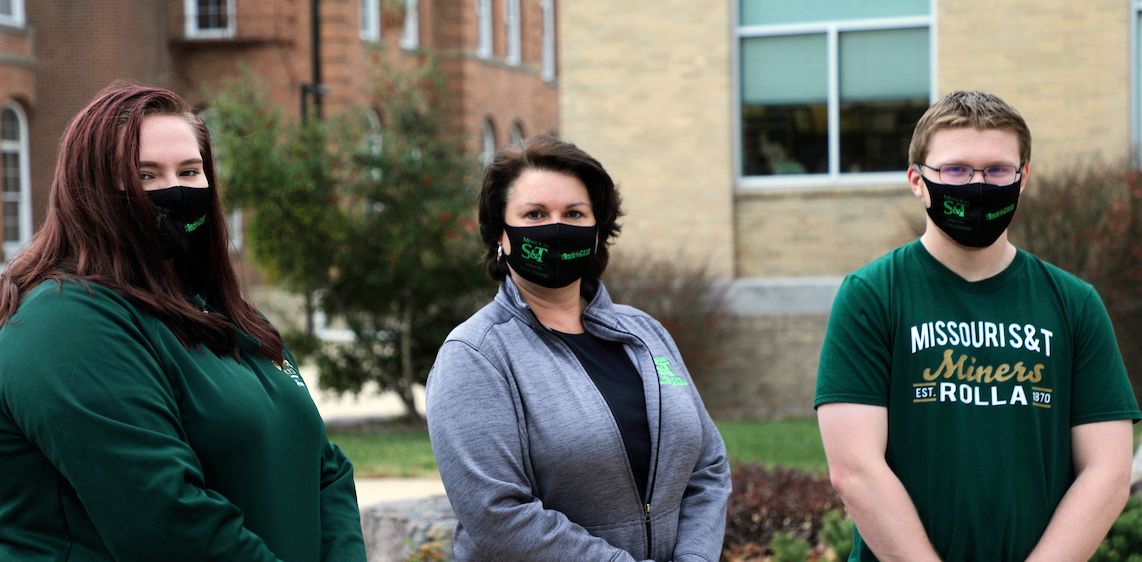 First-year students Garrett Blum and Hannah Tillery, Missouri S&T's inaugural Evans Dean's Scholars, share an unwavering mindset toward their goals — one that could easily have been shaken by the uncertainty of entering college during a global pandemic.
Although the two are pursuing different academic paths, their life histories and achievements are noticeably parallel.
Parallel paths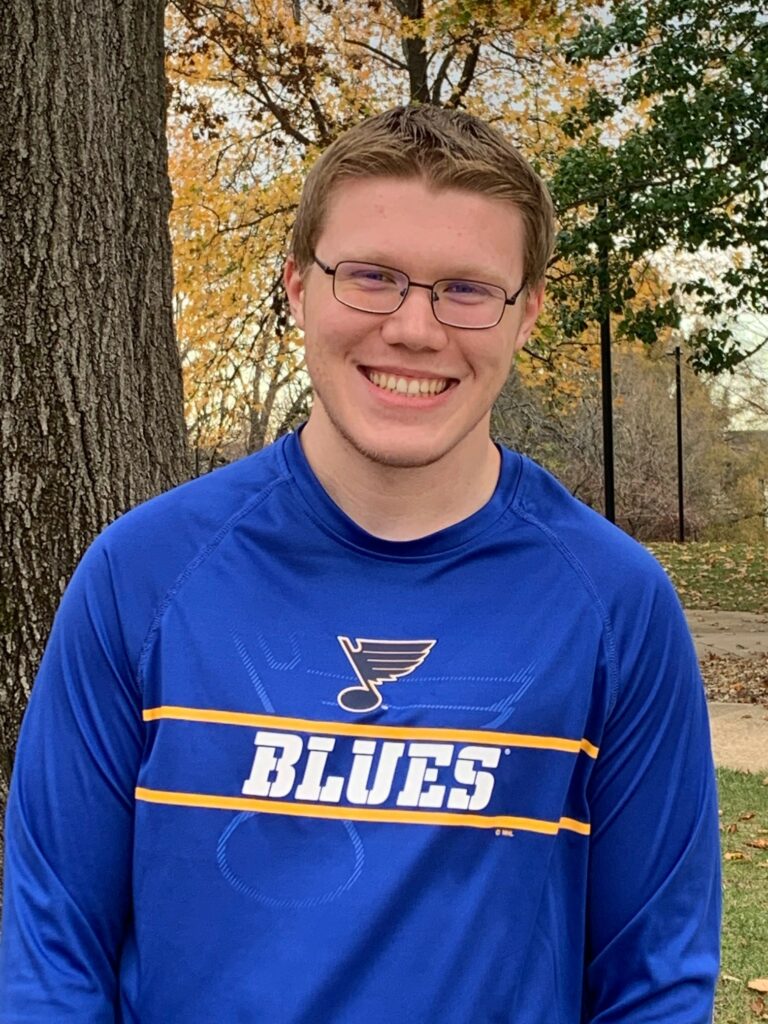 Blum, a history major with an emphasis in secondary education, and Tillery, a biological sciences major, began their first semester this fall as sophomores after earning dual credit hours in Missouri high schools. Both were valedictorians of their graduating classes — Blum from Thayer High School, and Tillery from Licking High School. Both are firstborn children living at home with family members. In fact, Tillery still helps take care of her youngest brother one day a week.

Blum wants to be a high school history teacher. He says he sees how lessons learned from studying the past can help avoid repeating those lessons. Due to COVID-19, five of his six first-year courses are online.

"Going from high school to college would be a big jump, but in these times, it's even more so," says Blum. "But I have my goals and am working toward them. I'm enjoying everything at Missouri S&T so far and don't foresee changing my direction."
Tillery has set her sights on medical school. Driven by a passion for helping people, she changed her academic plans from law to medicine when her grandfather was diagnosed with cancer, and she hoped for a cure.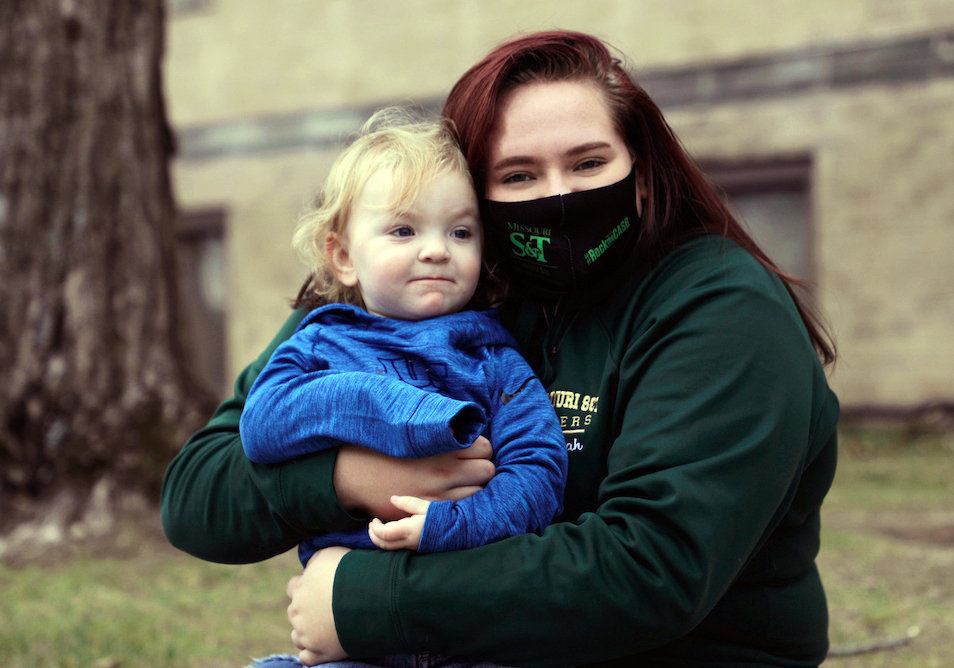 "Helping people has been my goal since I was very young, and I've always found science interesting," says Tillery. "Because I get so attached to people, I think medical research is a better path for me than becoming a hospital doctor."

Tillery's interests include virology, epidemiology and genetic engineering. She says she developed an interest in the treatment of Ebola virus as a way to help people long before the COVID-19 pandemic began. Already she's joined SCRUBS, the S&T student organization for pre-professional health care majors.

Tillery likes the flexibility of her online classes, and even engages online with fellow members of women's fraternity Chi Omega due to the pandemic.
Scholarships with mentors
Endowed by 1967 S&T mechanical engineering graduate Mike Evans, former president and chief operating officer of Con Edison, and his wife, Linda Evans, a retired educator, the Evans Dean's Scholars program, is designed to provide life-changing scholarships for its recipients.
Their scholarship award gives first preference to Missouri residents who are qualified first-year undergraduate students enrolled in the College of Arts, Sciences, and Business (CASB) and second preference to those with dual majors in CASB and the College of Engineering and Computing.

In addition to the program's tuition contribution, the Evans Dean's Scholars program also provides recipients with leadership development opportunities and a career mentor who has demonstrated success in industry, government or academia.

Blum and Tillery both say their mentors are more than a source of professional knowledge. They also offer advice and personal encouragement.
Dr. Paul Stricker, a board-certified youth sports medicine specialist and author who practices at the Scripps Clinic in San Diego, is Tillery's mentor. A 1982 life sciences graduate of S&T, Stricker was a physician for the U.S. delegation at the Sydney Olympics in 2000 and head physician for the 1999 World University Games. He is a past president of the American Medical Society for Sports Medicine.
"It made me happy that Dr. Stricker was impressed with what I've done," says Tillery. "We met on Zoom and talked about my WiSci (Women in Science) experience in Namibia where 100 high school girls from surrounding Africa and the U.S. met to work with tech industry leaders from Google, NASA and Intel."
Blum is working with his mentor, James Trusler, who teaches world history at Rolla Junior High School. Trusler earned a bachelor of arts degree in history at S&T in 2016, was selected as one of Missouri's Outstanding Beginning Teachers in 2019, and in 2020 was named the Missouri Council for the Social Studies Middle School Teacher of the Year.

"I've already learned a lot of important lessons from Mr. Trusler about being an educator," says Blum. 

As Evans Dean's Scholars, Blum and Tillery are setting a high standard for award recipients in years to come.