Historian's passion for the past inspires new experiential learning opportunities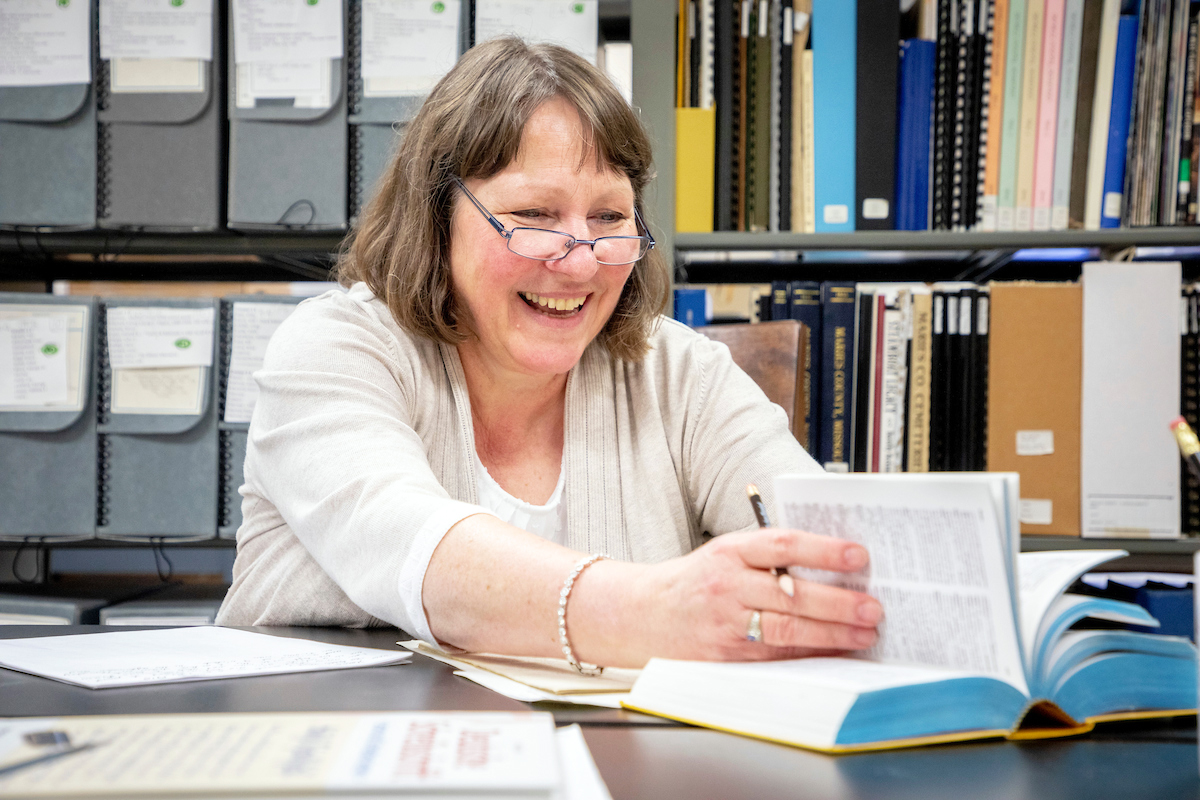 It isn't every day that undergraduates studying the humanities can work in a state-of-the-art laboratory to create projects and develop their scholarship. But that will soon be the norm at Missouri S&T.
In fall 2020, Missouri S&T will introduce a new hands-on digital learning space, named the "Collaboratory," for Missouri S&T students in humanities courses and those working on interdisciplinary projects that integrate science, technology and social concerns. Dr. Petra DeWitt, an S&T graduate and faculty member, played an integral part in its development.
After 17 years in the classroom, DeWitt says she concluded that hands-on learning is the most effective form of education.
Until now, S&T's humanities departments — history and political science, English and technical communication, and arts, languages, and philosophy — have had limited opportunities to engage in laboratory-based research, says DeWitt, an assistant professor of history and political science who has been twice-recognized at S&T for sustained excellence in teaching.
DeWitt's belief in hands-on learning combined with her personal commitment to original scholarship, inspired her to fund an undergraduate assistantship in the Collaboratory. The position will help run the new lab's research and communication technologies.
DeWitt's own research focus in migration and ethnic history, specifically about Missouri's culturally rich German-American heritage, is a model of scholarship S&T humanities students can relate to and learn from, considering more than 80% of S&T undergraduates are Missouri residents.
"I like to give students hands-on experience," says DeWitt. "In my classes, we'll be doing lots of writing — especially blogs and essays on something that happened in Missouri."

DeWitt immigrated to America from Germany in 1985 with her husband, an American soldier who was stationed in Karlsruhe. She became a Missouri resident and says she enjoyed the state's welcoming German-American culture. That culture began with an early 19th century influx of German immigrants that continued until the late 1900s, producing strong German-American settlements along the Missouri River valley and in the St. Louis area.
An S&T history graduate, DeWitt earned master's and doctoral degrees at Truman State University and the University of Missouri-Columbia, respectively, also in history. Along the way, she took theoretical issue with Pulitzer Prize-winning author David Kennedy's portrayal of Germans in America as targets of World War I persecution whose culture was subsequently destroyed, in his best-selling book, Over Here.

DeWitt's real-life observation of the thriving Missouri German-American culture became the basis for her book, Degrees of Allegiance: Harassment and Loyalty in Missouri's German-American Community during World War I, published in 2012. Her historical account re-vamps conventional thinking about the German-American experience during World War I by documenting the unique experience of Missouri's German-Americans who were spared the typical anti-German hysteria and hostilities prevalent in other U.S. states. Degrees of Allegiance received the 2012 Missouri History Book Award from the State Historical Society of Missouri for superior original scholarship pertaining to the state and its people.
In recent years, DeWitt's research has resulted in publications and presentations throughout Missouri that examine social and ethnic topics of the Great War era, such as the role of the Missouri Home Guard, the unification of Jews in St. Louis, and the post-war female activism of the Missouri Women's Committee of the Council of National Defense. In 2018, DeWitt spoke about World War I's Central Powers at the National World War I Museum and Memorial in Kansas City, commemorating the 100th anniversary of the war's end.
DeWitt's research informs several of the courses she teaches, including Making of Modern Germany, European Migration and Nationalism Formation, and Historiography, the study of how historical writing changes over time.
"Dr. DeWitt's historiography class really stood out to me," says 2016 S&T history graduate James Trusler, who teaches world history at Rolla Junior High School. "She was very positive and encouraging, and her dedication to history inspired me to become the best history teacher I can be."
In addition to her teaching and research, DeWitt is working with the German Heritage Corridor statewide digitization project. Sponsored by the Missouri Humanities Council, the project's goal is to translate and digitize manuscripts and artifacts to archive the state's German culture for sharing with future generations and tourists.

"This is the type of project students will be able to create in the Collaboratory," says DeWitt. "I'm thrilled to be part of this groundbreaking addition to Missouri S&T."