Teaching teens more than history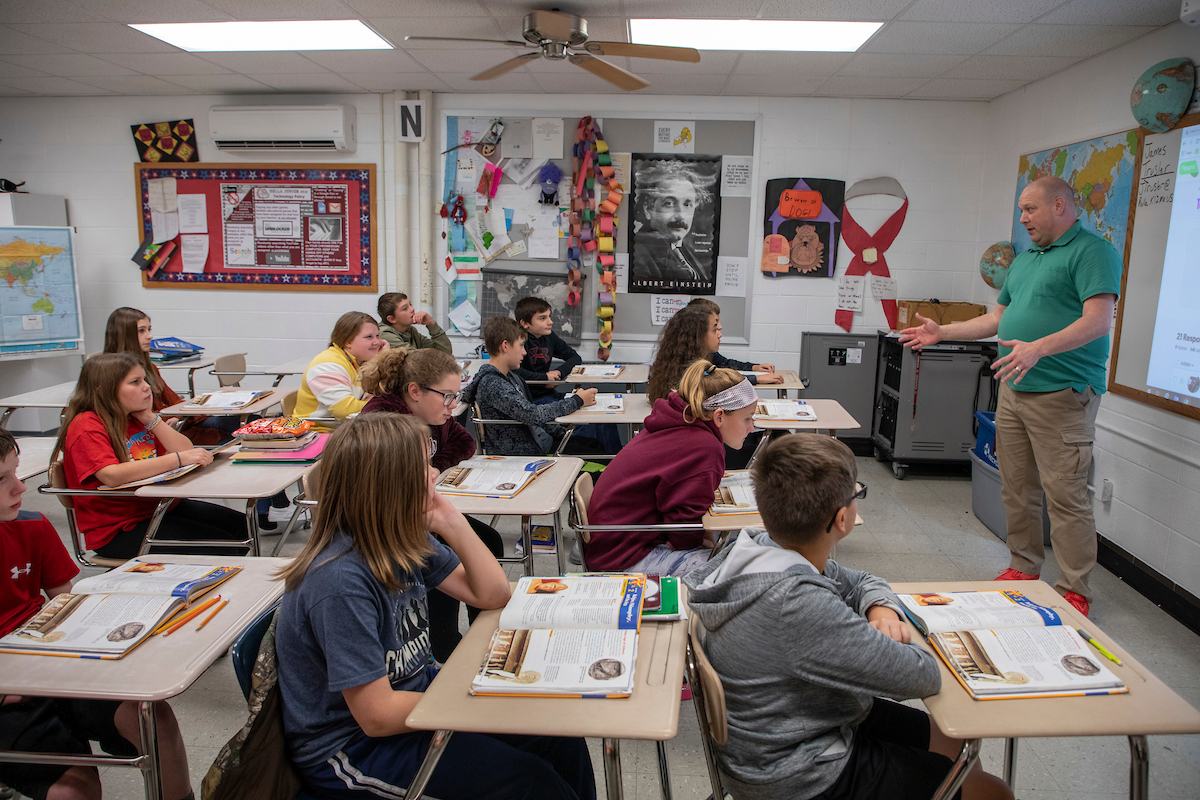 James Trusler is the kind of teacher a student never forgets.
With a smile that draws you in, and a voice that communicates acceptance and understanding, Trusler, a 2016 S&T graduate with a bachelor's degree in history, educates 200 teenagers a semester in his seventh- and eighth-grade world history classes at Rolla Junior High School.
"I was a 13-year-old student who struggled and didn't care about grades," says Trusler. "So I try to make history as engaging and exciting as I can."
Trusler engages his students by blending real-life stories into his lessons.
"I'm not just teaching history — I'm giving them a piece of myself," he says. "I want them to know that being human and making mistakes is normal, and hopefully my stories will help them remember that lesson."
Trusler's unconventional path to teaching gives him a lot of stories to share with his students. For starters, he didn't complete his high school education, and the lack of a diploma made getting a job difficult.
"Learned helplessness is real," he says. "You start closing your own doors."
To start opening more doors, Trusler earned a GED (General Education Diploma) in 1991, and took a job in the grocery business in southeast Missouri.
Twenty-three years later, Trusler's wife, a pharmacist, asked him if he had thought about going to college. Although he had found success as a supermarket manager, the question made him confront the gnawing inner belief that he might not be smart enough to earn a college degree.
Trusler overcame that doubt and enrolled in East Central College in Rolla, earning an associate of arts degree in history. He went on to Missouri S&T as a full-time student, and graduated magna cum laude in 2016 with an emphasis in secondary education. And his hard work has paid dividends. In March 2019, Trusler received the Beginning Teaching Award at the 2019 Missouri Association of Colleges for Teacher Education (MACTE) conference.
He says he appreciates both the rigorous education he received and personal support from his professors.
Today he is pursuing a master's degree in military history through an online program at Southern New Hampshire University. He's also working more technology into his classroom with a goal to engage students by using YouTube as a teaching tool.
"My story is one of a false belief in ineptitude — not doing what I should and then trying to catch up later," says Trusler. "I try to let my students figure out that it would be easier to just do the work now, and hopefully they'll wake up before I did. I want to hug them all and drag them up.
"My path is unusual; life doesn't usually work out this way," says Trusler after three years of teaching at Rolla Junior High. "I love it here. I can't see myself anywhere else."