In inaugural State of the University address, Chancellor Dehghani promotes S&T as "destination of choice"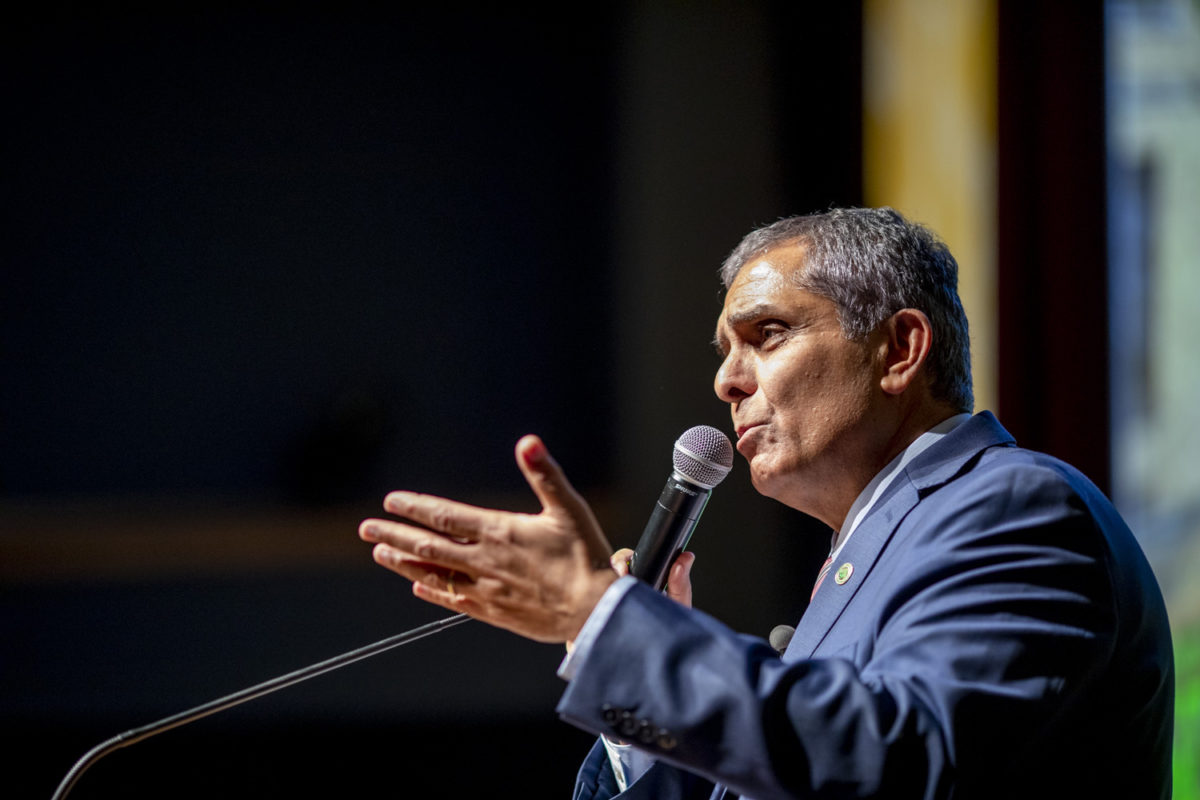 Missouri S&T Chancellor Mohammad Dehghani wants to make the university he leads a "destination of choice" for students, faculty and staff. And he wants the world to know about it.
"I've served at some of the nation's leading universities, and based on my experience, I can tell you that the quality of a Missouri S&T education is second to none," Dehghani said during his inaugural State of the University Address Wednesday afternoon at Leach Theatre of Castleman Hall on the Missouri S&T campus. "This university is a gem, and the entire state of Missouri should be proud of our excellence."
Dehghani, who joined Missouri S&T on Aug. 1 as the university's 22nd leader, delivered his State of the University address on a significant date in S&T's history. Wednesday, Nov. 6, marked the 148th anniversary of the first day of classes held at S&T, which was then known as the Missouri School of Mines and Metallurgy, or MSM.
"In two years, we will celebrate the 150th anniversary of our first day of classes," Dehghani said. "What kind of university will we be in two years? In 20 years? In 50 years?
"We must act now to assure that the same quality of education and research Missouri S&T is known for continues well into the future," Dehghani said.
Noting that S&T's first classes were held in the Rolla Building, which also served as Rolla's public school, Dehghani added that the ties between the university and community have been strong since S&T's earliest days.
"This campus very much needs the support of our community if we are to succeed," Dehghani said, adding that he was pleased to see several community leaders at the event.
Dehghani also called on the university community to focus on improving Missouri S&T's retention and graduation rates, elevating research activity, and enhancing the university's reputation. He also emphasized the need to increase enrollment at undergraduate and graduate levels and become a top 100 university in the U.S. News & World Report rankings of the best national universities.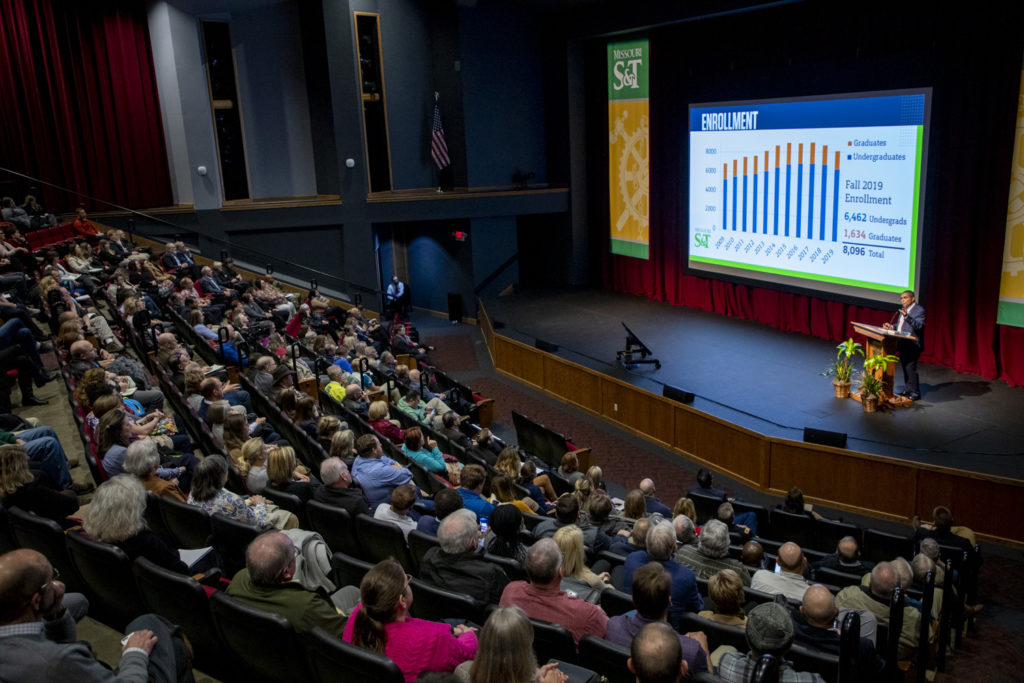 Improving retention and graduate rates would help boost S&T's U.S. News ranking significantly.
University of Missouri System President Mun Choi introduced Dehghani at Wednesday's event.
"I'm so excited to have Mo Dehghani as the Chancellor at S&T," Choi said. "His focus on serving the students and responding to the needs of the state, including infrastructure and economic development, are the key to making this university into a powerhouse for Missouri. Chancellor Dehghani recognizes the strengths of this university, and I'm looking forward to supporting the transformations for S&T in the years to come."
Prior to joining Missouri S&T in August, Dehghani served as vice provost for research, innovation and entrepreneurship at Stevens Institute of Technology in Hoboken, New Jersey, from 2013 until the end of July. Previously, he was associate director for engineering at the Applied Physics Laboratory, a professor of mechanical engineering and the founding director of the Johns Hopkins University Systems Institute (JHUSI).
Before joining Johns Hopkins in 2008, Dehghani served as the New Technologies Division leader at Lawrence Livermore National Laboratory (LLNL) in Livermore, California. Dehghani also spent a dozen years as a tenured faculty member of the mechanical engineering department at Ohio University in Athens, where he also served as the elected senator representing the College of Engineering in the faculty senate until his departure in 1996 to join LLNL.