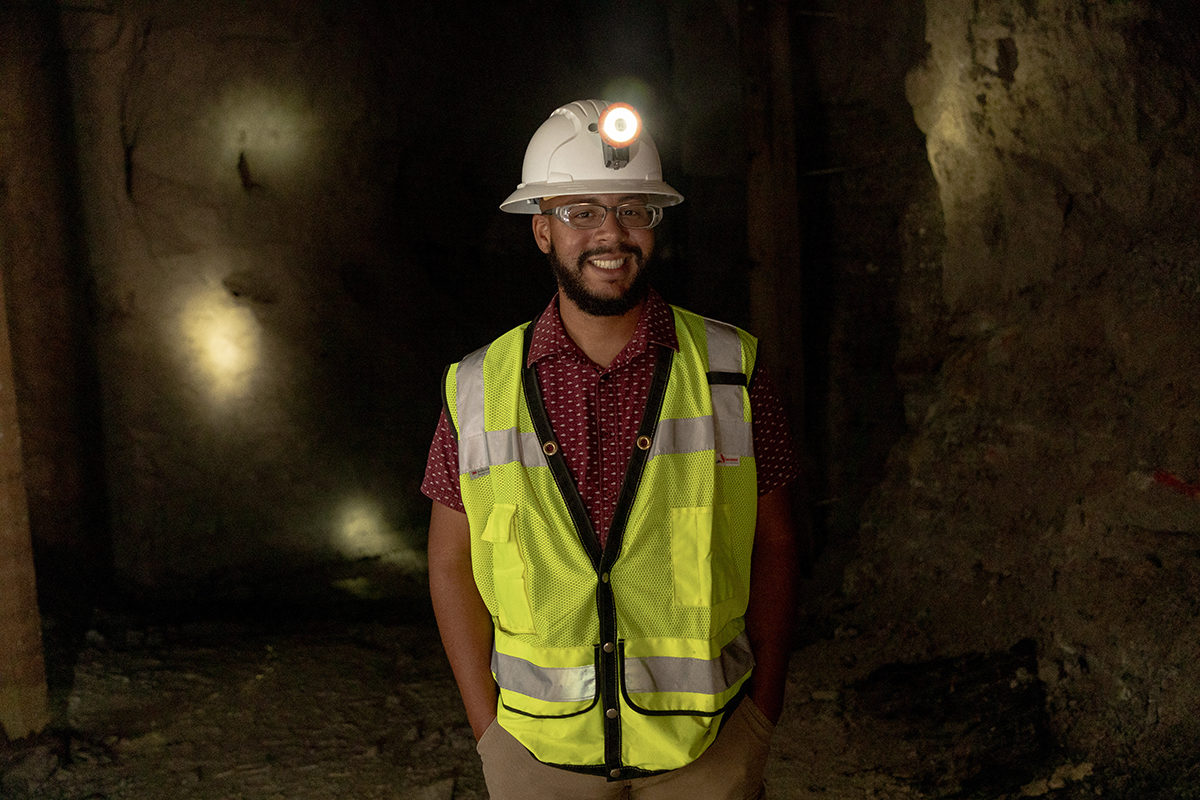 It seems appropriate that a GEM University Fellow would choose to study mining engineering. After all, gems must be mined.
Jose L. Corchado-Albelo joins Missouri S&T this fall as the first GEM University Fellow in over a decade.
As a member of the National GEM Consortium, Missouri S&T is working to encourage students like Corchado-Albelo and others from underrepresented groups to pursue master's or Ph.D. degrees in engineering or science disciplines.
Corchado-Albelo is pursuing a master's degree in mining engineering at S&T. He earned a bachelor's degree in geology from the University of Puerto Rico at Mayaguez (UPRM) in July 2018 following an internship at the University of Texas-Austin, where he worked in the Jackson School of Geosciences' UT Chron Geo-Thermochronometry Laboratory. The lab's internship program provides students with experience in geochemistry, geochronology (studying the age of rocks) and thermochronology (the study of when and how rocks solidified).
"My attraction to Missouri S&T began when I was looking at my graduate school options and observed the great laboratory equipment and research options in mining engineering," says Corchado-Albelo, who is from Quebradillas, Puerto Rico. "After speaking to my professors and academic advisors, I concluded that continuing my graduate studies at Missouri S&T was the perfect option for me."
As a GEM University Fellow, Corchado-Albelo will hold a 50% graduate research assistantship position and will receive full coverage of tuition and fees.
Founded in 1976 at the University of Notre Dame, the National GEM Consortium's mission is to increase the number of engineering and science graduate students from underrepresented groups (African Americans, Native Americans and Hispanic Americans). Originally known as the National Consortium for Graduate Engineering Degrees for Minorities, over the years the consortium has supported more than 3,000 researchers, professors, entrepreneurs, inventors and business leaders, including over 200 men and women with doctorates in the physical sciences, life sciences and engineering.
"We're very excited to have an exceptional scholar like Jose join our university as a GEM University Fellow," says Dr. Costas Tsatsoulis, vice chancellor of research and dean of graduate studies at Missouri S&T. "For more than 40 years, this prestigious program has opened doors of opportunity for many young engineers and scientists, who have gone on to successful careers in industry, government, research and education, as entrepreneurs, and as mentors to future generations. Jose now joins that long legacy of success."
Corchado-Albelo credits his academic advisor at UPRM, Dr. Hernan Santos, a professor of geology, as well as a UPRM graduate now in the mining industry, for encouraging him to consider graduate study in mining engineering. His research advisor, Dr. Thomas Hudgins, an assistant professor of petrology and geochemistry, "was the first to suggest Missouri S&T as a great university to research mining engineering," Corchado-Albelo adds.
"For the GEM University Fellowship, however, all credit goes to materials engineering Professor Marcelo Suarez," he says. "He is the person who introduced me to the GEM Fellowship and encouraged me to apply for the program. He highlighted all the great opportunities that come with becoming a GEM Fellow and how these could benefit my career."
Over 1,300 students apply for various GEM fellowships every year. Those selected have an average grade point average of 3.5 across a wide variety of majors.
At S&T, Corchado-Albelo plans to focus on mining reclamation – the process of restoring land that has been mined. He's also interested in rock mechanics, mineral characterization and mine planning.
"I look forward to gaining great research experience through evaluating and characterizing critical minerals from base metal processing streams," he says.