Fall sports preview: What to look forward to
Posted by news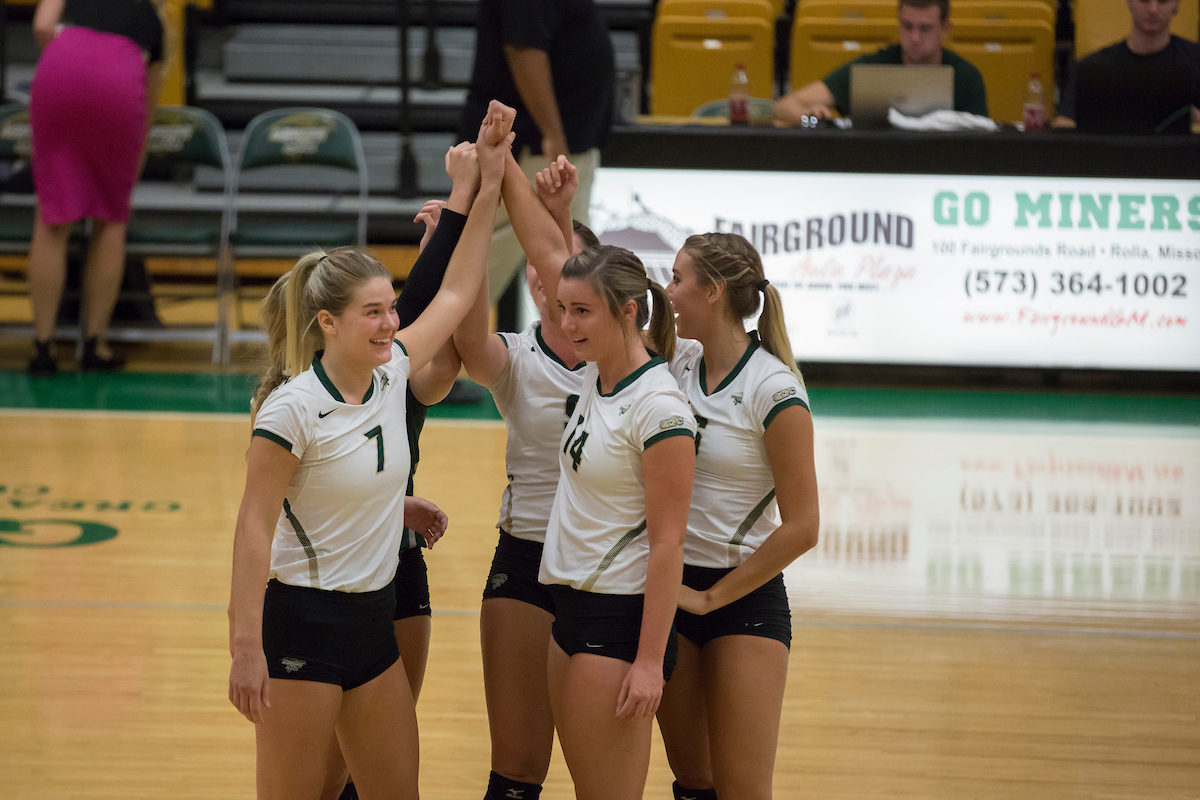 Missouri S&T will soon commence its fall season with football, volleyball, soccer, golf, swimming and cross country. Here's a glimpse at what's ahead. Keep up with the Miners year-round at MinerAthletics.com.
Football
Under the leadership of new head coach Todd Drury, Miner football looks to be in good shape for 2019 despite the loss of key players.
"It's no secret that we graduated a lot of production and talent last year at wide receiver," Drury says. "This year is a new opportunity for some other veterans to make plays. I think that this group is still as talented as ever."
The home opener for Miner football is scheduled for Sept. 14 against Azusa Pacific. A year after tying a school record for wins and capturing its first post-season victory in 68 years, Missouri S&T's football team was picked to finish fourth in the Great Lakes Valley Conference in the pre-season coaches poll.
Other home matches for S&T include games against Miles College (Sept. 21), Quincy (Oct. 5), Southwest Baptist (Nov. 2) and McKendree (Nov. 16).
Volleyball
No question the 2018 season represented an upward trend for S&T volleyball, as the Miners registered their best season in three years and set a school record with a 7-2 season-opening start.
"We were able to improve in every major statistical category other than digs," says head coach Andy Halaz. "Overall wins, conference wins, regional ranking, hitting efficiency, aces, blocks, passing efficiency, and side out percentage are all better than they were last season. We know the process of building a championship caliber team will take time, but the 2018 season also had its share of disappointment because of how close we were to experiencing more tangible benchmarks."
S&T volleyball will open the season at home Sept. 5-7 with the Miner Invitational.
Cross Country
S&T's men's and women's cross country placed 13th and 14th respectively at the 2018 NCAA Division II Midwest Regional. Come fall, both teams will kick off their season in Bolivar on Sept. 7 at the Southwest Baptist Invitation.
Golf
Both the men's and women's golf programs look to have more success this coming season after two noteworthy schedules.
The men's program is coming off four top-5 finishes last season that included a first-place finish at the Kentucky Wesleyan Panther Invitational. Chad Green and his team will begin their 2019-2020 season Sept. 3 at the Arch Cup in St. Louis.
Amy West and the women's golf team look to continue their success from last season; they finished among the top-five teams in six of their eight matches. They even claimed a share of first place at the Drury Panther Fall Classic last October. They will kick off their season in Evansville, IN at the Southern Indiana Screaming Eagle Classic on Sept. 9.
Soccer
The men's soccer team looks to trend upward for the 2019 season. After forcing five games into overtime and two of them into double-overtime, S&T will be competitive this coming season. They will kick off their season at home against Ouchita Baptist and Northeastern State on Sept. 6 and 8, respectively.
The S&T women's soccer team will begin their 2019 season on the road at Delta State and Christian Brothers Sept. 6 and Sept. 8 after just missing the GLVC tournament last year. The Miners had a key victory over Truman State, who shared a part of the regular season championship, and sent the Screaming Eagles of Southern Indiana, who also shared a part of the regular season, into a double-overtime draw.
Swimming
The swimming team is coming into the 2019-2020 season on a high note after taking second place at the GLVC Championships and finishing sixth at the NCAA Division II Championships. Most notable for the team was Tim Samuelsen and his second-place snag of the 1,650-freestyle. It was the first time the team had placed in the top 10 at Nationals since the 2011 season.
Swimming will get their season underway on Oct. 4 when they compete in the Show-Me Showdown at Mizzou. Their first home meet will be later that month (Oct. 25) when Delta State comes to town.