S&T students awarded national foreign language awards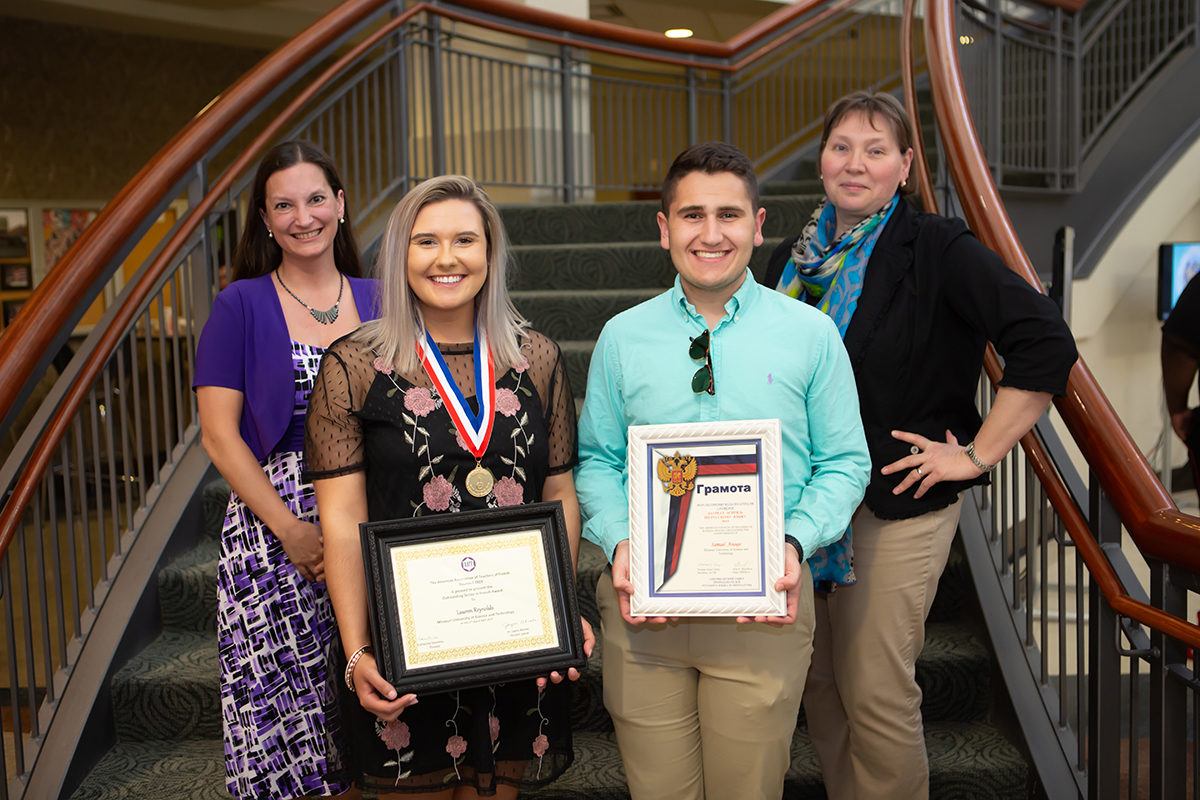 Two Missouri S&T students were awarded national foreign language awards on Monday, May 6, at the 15th annual Student Art Show in the Havener Center on the Missouri S&T campus, followed by a reception to honor the work of students in art and language.
The two national foreign language awards were presented to students currently studying Russian and French.
The 2019 American Council of Teachers of Russian (ACTR) annual Post-Secondary Russian Scholar Laureate Award was presented to Samuel Araujo, a senior in engineering management from Florissant, Missouri, for his passion and commitment to Russian language and literature.
"Sam's strong analytical skills, combined with a pure intellectual curiosity, make him highly suited for the academic community," says Dr. Irina Ivliyeva, professor of Russian. "Sam is a mature, goal-oriented individual. His natural leadership abilities, inner discipline, as well as the combination of his attention to detail, his enthusiasm for learning and interest in other cultures, has always been a great asset in the classroom, and beyond."
The 2019 American Association of Teachers of French (AATF) Outstanding Senior in French Award was presented to Lauren Reynolds, a senior in multidisciplinary studies from Wildwood, Missouri, for her dedication to the study and commitment to French language and culture.
"It has been a joy to see Lauren develop her language skills and to hear about her enriching experiences abroad," says Dr. Audra Merfeld-Langston, chair of arts, languages and philosophy and associate professor of French. "Her excitement about language and culture is contagious. She is a wonderful example of a student who has managed to successfully combine her multiple interests in meaningful ways, and to develop great intercultural communication skills in the process."
The arts, languages, and philosophy department also presented "ALPY" (Arts, Languages, and Philosophy Yearly) awards during the reception. These awards were presented to students who showed achievement in the classroom this year, from class participation to artistic talent.
The reception and awards presentation was sponsored by the Campus Arts Committee; the arts, languages, and philosophy department; and the College of Arts, Sciences, and Business.