Shannon named S&T Women's Advocate of the Year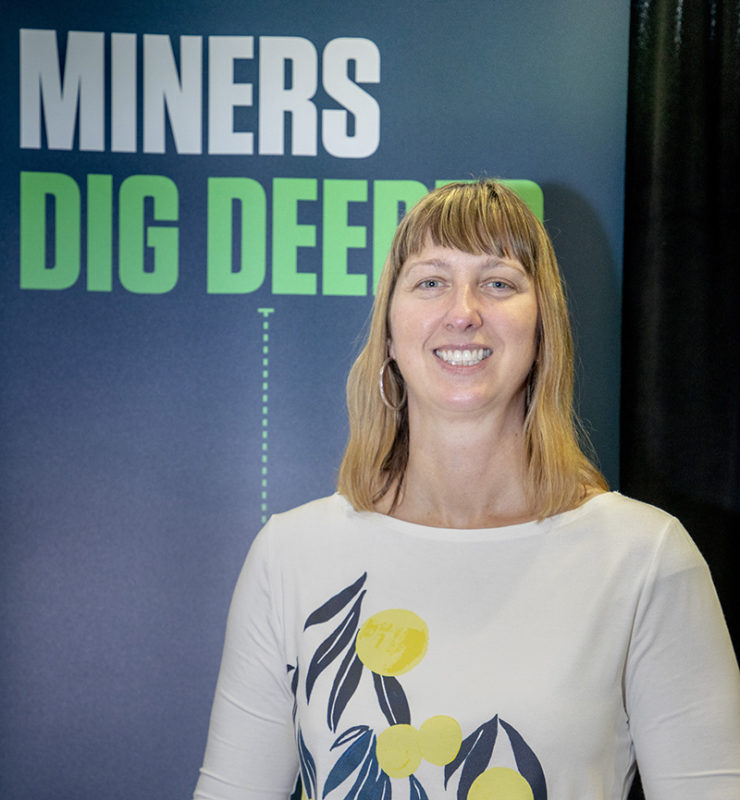 Dr. Katie Shannon, associate teaching professor of biological sciences and director of the Laboratory of Cytokinesis at Missouri S&T, has been named the 2019 recipient of the Dr. Elizabeth Cummins Women's Advocate Award. She was honored during a campus ceremony on Wednesday, April 24.
The award is given to any Missouri S&T employee, regardless of gender or job designation, that demonstrates commitment to the women on campus through mentorship and advocacy and by setting an example through professional achievement. As part of the award, Shannon received a $1,000 stipend funded by Missouri S&T graduate Cynthia Tang, founder and former chair of Insight Industries Inc.
"Dr. Shannon is an important representative and voice of the biological sciences program to our undergraduate students," wrote one colleague who nominated her for the award. "For the past number of years, she has taught every section of freshman seminar, the first class that biology students take, and every section of senior seminar, the last class that they take."
"In addition to her work with Missouri S&T students, Dr. Shannon has played a role in attracting and motivating the next generation of woman scientists," says another colleague. "She has organized presentations and engaging hands-on activities for programs such as Expanding Your Horizons, Summer Solutions, It's a Girl's Thing and the Society of Women Engineers Lock-In. These programs are important opportunities to give young women hands-on experience in STEM disciplines and encourage them to eventually pursue STEM careers."
Shannon has earned numerous honors while at S&T, including Faculty Achievement Awards, the Faculty Service Learning Award and was named a national Academies Education Fellow in the Life Sciences. She has earned grants from the National Institute of Health, the Center for Statistical and Computational Modeling of Biological Complexity and the University of Missouri Research Board.
"Beyond her work with current and future college students, Katie also serves as a mentor to more junior female faculty, and contributes to building a welcoming and inclusive environment that is critical if S&T is to retain talented women," says another nominator. "In short, she is indispensable to the success of our students, especially our women students, and is the epitome of a campus leader, mentor, advocate and servant."
Shannon earned bachelor of arts degrees in biology and political science from the University of North Carolina-Chapel Hill in 1994. She earned a Ph.D. in cell and developmental biology from Harvard Medical School in 2000. Shannon joined the Missouri S&T faculty in 2005. Her research focuses on the temporal and spatial control of cell division and using budding yeast as a model to determine how cytokinesis is cell-cycle regulated.
The Dr. Elizabeth Cummins Women's Advocate Award, which was established in 2017, is named for a Missouri S&T professor emerita who served as chair of English and technical communication. She was the first woman to chair an academic department at S&T and the first recipient of the Woman of the Year Award.