Speakers chosen for TEDxMissouriS&T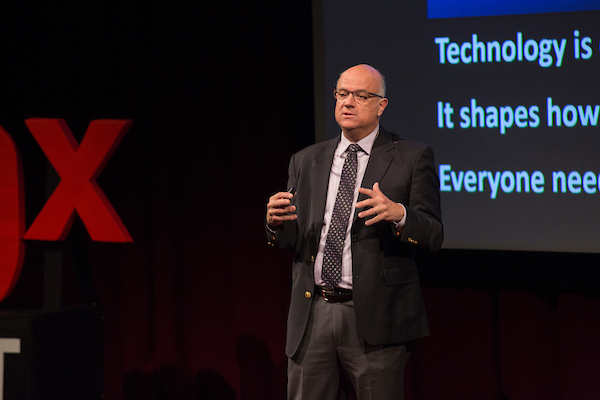 Nine speakers will present on topics as diverse as entrepreneurship, ant colonies, self-sustaining gardening and workplace safety as part of TEDxMissouriS&T this spring. The event will be held at 6 p.m. Thursday, April 11, in Leach Theatre of Castleman Hall, located at the corner of 10th and Main streets in Rolla.
Tickets are now on sale and are $10 for the general public and $5 for S&T students until April 4. After this date, ticket prices rise to $15 for the general public and $10 for S&T students. Tickets can be purchased from the Leach Theatre Box Office, located inside the 10th Street entrance to the building, online at leachtheatre.mst.edu or by calling the box office at 573-341-4219.
TED is a nonprofit organization devoted to "Ideas Worth Spreading" that hosts a series of brief prepared talks and performances focused on an idea that covers a broad range of thought-provoking topics.
TEDx takes that idea to the local level. TEDxMissouri S&T will focus on the idea of "Overlooked." Speakers will explore topics about previously hidden experiences, changed perceptions and the act of noticing the overlooked.
The following speakers will present at TEDxMissouriS&T:
— Alex Giger, executive chef at Just a Taste in St. James, Missouri, will present "Farm to table." Giger will describe what it takes to work with local farmers to bring food from the farm, onto the plate, then to the table.
— Dr. Chen Hou, an associate professor of biological sciences at Missouri S&T, will present "Ant colonies." Hou contends that ant colonies and human cities are like super-organisms in the way they use energy.
— Ed Koharik, a senior in economics at Missouri S&T from Belleville, Illinois, will present "Student innovation." Koharik will share with the audience how to help cultivate and encourage curious minds at the university and beyond.
— Tamar Makharashvili, a Ph.D. student in electrical engineering at Missouri S&T from the Republic of Georgia, will present "Women in engineering." Makharashvili will discuss how her current path is something she could not have dreamed of 10 years ago.
— Sgt. Michael McLeon, a correctional officer in the Texas Department of Criminal Justice's Michael Unit in Anderson County, Texas, will present "Agriculture." McLeon is part of a team that developed a method of growing crops and herbs within the correctional system using aquaponics and hydroponics to provide fresh food for offenders, food banks, homeless shelters and children's homes.
— Joshua Morris, owner of Morris Renewable Energy LLC, will present "Conflict and renewable energy." Morris will speak about past conflicts that were fought over resources and then propose solutions to reduce future conflicts, including moving toward a sustainable lifestyle.
— Leneisa Parks, student success specialist in graduate studies at Missouri S&T, will present "Art of storytelling." Parks will speak about the art of storytelling, and explain that there is power in our own books of life where we must choose to be authors, and not just readers.
— Mike Schmidt, a lecturer in engineering management and systems engineering at Missouri S&T and founder of Bluefield Process Safety, will present "Dangerous jobs." He will explain what hazards consistently contribute to workplace fatalities and provide steps to take to make everyone safer.
— Charlotte Wiggins, a master gardener and representative and contributing author of Missouri's Master Pollinator Steward Program, will present "Beekeeping." Wiggins will talk about the importance of pollinators, like honeybees, which provide one-third of the world's food supply. She will also provide the audience with tips everyone can do to ensure the future of bees.
At a TEDx event, TED Talks video and live speakers combine to spark discussion and connection. These local, self-organized events are branded TEDx, where x means it is an independently organized TED event. The TED Conference provides general guidance for the TEDx program, but individual TEDx events are self-organized. All presentations are recorded and shared through TEDx media.
For more information about the event, visit tedxmst.com.