Missouri S&T disc golf team places fourth in national championship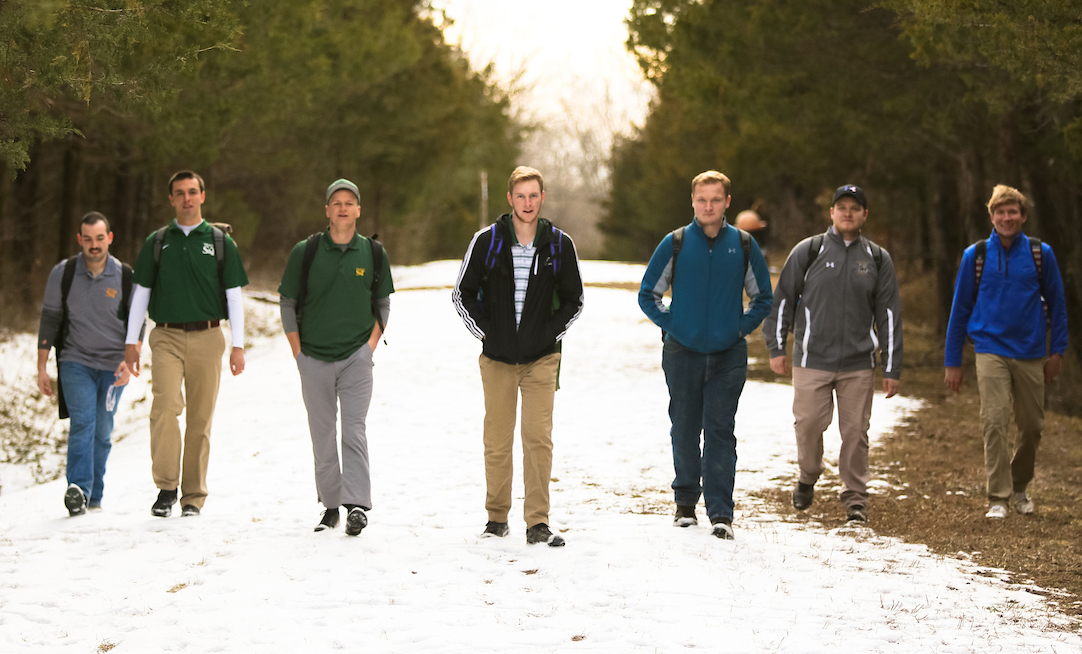 UPDATE: Over spring break, the Missouri S&T Miner Disc Golf Team placed fourth out of 36 teams at the National Collegiate Disc Golf Championship in Georgia. Team member Mark Anderson finished No. 1 overall as the individual national champion.
PREVIOUS STORY: Members of Missouri S&T's disc golf team are headed to Georgia over spring break to compete in the National Collegiate Disc Golf Championship.
The Miner Disc Golf Club will take three teams and 12 players to the event in Appling, Georgia, March 27-30.  
"It was through the hard work and dedication of the members of the club that we've been able to accomplish what we have," says Ethan Huddleston, president of the team and a senior in civil engineering from O'Fallon, Missouri. "And we aren't planning to slow down anytime soon."
Missouri S&T's team earned a bid to compete at the national level by winning the Missouri Collegiate Disc Golf Championship in Columbia, Missouri, right before Thanksgiving last year. They beat out teams from the University of Missouri-Columbia (MU) and the University of Kansas at the regional qualifying event. S&T's lead card, the S&T Gold team, maintained a lead of six strokes under the MU Gold team.
"This was first competitive event in which all three schools have played against each other," says Huddleston. "Having a friendly rivalry with neighboring schools has been great for a healthy, competitive atmosphere."
After playing with the Rolla Disc Golf Club in 2016-17, Huddleston, along with teammates Quentin Lee and Ben Kramer, decided to revitalize the Miner Disc Golf Club in 2017-18. The organization is a club sport – not sanctioned by the National Collegiate Athletic Association (NCAA).
The Miner Disc Golf Club hosted its first tournament in March 2018 at the S&T Experimental Mine. They will host a competition again in April that will serve as a fundraiser for the group as well as S&T's Mine Rescue Team.
"Disc golf as a whole is typically a tight knit community," says Huddleston. "You might come across movements on social media that say 'grow the sport.' That's really what all players rally around regardless of who they are, where they come from, or how they choose to play the game."
Disc golf is a relatively new sport played with rules similar to golf and often on a course of nine or 18 "holes" – actually baskets ringed with vertical chains that help stop the discs. Instead of using a golf club to hit a golf ball, players throw a flying disc – similar to a Frisbee – at a target. Players try to hit the target in the fewest number of throws.
The S&T club is raising funds to cover the cost of travel to the national competition, including transportation, lodging, food and entry fees for all 12 members. Members are close to meeting their initial $3,500 goal. Donations can be made on their website at app.mobilecause.com/vf/Disc/team/DiscGolf or by texting Disc1 to 71777.
Missouri S&T Miner Disc Golf Club members headed to the national competition include:
Lead Team
Ethan Huddleston, a senior in civil engineering from O'Fallon, Missouri
Tyler Fank, a sophomore in civil engineering from Wentzville, Missouri
Mark Anderson, a senior in computer science from Warrensburg, Missouri
Carl Eastman, a senior in mechanical engineering from Dorsey, Illinois
First Flight
Quentin Lee, a senior in applied mathematics and secondary education from O'Fallon, Missouri
Ben Kramer, a senior in engineering management from O'Fallon, Missouri
Gabe Miller, a junior in mechanical engineering from Amazonia, Missouri
Ian Nelson, a senior in engineering management from Festus, Missouri
Second Flight
Blake Deckard, a sophomore in civil engineering from Wentzville, Missouri
Ethan Babor, a freshman in applied mathematics from Foristell, Missouri
Jake Kramer, a junior in mechanical engineering from O'Fallon, Missouri
Nathan Schweiger, a sophomore in chemical engineering from Wentzville, Missouri