College celebrates rise in graduate engineering rankings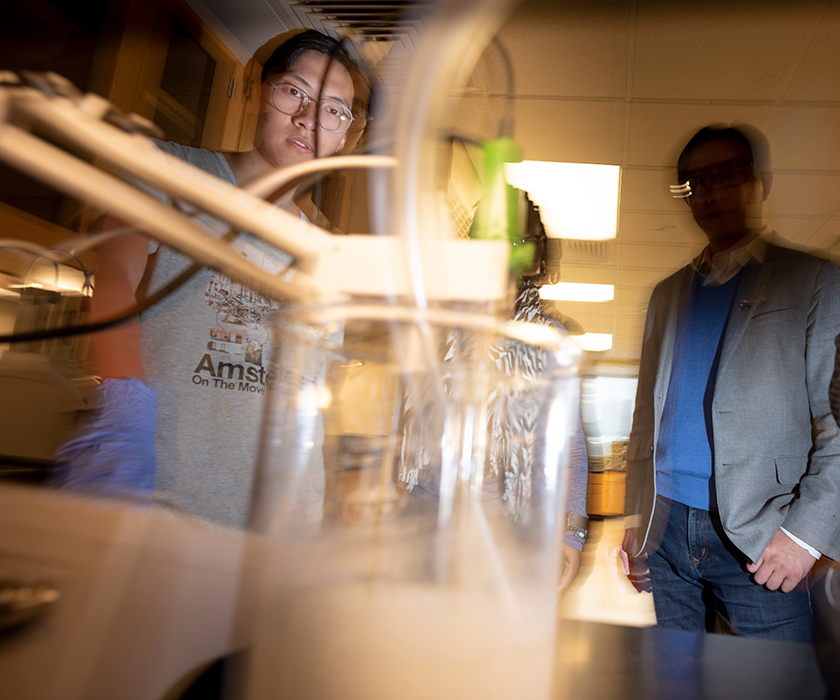 Some 60 faculty and staff members of the Missouri S&T College of Engineering and Computing gathered today to celebrate the college's rise in the U.S. News & World Report ranking of the nation's best graduate engineering programs.
During his Spring Open Forum, held at noon today (March 13, 2019) at Hasselmann Alumni House, CEC Vice Provost and Dean Richard W. Wlezien informed attendees that Missouri S&T's graduate engineering ranking has risen from 106th in the nation to No. 82 — a leap of 24 points, or 22.6 percent, in the highly competitive rankings.
"We now find ourselves right where we should be — in the middle of the pack of peer institutions," Wlezien says.
"Now is the time to renew our focus to continue our move to the top of that list," Wlezien adds. "When I came to S&T, I promised to lead the charge to the top 50. We intend to deliver on that promise."
Wlezien attributes the increase to improved accounting of research expenditures, improvements in faculty research productivity, growth in the number of Ph.D.s granted, and improvements in the peer assessment of S&T's graduate engineering offerings.
The College of Engineering and Computing at Missouri S&T offers one of the broadest arrays of engineering degrees of any university. Graduate degree options include master's and Ph.D. degrees in 16 engineering disciplines:
Aerospace engineering
Ceramic engineering
Chemical engineering
Civil engineering
Computer engineering
Electrical engineering
Engineering management
Explosives engineering
Geological engineering
Materials science and engineering
Mechanical engineering
Metallurgical engineering
Mining engineering
Nuclear engineering
Petroleum engineering
Systems engineering
The university also offers master's and Ph.D. degrees in computer science and geology and geophysics as well as master's degrees in environmental engineering, explosives technology, geotechnics and manufacturing engineering.
Several of the engineering programs were also ranked in the latest U.S. News & World Report's rankings of academic programs.
The graduate rankings were released Tuesday, March 12, 2019.
For more information about Missouri S&T's graduate programs, visit the university's graduate studies website.