Missouri S&T invites the public to a community-wide discussion on gene editing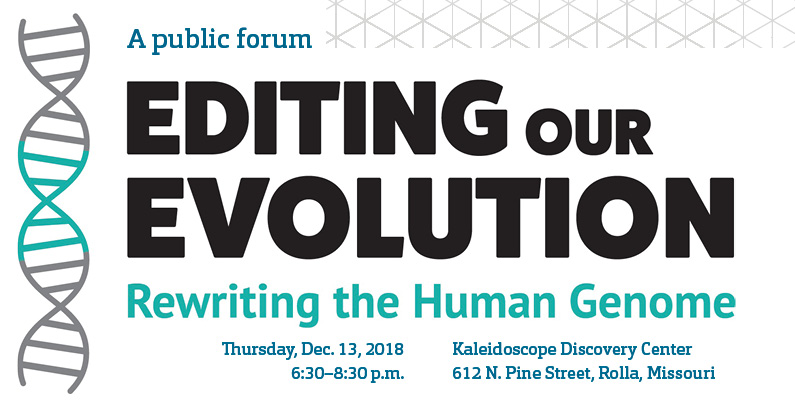 Missouri S&T's biological sciences department will host a public forum, "Editing our Evolution: Rewriting the Human Genome," from 6:30–8:30 p.m. Thursday, Dec. 13, at Kaleidoscope Discovery Center, 612 N. Pine St. in Rolla.
The meeting is free and open to the public, and anyone interested in participating in a discussion on this topic is encouraged to attend. Individuals interested in attending should register online at rol.la/genome2018  by Dec. 12.
The forum comes on the heels of the timely topic of genetic alteration of human embryos, which scientists in China recently claimed to have done using CRISPR (clustered regularly interspaced short palindromic repeats) technology. The technology can edit genes within organisms, especially for the purpose of making humans resistant to certain viruses such as HIV, smallpox and cholera.
"As gene editing techniques become more refined, the possibility of editing the human genome moves from science fiction to reality," says Dr. David Westenberg, associate professor of biological sciences and leader of the forum. "The technology is ethically controversial because genetic changes to an embryo would be passed on to future generations and potentially alter the entire gene pool."
Westenberg notes that bridging the communication gap between science and society is an essential issue surrounding genome editing as some members of the scientific community want strict regulations on gene editing while others are enthusiastic about the possibilities.
"Engaging the community through informal dialogue with scientists and researchers is an important avenue to building understanding that affects health and science literacy, as well as policy-making," Westenberg says. "I'm committed to reaching out beyond the academic setting to help everyone in the community understand how scientific knowledge can affect their quality of life."
The forum will include both small- and large-group discussions about ethical issues surrounding genetic therapy, issues of equity and access, and the possibility of making genetic changes that would last through a generation.
The program was developed in conjunction with the Boston Museum of Science with funding provided by the National Science Foundation.
Light refreshments will be served.
To learn more, contact Westenberg at djwesten@mst.edu or 573-341-4798.