S&T's multicultural theater production promotes understanding, receives first-time grant funding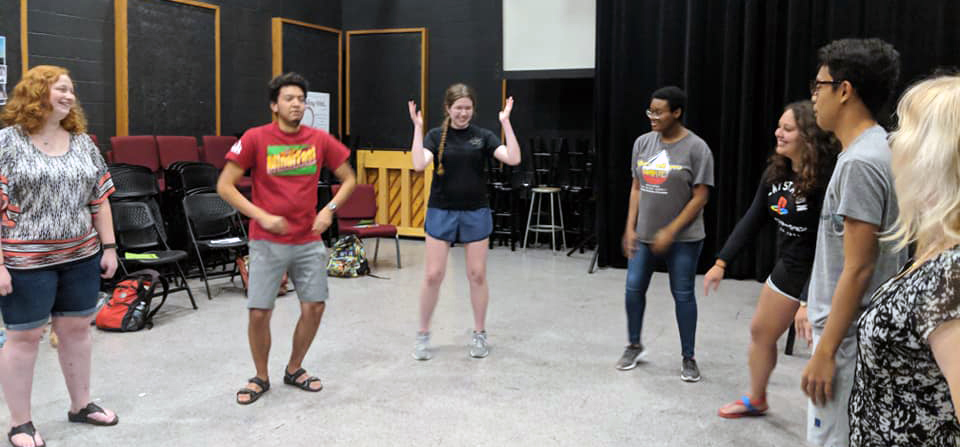 Missouri S&T's commitment to inclusive excellence will be apparent in the university's upcoming multicultural production of "Anon(ymous)," a contemporary play about a young refugee's inaugural journey through the United States that's been reimagined from Homer's "Odyssey."
The production of "Anon(ymous)" is supported by a $2,500 grant from the Missouri Humanities Council (MHC) with support from the National Endowment for the Humanities. This is the first time S&T has received such a grant. The grant is supplemented with additional funds from S&T.
"Anon(ymous)" will be presented by the department of arts, languages, and philosophy in Leach Theatre at 7 p.m. Thursday, Oct. 18, Friday, Oct. 19, and Saturday, Oct. 20; and at 2 p.m. Sunday, Oct. 21. Tickets cost $6 for students and children under 12 and $12 for general admission and can be purchased at the door prior to performances.
Based on the funding proposal of Jeanne Stanley, associate professor of theater at Missouri S&T, the play and activities surrounding it will be used to create a platform for understanding between cultures through its timeless exploration of the immigrant's experience.
"The cast of 'Anon(ymous)' is truly multicultural," says Stanley. "We're a rainbow — one-third of our cast is made up of international students, and the remaining American students are a mix of ethnicities."
Developed by Naomi Iizuka in 2006, "Anon(ymous)" is one of many literary adaptations of Homer's "Odyssey," the epic poem believed to be composed around the end of the eighth century B.C. and one of the most important foundational works of Western literature.
In Iizuka's version, a young refugee called Anon escapes his war-torn country only to be separated from his mother at sea. As Anon journeys through the United States, he encounters a wide variety of people. In this character-driven adventure, Anon navigates through a chaotic, ever-changing landscape, similar to the restless wanderings of the Greek hero, Odysseus, in Homer's iconic poem.
"By presenting these common, multicultural experiences, our purpose is to bring all these students together to promote understanding and a more blended community in the theater program, on the campus and in the Rolla community," says Stanley. "We're teaming up with S&T's division of diversity, equity and inclusion to have talk-back sessions at the performances where students can communicate their experiences and ideas inspired by the play," Stanley notes.
Attendees will also have the opportunity to participate in a survey to determine if the play influenced their thinking about international students.
"It's always inspiring to see our students find their own voices through art," says Neil Outar, S&T's interim chief diversity officer. "I cannot overstate the importance of this production, in terms of its representation of the diversity of our campus community and the message it conveys about our commonality of experience. I believe fans of both classical and modern theater will find things to appreciate in this performance."
"Anon(ymous)," which was originally commissioned by a children's theater company, is suitable for children over the age of 6.
The cast of "Anon(ymous)" includes:
Prasad Bankar, a graduate student in systems engineering from Pune, India
Paul Cassell, a senior in computer science from St. Louis
Danielle Emanuel, a junior in biological sciences from Manchester, Missouri
Abdullah Felemban, a senior in petroleum engineering from Jeddah, Saudi Arabia
Jacob Huxol, a junior in metallurgical engineering from Washington, Missouri
Allegra Kerns, a junior in biological sciences from Columbia, Missouri
Tessa Norman, a senior in civil engineering from Blue Springs, Missouri
Rachel O'Halloran, a sophomore in applied mathematics from St. Louis
Sabrina Outbabia, a senior in economics from Excello, Missouri
Alireza Pourhassan, a graduate student in civil engineering from Mashhad, Iran
Jamie Schwartz, a junior in multidisciplinary studies from Chesterfield, Missouri
Kyra Walsh, a sophomore in business and management systems from Florissant, Missouri
Ali Waqar, a graduate student in petroleum engineering from Islamabad, Pakistan
Naim Zafran, a junior in mechanical engineering from Kuala Lumpur, Malaysia.