Fine Linen Theatre grows into Rolla fixture — with plenty of help from Missouri S&T community members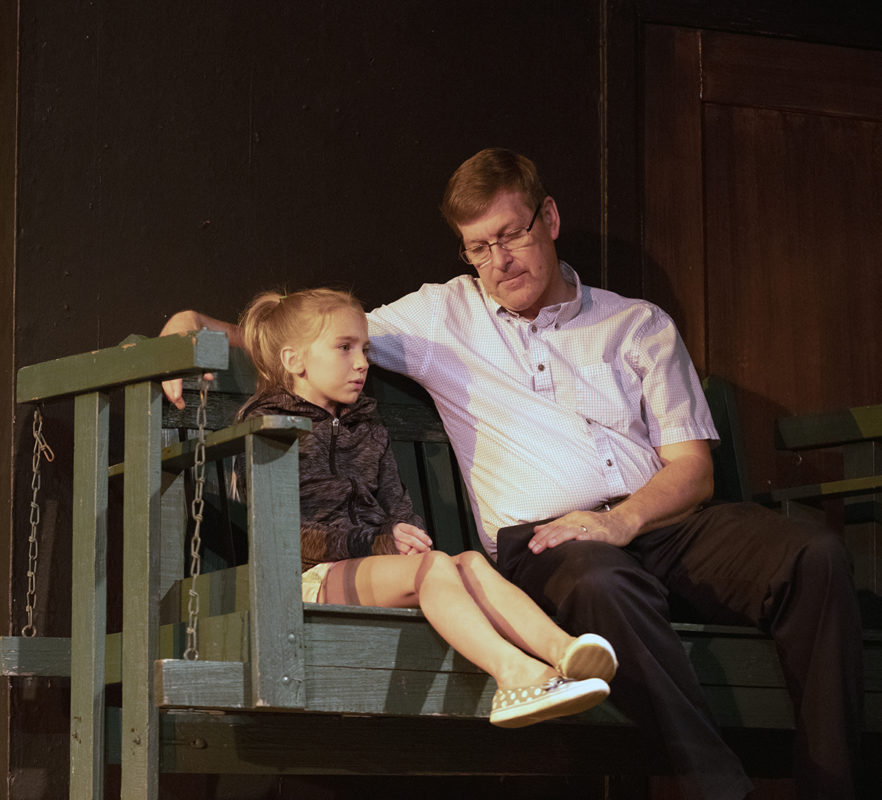 Sixteen years ago, Dr. Keith Nisbett and his wife, Kim, didn't set out to create an entrenched artistic home for amateur actors across south-central Missouri. As homeschool parents, they simply wanted to provide eldest daughter Amy, then a teenager, with the opportunity to perform on stage.
That first show — From the Mixed-Up Files of Mrs. Basil E. Frankweiler, an adaptation of a popular children's book — quickly became a full-fledged production.
"Fine Linen Theatre was birthed accidentally," says Keith Nisbett, a Missouri S&T associate professor of mechanical and aerospace engineering. "We were going to do the show in our living room, with Amy's younger brother, Joel, as the second cast member. By the time they finished, we had a dozen other kids. And we were not going to fit in the living room.
"It snowballed from there."
The Nisbett family has since grown to include 10 children, ages 13 to 33, and six granddaughters under the age of 5. For the Nisbett clan, involvement with Fine Linen has become a rite of passage. If not on stage, they work as lighting technicians, set and costume designers, ushers, box office personnel and more. From the start, performances have taken place at the Cedar Street Playhouse, home of the professional Ozark Actors Theatre, a summer stock company.
As the nonprofit theater has laid down roots in Rolla, it's evolved from a Nisbett family affair into a full-fledged community theater, with a healthy dose of participation by Missouri S&T students, staff, other faculty members and the community.
The upcoming production of To Kill a Mockingbird, which opens Friday and runs through Oct. 27, features freshman Bethany Pfeifer, a veteran of 10 other Fine Linen productions since 2012, in the role of Mayella Ewell, the young white woman who falsely accuses a black man of rape in 1930s Alabama.
Acting newcomer Tyrone Davidson, a Missouri S&T alumnus who now directs the undergraduate advising office, was encouraged by Nisbett to audition for the role of Tom Robinson, the falsely accused man.
Nisbett says the casting of Davidson, along with a dozen actors who portray members of the black community in the Depression-era Deep South, is a perfect opportunity to create, and deepen, relationships across the Rolla local community.
A unique aspect of the production — and one that does not specifically appear in either Harper Lee's seminal 1960 novel or the popular film adaptation — is the use of song by a black church congregation to give a sense of what Nisbett calls "both the grief and hope they experienced."
"It was vital that the cast included members of the black community," says Nisbett, who portrays attorney Atticus Finch in the Fine Linen production. "They need to be part of telling this story. We can't tell it without them."
Davidson, a native of Jamaica who initially came to campus in 2005 on a basketball scholarship, concurs.
"Anytime you get an opportunity to engage with people you wouldn't normally is always good," he says. "The ability for all of us to be on the same stage, whites and blacks, is tremendous. Hopefully, it's not a one-time thing. I think it's a huge step in the right direction."
The cast also includes S&T sophomore Desirae Faith Lee; Tiffanie Toles, a master's student in engineering management who earned a bachelor's degree from S&T in petroleum engineering; doctoral chemistry student Ibrahim Abdullahi; and student affairs staff member Ureasta Terrell. Dr. Daniel Reardon, associate professor of English and technical communication, portrays lynch mob leader Walter Cunningham Sr.
Nisbett calls the selection of Mockingbird an example of the theater's efforts to "choose shows that will have an impact on our community." Its mission statement expands on that sentiment, describing a commitment to produce "wholesome, uplifting shows."
The theater's name derives from a Biblical passage in Revelations 19:8, in which the fine linen worn by a bride – not unlike theatrical costumes —is described as the "righteous acts of the saints."
"We wanted to do acting that had a purpose in our lives," Nisbett explains.
A Missouri S&T faculty member for nearly 30 years, Nisbett takes pride in dispelling the stereotype that engineers are only interested in equations.
"Most people assume engineers and scientists are all calculators and math," says Nisbett, who is also his department's associate chair for undergraduate studies. "Actually, we can be very artistic. A lot of my colleagues in this department are involved in everything from painting to orchestra to theater."
For more information on the theater, or to purchase tickets for To Kill a Mockingbird, visit finelinentheatre.com. Fine Linen's upcoming productions include a spring 2019 run of Newsies, which will mark Fine Linen's debut at Leach Theatre on the S&T campus.