'60s S&T rock band reunites for golden performance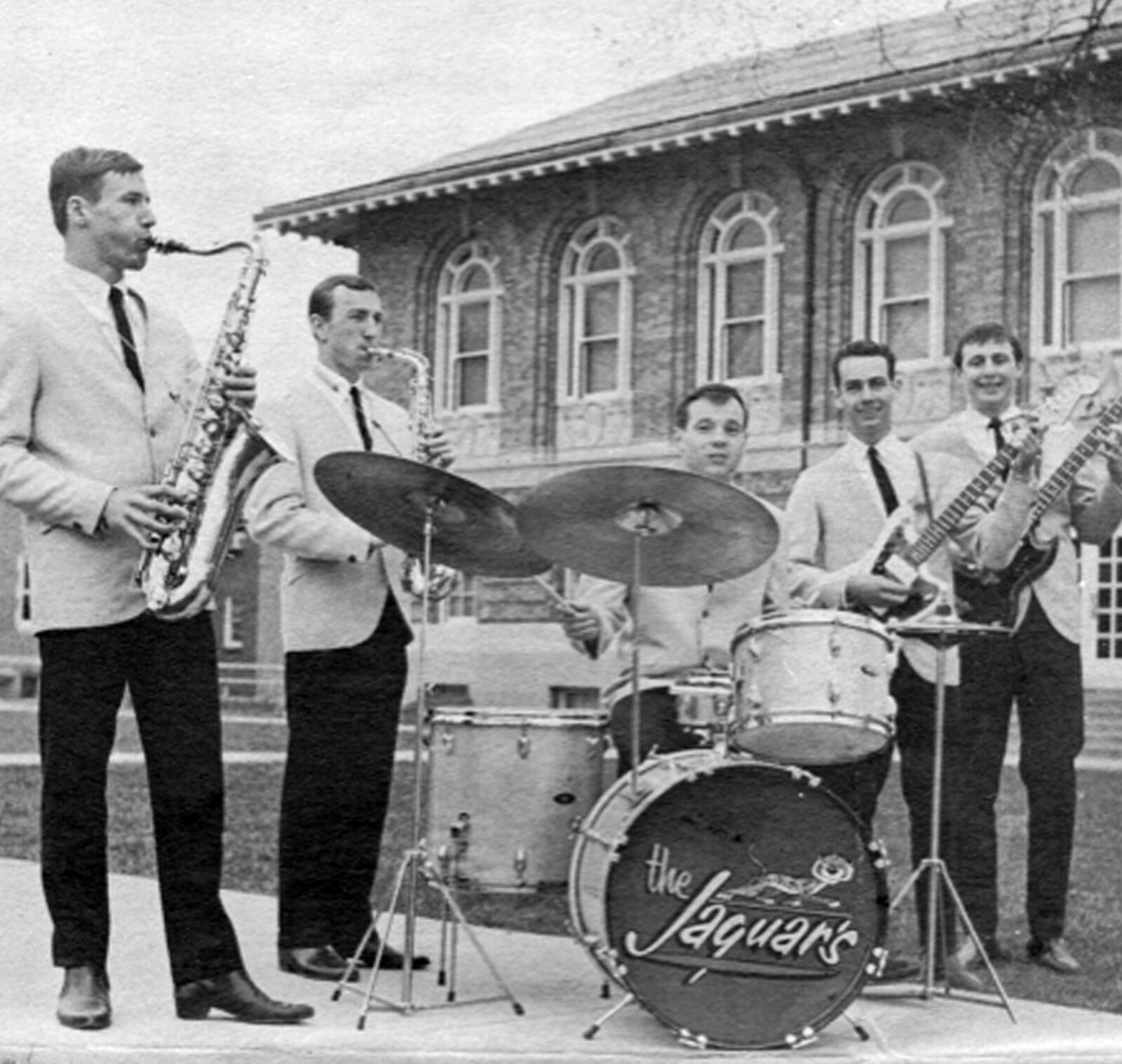 When students on the Missouri S&T campus in the 1960s weren't listening to class lectures or lab recitations, their thoughts turned to music, and part of their soundtrack came from a student band called the Jaguars.
Formed in 1964, the Jaguars were a group of students from S&T, Rolla High School and Dixon High School. After winning the "Campus Talent 1966" competition the group went on to provide party music for a decade's worth of Miners.
"We were fortunate that we got connected among the fraternities and the eating clubs," says guitarist Dean Park, a 1972 S&T electrical engineering graduate. "We were a 'first-call' band. There were times that we were playing six nights a week and two shows on Sunday." They even performed for recruits slogging through U.S. Army basic training at nearby Fort Leonard Wood before being shipped off to Vietnam.
By 1969, times were changing and so was the band. The musicians regularly hung out in band member Chuck Miller's house near campus. Soon they began kicking around the idea of a new band name and Miller's Cave was born.
The band's hairstyles and stage attire also changed. Gone were the Jaguars' clean-cut hairstyles and matching grey three-button suit jackets with black ties. Miller's Cave members sported shaggy hair, mutton-chop sideburns and the more casual stage dress of the bands whose music they played: Sam and Dave, The Spencer Davis Group and most other pop groups of the late '60s.
Arriving on campus in January 1969, Hugh Cole, a 1972 S&T engineering management graduate, wanted to be the first in his family to earn a college degree.
"When we were in Rolla, we basically had nothing," Cole recalls. "Sometimes I wonder how I got through. It was hard to come up with $395 each semester for tuition, much less living expenses."
Needing money, Cole tried out for Miller's Cave.
"They were looking for a trumpet player who could also sing," Cole says.
Cole knew Miller's Cave was having a campus impact after performing a song called Soul Shake by Delaney and Bonnie at a fraternity gig.
"We could tell who had been at the party because people on campus were walking around on Monday humming the song and saying, 'Oh, you're in Miller's Cave. Wow, that was a great song," Cole says.
Every college band has a legacy story. The Miller's Cave story happened during a St. Pat's weekend in the early '70s in the basement of the Pi Kappa Alpha fraternity house.
"One of our pieces of shtick toward the end of the night was to form a chorus line," Park recalls. "The floor was a little bit sticky. You could handle the sticky but not the slick. Someone slipped and we went down together. Herb (Smith, a 1972 aerospace engineering graduate who earned a Ph.D. in mechanical engineering in 1979) had a pint bottle of some concoction in his back pocket that punctured his pants.
"We went into the men's room and one by one pulled about 20 glass shards from his posterior," Park says. "It's something you can't un-see; even after 45 years."
After they graduated, band members scattered across the country, started successful careers, married and raised children and grandchildren. Some performed music as solo acts or at church. Miller's Cave disbanded in 1972. It was the end of an era.
Then a couple of years ago, what started as a suggestion to recreate a 1971 band photo turned into a plan to get the band back together.
Soon instrument cases were dusted off and 70-year-old fingers limbered up to play as a band for the first time in nearly 50 years.
In March 2017, while other Miner alumni celebrated St. Pat's, Cole, Park and Smith were joined for a two-day jam session by eight other musicians who had played in the bands.
Among them were drummer Dale Walterman, a 1971 engineering management graduate; trumpeter Chuck Miller, who earned bachelor's and master's degrees in civil engineering in 1968 and 1970, respectively; saxophonists Bill Meeker, a 1968 mechanical engineering graduate, and Gerry Hart, a 1971 engineering management gradaute; keyboardists Dave Trost, a 1972 English graduate, and Lee Testorff, who earned a bachelor's degree in physics in 1969; and guitarists Jim Labit, a 1969 mechanical engineering graduate, and Don Bowman, who graduated from Missouri State University in 1976.
"Whenever we met last night, it was like we knew each other for our whole lives," Cole said of the group during a break the next afternoon.
"Within 15 minutes, we were finishing each other's sentences again," Park says. "We were just as immature as we were 50 years ago."
Fast forward to May 2018 and the group, now called JMC50 in a nod to both bands, perform for a hundred or so alumni and their spouses during the Golden Alumni Banquet. Many heard the band play these same tunes half a century earlier.
A couple of members have yielded to new technology, housing their sheet music on iPads. Miller and Cole use a chromatic tuner app on a smartphone to dial in the tune of their trumpets. But their music stays the same.
Cole says the group hopes to perform at the Golden Alumni Reunion each May as band members return to campus.
"The band would love to play every 50th reunion," Cole says. "And then there's the university's 150th anniversary coming up in 2020. We were there playing for the 100th!  How many universities can say that?"
Watch JMC50's full concert video.