Starting College 101: Advice for new students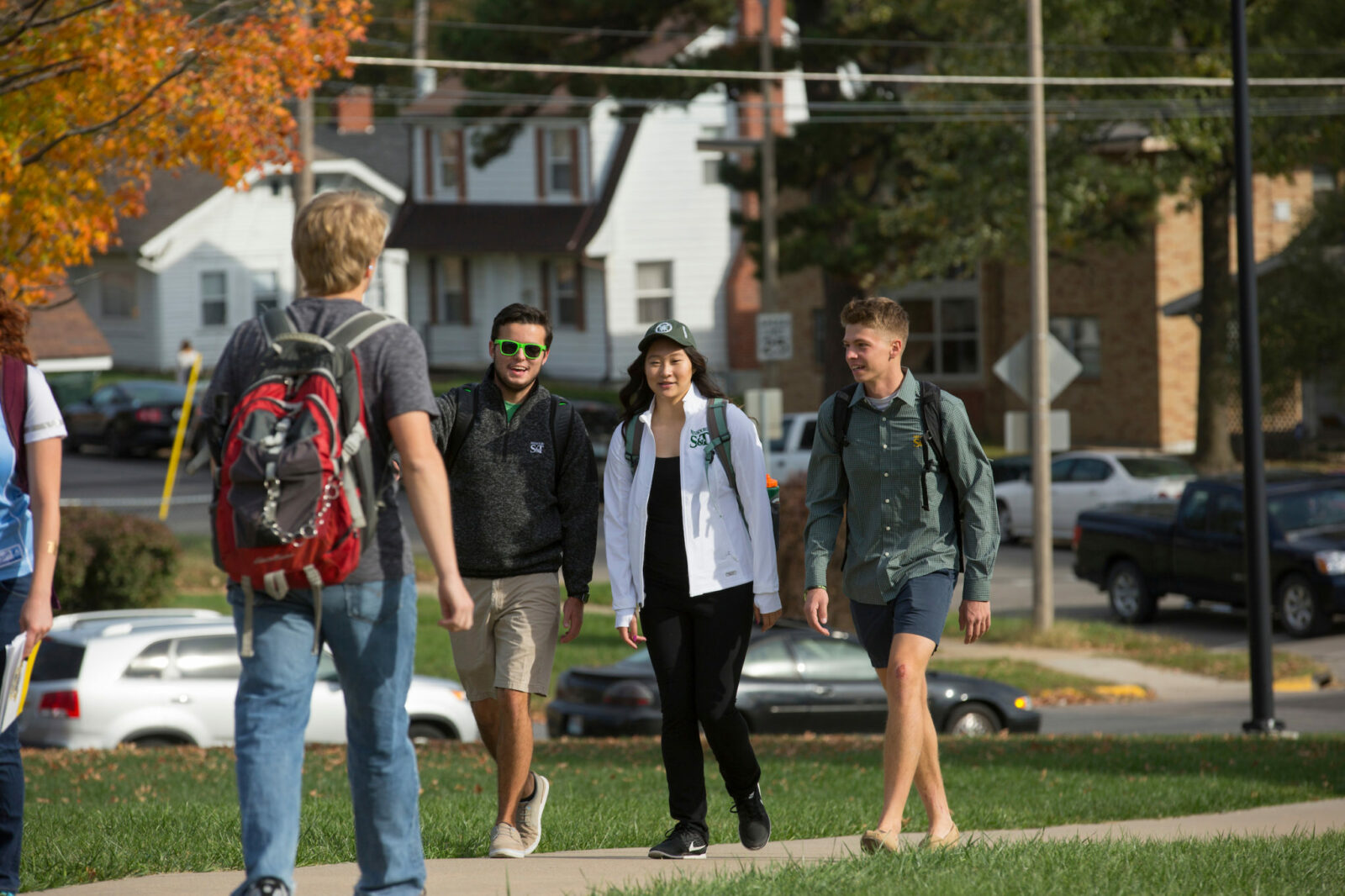 Welcome to Missouri S&T!
It is exciting to be a Miner, but we know that starting college can be overwhelming at times. So we turned to the experts for tips.
We asked a dozen S&T students — ranging from sophomores to seniors — for their best advice on thriving during the first month of college, relieving stress and living on campus.
Here's what they had to say:
Something brand new
"You have started a new journey and the best way to thrive and survive is to be fully invested and engaged in all areas," says Jenna Gardner, a senior in ceramic engineering from Metamora, Illinois. "Don't dwell on what was left at home, but focus on the adventure the next few years will take you on."
Andrew Rausch, a senior in mechanical engineering from Monett, Missouri, sees the start of college as the opportunity for a fresh start.
"You are who you want to be," Rausch says. "Nobody at college knows who you are, so this is your opportunity to be who you want, regardless of who you were."
Make friends.
All 12 students weighing in stressed the importance of making friends and building relationships.
"I am a really big family person, which made it a little hard to leave everyone close to me at home in Germany," says Tim Schreffl, a sophomore in business and management systems from Rosenheim, Germany. "The first month can be challenging if you do not have any friends here from the get-go, so it is important to not be shy and just walk up to people in your classes or on campus and start talking to them."
"I know that without the friends I found my first month at Missouri S&T, my first month would have been much less enjoyable," says Sean Welter, a sophomore in chemistry from Arlington Heights, Illinois. "If you're like I was and aren't from St. Louis, Kansas City or outlying areas, meeting new people is a great way to take your mind off missing your friends and family back home."
Just ask.
"The seniors and upper classmen may seem intimidating, but in reality, we're just as stressed and tired as you," says Katlyn Maas, a senior in engineering management from Morrisville, Missouri. "In fact, if you have questions, ask for help. Everybody on campus is super friendly and willing to help, especially if you're lost in one of the campus buildings. We were in your shoes, once."
Be a true friend.
Yes, the friends you make now may become your colleagues or help you climb a corporate ladder years down the road. But putting that aside, enjoy your time now and be there for one another.
"When a friend calls at 3 a.m. needing to talk to someone, be there for them and listen," says Jake Nowack, a sophomore in engineering management from Jefferson City, Missouri. "Don't be afraid to be the one making the call, either, because sometimes school gets really tough and trying to push through alone makes it worse."
Get involved. Go to events.
Overwhelmingly, our student panel recommended getting involved.
"Don't just sit in your room all day," says Cole Deming, a senior civil engineering from Hillsborro, Illinois. "Go to the events that are put on by the college. You'll get free stuff and you'll meet new people!"
"Classes are easy to get to and it's convenient to get to activities hosted on campus, so take advantage of that," says Abigail Nitchman, a sophomore in information science and technology from New Florence, Missouri. "Walk around and enjoy the scenery and try to get involved as much as possible. Most events are free, fun and a great way to meet new people."
S&T resources*: use them!
"Never hesitate to ask for help," says Nicole Aldridge, a senior in computer engineering from Bloomington, Illinois. "Missouri S&T will throw so many resources your way during your first few weeks, but many of them will go unused. The most successful students aren't necessarily those who thrived in high school."
4 items that could make your life easier
"Spend part of your first week making a budget, and try to stick by it," Maas says. "As silly as it sounds, having a budget will help your spending habits, especially if you're paying for your own tuition."
"Have a planner and stick with filling it out," says Rachel Johnson, a senior in business and management systems from Vienna, Missouri. "This will help you during the semester once classes start. On the first day of classes, look at the syllabus and write down all the tests and quizzes that are coming up in the future."
"Invest in a water bottle and snacks to have in your backpack with you while on campus," says Olivia Holdman, a senior in geology and geophysics from Festus, Missouri.
"Bring an Ethernet cord because wifi can slow down in the residence halls when a lot of students are trying to get on it," recommends Nicholas Luckert, a senior in civil engineering from Baltimore, Maryland.
5 ways to reduce stress
Get outdoors. "I love anything in the outdoors and anything active," Deming says. "I love to go caving since there are over 60 caves in Phelps County alone. The Rolla area has so much to offer if you enjoy the outdoors."
Visit the stress-less room on the second floor of Norwood Hall. "It is a nice quiet place to relax," Luckert says. "Also just hanging out in common areas and playing games and socializing with friends helps."
Make a to-do list. "Sometimes I get stressed by the sheer amount of what I need to accomplish, and when that happens it helps me to make a list and slowly work through each task. Even small things like "fold the laundry" are fun to check off," says Aldridge.
Hammocks. Nowack and Welter both suggest relaxing outdoors in a hammock. A few areas they suggest on or near campus are Schuman Park, Lion's Club Park and the Christian Campus House.
Play video games. "Do things you enjoy that help you relax," Nitchman says. "For me that is playing video games. You can do these activities with people or alone. Do what makes you comfortable. College is the best place to step out of your comfort zone but when it comes to stress, sometimes you need to enjoy what is familiar to you and take a breather."
Enjoy it while it lasts
"Don't make excuses to not try something new," Gardner says. "There will never be a time in your life when you have the opportunity to be involved in so many activities and organizations while you are focusing on your education. Once you finish your degree, a lot of that goes away. So while you are building your future through your education at Missouri S&T, don't forget to enjoy your time by being involved in activities and organizations."
---
* A partial list of resources:
Advising Office
Career Opportunities and Employer Relations (COER)
Counseling Services
First Year Experience
Learning Enhancement Across Disciplines (LEAD)
Library
Speech Communication Center
Student Design and Experiential Learning Center
Student Health Services
Student Success Center
Veterans  Services
Writing Center
Looking for something not on the list? Just ask!
---
Many thanks to our panel of experts:
Nicole Aldridge, a senior in computer engineering from Bloomington, Illinois
Cole Deming, a senior in civil engineering from Hillsborro, Illinois
Jenna Gardner, a senior in ceramic engineering from Metamora, Illinois
Olivia Holdman, a senior in geology and geophysics from Festus, Missouri
Rachel Johnson, a senior in business and management systems from Vienna, Missouri
Nicholas Luckert, a senior in civil engineering from Baltimore, Maryland
Katlyn Maas, a senior in engineering management from Morrisville, Missouri
Abigail Nitchman, a sophomore in information science and technology from New Florence, Missouri
Jake Nowack, a sophomore in engineering management from Jefferson City, Missouri
Andrew Rausch, a senior in mechanical engineering from Monett, Missouri
Tim Schreffl, a sophomore in business and management systems from Rosenheim, Germany
Sean Welter, a sophomore in chemistry from Arlington Heights, Illinois