On top of his game, S&T running back also gives back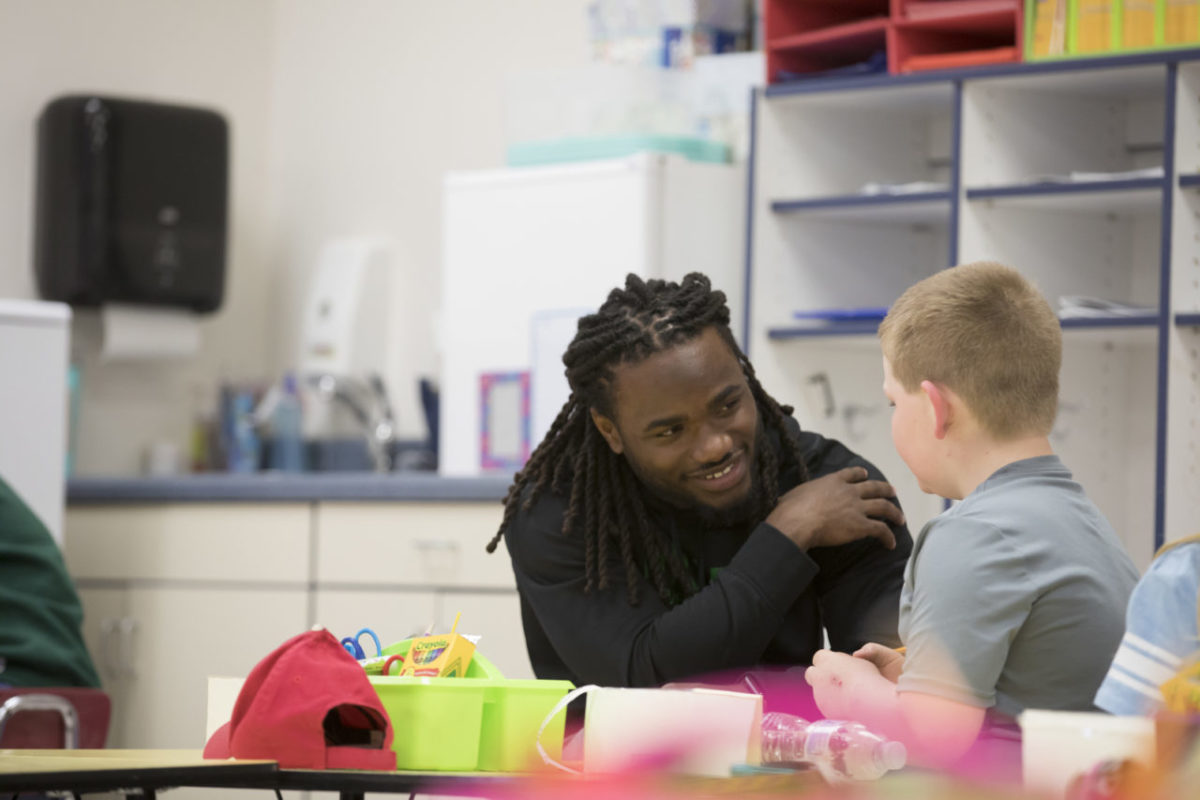 It's a rare combination of character traits that Deshawn Jones, a sophomore in biological sciences and running back for Missouri S&T's football team, shares with the world.
With smarts, discipline and exceptional athletic prowess, Jones has amassed a coveted collection of athletic titles and records in his two years at S&T. For 2017 alone, he earned the College Sports Information Directors of America (CoSIDA) Academic All America award, the Great Lakes Valley Conference (GLVC) scholar-athlete of the year award and was selected to the NCAA Division II All-America second team.
Jones was a first-team All-GLVC selection last fall. He set a conference rushing record with 1,579 yards — the third-most by any player in NCAA Division II — and 16 touchdowns for the season. He also broke the conference's single-game rushing record with a 275-yard performance.
Jones has been raking in awards — both athletic and academic — since he was in grammar school. Soft-spoken with a relaxed smile, he communicates about his aspirations with humility.
Jones grew up in inner city Chicago, the middle child of three. He began to cultivate his work ethic as a kindergartner, and today he volunteers at a Rolla elementary school to help instill that same work ethic among young people.
"I know what it's like to need help with school work," Jones says. "I relied on my mother to help me at night after she worked long day shifts. I decided early on to take stress off her and learn to help myself, and this early development served me well in the long run."
MOTIVATION MATTERS
Starting with baseball in the third grade, then football in the fifth grade, Jones followed his older brother into athletics. In the sixth grade, he began studying motivational books, tapes and YouTube videos, a practice he continues today by learning the philosophies of Les Brown, Eric Thomas, Zig Ziglar and other motivational speakers.
Jones credits most of his achievements to the motivational impetus of his mother, along with his athletic coaches.
"Motivation brings out the best in me — it's a wonderful thing," Jones says. "I want to create output for others."
When Jones was a teenager, his family moved to Country Club Hills, a suburb in south Chicago, where he attended Rich Central High School. Jones graduated third in his class and was voted the football team's most valuable player, Male Student Athlete of the Year and an Illinois State Scholar.
Jones received offers for full athletic and academic scholarships from nine universities, including Illinois College, Macalester College and Truman State University, in addition to S&T.
"I selected S&T because I liked the diversity there and the opportunity for cultural development," Jones says. "It presented an opportunity for me to connect with, learn and respect different cultures, which will enhance my career as a medical professional."
Jones chose to major in biological sciences based on the influence of his mother and grandmother, who are nurses. Because he also wants to interact with and help people, Jones decided a career in healthcare would provide that opportunity, and with this major, he's laying the foundation for his ultimate goal to be a trauma surgeon.
But before that, Jones wants to play professional football and save his salary to pay for medical school. Because the leap from the NCAA Division II league to the pros is large, he's trying to get as much exposure in the game as he can.
Jones carefully parses his time between academics and football. "It's a heavier weight to bear," he says. Although he belongs to several honor societies, Jones has little time to divert from pursuing his goals.
Jones appreciates the understanding of his S&T professors. "It's huge," he says. "They ask about the games and want to connect and know me."
GIVE BACK WHAT YOU'VE BEEN GIVEN
Despite this demanding schedule, Jones willingly gives one afternoon a week during the school year to help children develop skills for studying, decision-making, teamwork and leadership at a local elementary school.
"Getting to know Deshawn and watching him work with the students in our program is a true pleasure," says Kathy Heflin, program coordinator for the Mentoring Makes a Difference program in Rolla. "He has a natural, sincere and patient way of effectively working with the student he mentors, as well as other kids in the program. It is rare to find someone who excels in athletics and academics who is also committed to giving back."
"I interact with Deshawn in my role as S&T faculty athletics representative," says Dr. David Westenberg, associate professor of biological sciences at Missouri S&T. "I've heard many good things about him from faculty and coaches, but what impresses me most is what he is doing in the community by tutoring local students. I can't wait to see what the future holds for him."
Jones takes a break from athletics and school when he goes home for the summer. This summer, he plans to start studying for the Medical College Admission Test (MCAT). He's also looking for shadowing opportunities at South Suburban Hospital where he volunteers in the oncology unit.
Jones says he wants to give back what he's been given.
Jones has some words of advice for incoming S&T students.
"Come prepared and ready to work and don't allow failed efforts to deter you from being driven to succeed. Never accept defeat — always battle through and enjoy overcoming the challenges that you may face."