Missouri S&T doctoral student works to improve drug safety, efficacy with new chiral templates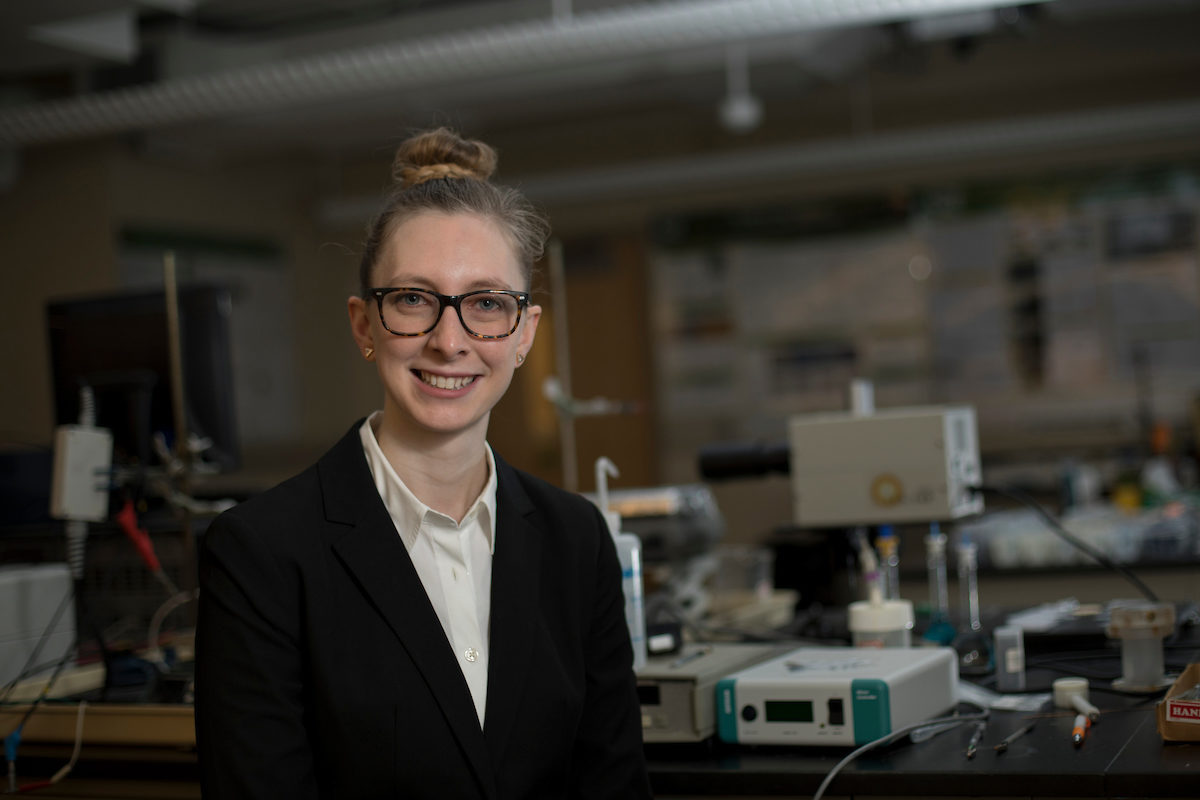 In the early 1960s, the Thalidomide drug scare caused thousands of worldwide infant deaths and birth defects from a morning sickness medicine for expectant mothers. The disaster transformed drug regulation systems, and changed the pharmaceutical industry's understanding of chiral properties: the notion that molecules with otherwise identical properties are in fact mirror images, like your right and left hands.
Missouri S&T materials science and engineering doctoral student Meagan Kelso wasn't even close to being born when the chiral consequences of Thalidomide first became apparent nearly 60 years ago. But the drug industry's continued efforts to fine-tune how it first identifies and then separates chiral compounds is driving the native Texan's Ph.D. research.
"Chirality is just like your right and left hand," explains Kelso, whose ability to concisely describe her work led to a victory in S&T's Three Minute Thesis competition for graduate students. "Two molecules that have exactly the same chemical compositions — like you have the same five fingers on your hand — but they're arranged differently.
"The molecules, like your hands, are mirror images of each other, and they're not superimposable. So if you put one on top of the other, no matter how much your rotate them, they'll never line up.
"Just like a key, one hand of a molecule is arranged just right to resolve your headache, while the other may do nothing, or cause harmful side effects."
A process known as chiral chromatography is now used to separate the mirror-image molecules known as enantiomers. But that process is pretty costly and time-consuming, Kelso explains.
Kelso's research relies instead on the simpler and less costly process of adsorption — the adhesion of a substance, in an extremely thin layer, to a solid surface — using the combination of thin layers of gold, silver and other materials electrodeposited atop silicon. Silicon(643) is a variation of the common semiconductor that has a two-dimensional chiral surface capable of sensing 3-D chiral molecules.
The initial results are promising, say Kelso and her advisor, Dr. Jay Switzer.
"When epitaxial gold is electrodeposited on silicon, surface chirality is maintained," she says. "This can be used as the base to obtain many other desired chiral surfaces.
"Because each chemical compound is so different, you need to revise the traditional techniques to separate them for each compound. So that's where it gets more complicated, and time-consuming and expensive," Kelso notes.
"Our goal is to produce a surface that will allow for the selective chiral chrystallization of important pharmaceuticals," adds Switzer, Donald L. Castleman/FCR Endowed Professor of Discovery in Chemistry at S&T and a senior investigator at the university's Materials Research Center. "I'm sure this would be a disruptive technique to isolate the 'right' hand of a chiral drug."
Before coming to Rolla, Kelso earned a bachelor of science degree in electrical engineering from the University of Texas at Dallas in her hometown, with a minor in nanoscience and technology.