Missouri S&T partners with UMKC, MU on national security research involving UAVs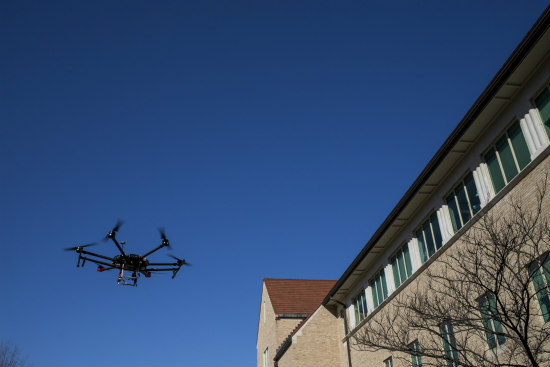 Missouri S&T's expertise in electrical and computer engineering will play a role in a new, federally funded national security research project led by the University of Missouri-Kansas City.
UMKC officials announced on Friday (March 2, 2018) a $7.2 million grant and a $7.7 million contract the U.S. Department of Defense's Office of Naval Research to to UMKC to develop technologies to reduce national security threats from small, unmanned aerial vehicles, more commonly called drones. Researchers from Missouri S&T and the University of Missouri-Columbia are also involved in the project.
The four-year grant award will focus on advancing high-power microwave electronic countermeasure technologies.
UAVs are commercially available to the public and present an increasing threat to national security that range from intelligence gathering to delivery of a weaponized payload. They also could unintentionally create havoc by becoming caught in the air intake of a jet engine.
The threat from drones, whether intentional or unintentional, is disproportionate in cost and complexity compared to the damage they can cause. For example, a few-hundred dollar-drone could destroy a billion-dollar stealth bomber, UMKC officials say.
"A prominent threat example is the low cost and ease of automation for deploying drones to collect video data or the transport of an unwanted material to a location five miles or greater from their launch point," says Dr. Anthony Caruso, UMKC assistant vice chancellor of research, physics and electronic engineering professor, and principal investigator on the grant.
The grant was announced at the UMKC School of Computing and Engineering. In addition to Caruso, speakers were Dr. Barbara A. Bichelmeyer, UMKC interim chancellor and provost; Dr. Mun Y. Choi, president of the University of Missouri System; and Missouri Rep. Gail McCann Beatty, House Minority Leader. Dr. Mauli Agrawal, UMKC chancellor-designate, also attended the event.
"The counter-drone problem is considered a grand challenge — maybe even a wicked problem — begging for a comprehensive study of present- and future-art countermeasures," Choi says. "This program will address and improve on countermeasures, significantly impacting the defense enterprise for Missouri."
In addition to Caruso, the faculty team includes two electromagnetic compatibility experts from Missouri S&T: Dr. Daryl Beetner, professor and chair of electrical and computer engineering, and Dr. Victor Kilkevich, a research associate professor affiliated with Missouri S&T's Electromagnetic Compatibility Laboratory.
Other researchers involved in the effort are Drs. Plamen Doynov and Paul Rulis of the UMKC College of Arts and Sciences; Drs. Deb Chatterjee, Travis Fields, Ahmed Hassan and Mahrukh Khan of the UMKC School of Computing and Engineering; and Dr. Scott Kovaleski of MU electrical engineering and computer science.
The grant also will fund 10 new Ph.D. students, and provide positions for 12 new undergraduate researchers.
The goal of the efforts is to evaluate and demonstrate the capability of the counter-technologies developed through the grant award.
"These awards demonstrate the value UMKC research brings to our community and our state, in terms of stimulating our economy, showcasing our region's scientific and technological leadership, and safeguarding our citizens," Bichelmeyer said.
The grant and contract are the largest non-health research awards received at UMKC.
This UMKC-led effort with Missouri S&T and MU also includes team members from the Kansas City National Security Campus; Radiation Detection Technologies in Manhattan, Kansas; BAE Systems in Nashua, New Hampshire and Austin, Texas; Eagle Harbor Technologies in Seattle, Washington; Lawrence Livermore National Laboratory in Livermore, California; Metamagnetics in Westborough, Massachusetts; Scientific Applications & Research Associates in Colorado Springs, Colorado; the Naval Research Laboratory in Washington, D.C.; Naval Air Warfare Center Weapons Division, China Lake, California; and the Naval Surface Warfare Center Dahlgren Division in Dahlgren, Virginia.
About the Office of Naval Research
The Department of the Navy's Office of Naval Research provides the science and technology necessary to maintain the Navy and Marine Corps' technological advantage. Through its affiliates, ONR is a leader in science and technology with engagement in 50 states, 55 countries, 634 institutions of higher learning and nonprofit institutions, and more than 960 industry partners. ONR, through its commands, including headquarters, ONR Global and the Naval Research Laboratory in Washington, D.C., employs more than 3,800 people, comprising uniformed, civilian and contract personnel.
About the University of Missouri-Kansas City
The University of Missouri-Kansas City, one of four University of Missouri campuses, is a public university serving more than 16,000 undergraduate, graduate and professional students. UMKC engages with the community and economy based on its six-part mission: placing student success at the center; leading in life and health sciences; advancing urban engagement; excelling in visual and performing arts; embracing diversity; and promoting research and economic development.
About Missouri S&T
Founded in 1870 as the University of Missouri School of Mines and Metallurgy, Missouri S&T is a research university of more than 8,800 students and part of the four-campus University of Missouri System. Located in Rolla, Missouri, Missouri S&T offers 98 degree programs in 39 areas of study and awards bachelor's, master's and Ph.D. degrees in engineering, the sciences, business and information technology, the humanities and the liberal arts.
About the University of Missouri-Columbia
The University of Missouri was founded in 1839 in Columbia as the first public university west of the Mississippi River. Today, Mizzou is a $2.2 billion enterprise and an important investment for the state and nation. The university's nationally prominent faculty bring discoveries into the classroom, publish more than 1,600 books and scholarly articles each year and spend $237 million annually on scientific research. Based on quality of teaching, research and scholarship, MU is one of only 60 public and private U.S. universities invited to membership in the prestigious Association of American Universities.