Lab expansion receives $300,000 gift from ARCO Construction Co.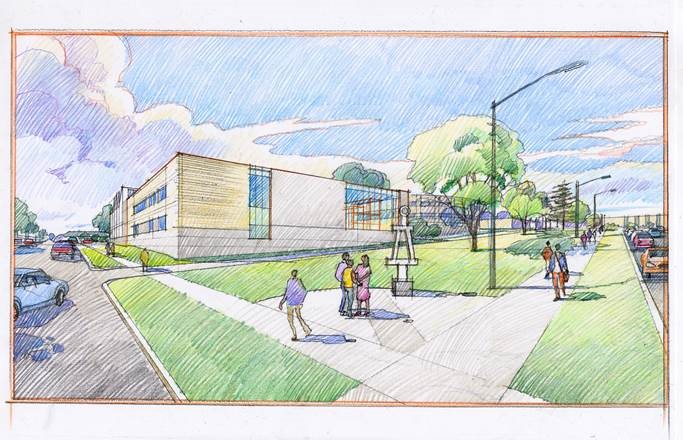 A major lab expansion at Missouri University of Science and Technology has received $300,000 in funding from ARCO Construction Co. Inc., a St. Louis-based general contracting firm. The contribution will support one of the university's top priorities, the Advanced Construction and Materials Laboratory (ACML).
The ACML project marks the final phase of a $10.5 million initiative focused on advancing Missouri S&T's national leadership in infrastructure engineering. The lab will provide space for research on next-generation construction materials and methods vital to building and maintaining roads, railways and other transportation systems. These advances have the potential to revolutionize traditional construction products and processes, making them stronger, more secure, more cost-effective and environmentally greener.
"As a nation, we face aging infrastructure challenges," says Dr. Joel Burken, Curators' Distinguished Professor and chair of civil, architectural and environmental engineering at Missouri S&T. "Thanks to ARCO's investment, as well as support from other industry partners, individuals and the University of Missouri System, this lab will extend S&T's strong legacy and capabilities in the international field of infrastructure engineering."
ARCO was co-founded in 1992 by two Missouri S&T alumni, Dick Arnoldy, retired chairman, who earned a bachelor's degree in civil engineering and master's degree in engineering management from S&T, and Jeff Cook, president and chief executive officer, who holds a master's degree in engineering management from S&T.
Over the past two decades, ARCO has supported many university projects, including the student chapter of Engineers Without Borders and the Kummer Student Design Center, home of 18 S&T student design teams. The company employs more than 25 S&T alumni.
"ARCO stepped up because Missouri S&T — and the S&T alumni who work at ARCO — have been a large part of our success," says Arnoldy. "ARCO is a firm believer in giving back, and S&T has helped us achieve what we have as a company."
The research initiative's first phase was completed with a U.S. Department of Transportation grant that funded $2.5 million in testing equipment. The second phase added new faculty positions in civil, architectural and environmental engineering as well as materials science and engineering. The final phase is the $6.5 million Advanced Construction and Materials Lab, which will add 16,000 square feet of space to the existing High-bay Structures Laboratory in S&T's Butler-Carlton Hall.
Thanks to financial support from the University of Missouri System, as well as funding from S&T's College of Engineering and Computing, other industry partners and alumni, nearly $5.5 million has been raised in support of the $6.5 million project. Gifts to the lab are matched through a bequest from James A. Heidman, a 1965 civil engineering graduate.
"ARCO is excited to invest in this project," says John Komlos, company vice president and a Missouri S&T civil engineering graduate. "Over the next several years, we can expect significant infrastructure investments nationwide. We must act now to develop innovative methods and materials for these projects."
For more information on the lab expansion, contact Shannon De Bourg at sbishop@mst.edu or 573-341-4944.