The protector of innovation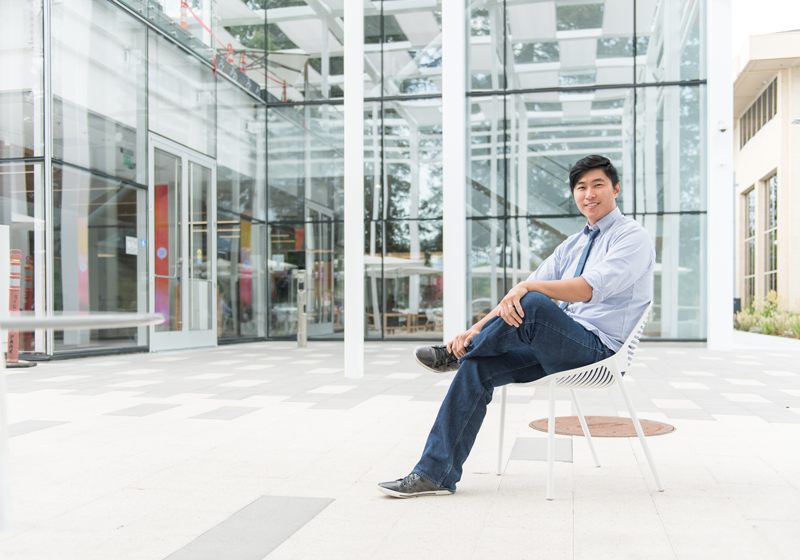 The next time you get on eBay to sell a pair of sneakers and marvel at how seamless the sales process is or buy something that's either hard to find or a great deal, make sure to thank an S&T grad.
As senior patent counsel at the multinational e-commerce corporation, Jeff Leng helps protect the company's intellectual property through obtaining patents on new technology and software that makes the shopping and selling experience more enjoyable for millions of eBay users.
"The tech is new and interesting," says Leng, who earned bachelor of science degrees in both business and computer science from Missouri S&T in 2006. "We're looking at unique ways to make the shopping experience easier for customers."
Leng, who has been with eBay for over a year, works at the company's headquarters in San Jose, California.
"It's pretty awesome," he says. "There's a great company culture and an amazing focus on diversity and innovation."
Before joining eBay, Leng was at a technology company called Immersion, where he helped patent the company's haptic technology. Haptic technology recreates the sense of touch by applying forces, vibrations or motions to the user. Immersion's proprietary haptic technology was the forebear of vibrating controllers like those found in the Xbox and PlayStation.
"Patents are a bit trickier at eBay because we deal with more software and business technology, as opposed to the hardware patents at Immersion," Leng says. "It's an exciting challenge."
And with a patent portfolio of over 3,100 pending and issued, Leng has his work cut out for him.
Patently made
Leng, of Jefferson City, Missouri, came to S&T as a computer science major, but soon decided to add a second major in business.
"While I loved coding, I also liked the more social and strategic aspects of a business degree," he says.  "I didn't want to limit myself or my career growth"
Leng excelled in the Business Law course that was part of the curriculum, so his advisor recommended that he take Professor Randy Canis's Patent Law and Computers in the Law course.
"I really enjoyed it and did very well," Leng says. "I was excited that there was a way for me to pursue law and continue to utilize my computer science degree."
Canis, an adjunct professor of business and information technology at Missouri S&T and assistant general counsel at Express Scripts, became Leng's mentor and career counselor.
Canis told Leng that if he was interested in patent law he should try to get a job at the United States Patent and Trademark Office and learn law from the agency. "It was the best advice I got based on my career path," Leng says. "That's how I got my start into patent law."
After working for the federal agency for a couple years, Leng went to law school at Santa Clara University. His first job out of law school was at Immersion, but he worked at a few IP boutique law firms before and during school.
Leng hopes to eventually be a chief intellectural property counsel. "That would let me know that I made it."