Missouri S&T's second TEDx Talk is March 15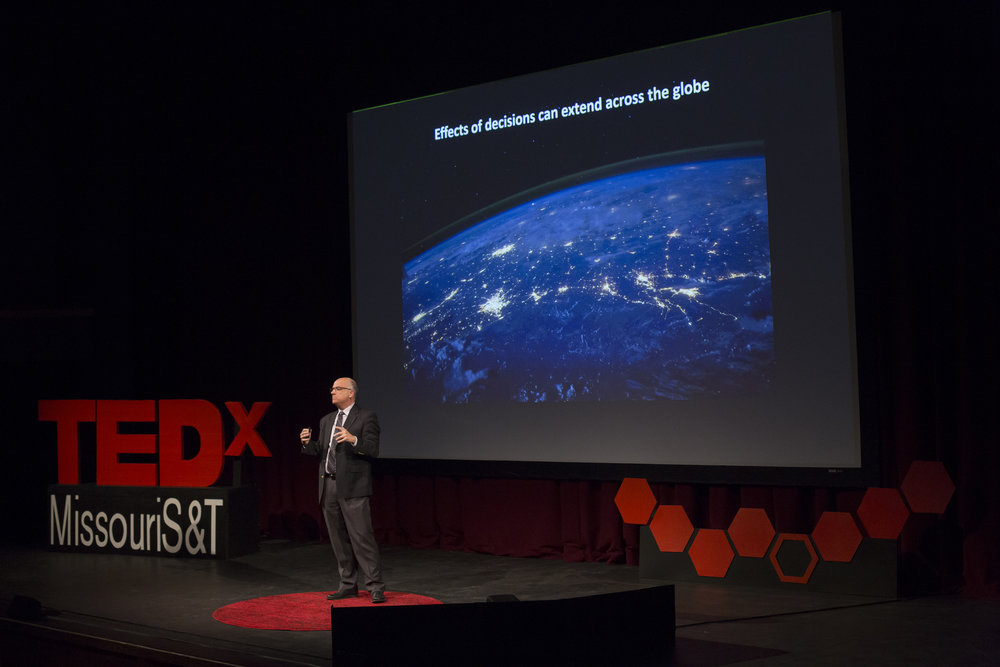 Artists, scientists, storytellers and volunteers will share their idea of what it would mean if people dared to consider more aspects of their jobs, communities and themselves at a TEDx event hosted by Missouri S&T this March.
Missouri S&T will host its second TEDxMissouriS&T from 6 to 9 p.m. Thursday, March 15, on the stage in Room G-31 Emerson Hall, located at the corner of 16th and Pine streets on the Missouri S&T campus.
Tickets are $10 for adults or $5 for students with a valid student ID. Tickets can be purchased from the Leach Theatre Box Office, located inside the 10th Street entrance to Castleman Hall. Attendees will receive a T-shirt and gift bag filled with TEDx merchandise.
The theme for this year's TEDx is "Dare to Consider." Speaker topics will include achievement beyond tragedy, music and STEM, microbes, tornadoes, the science of music preference, a comedic take on perseverance, finding potential in unexpected places and positive psychology.
"This year, the committee wanted to challenge speakers to reflect on themselves and present topics that represent that," says Tara Stone, a user interface designer-specialist in marketing and communications at S&T and a member of the TEDx organizing committee. "By daring to consider all aspects of life, we hope the speakers will connect with the campus and local community and inspire others to consider the smaller parts of daily life. We hope the campus community will take time out of their St. Pat's celebrations to spend a few hours learning and growing in a fun and informative atmosphere."
TEDx is a program of local, self-organized events that bring people together to share a TED-like experience. TED is a nonprofit organization devoted to "Ideas Worth Spreading" that shares media and supports educational initiatives.
At a TEDx event, TED Talks video and live speakers combine to spark discussion and connection. These local, self-organized events are branded TEDx, where x means it is an independently organized TED event. The TED Conference provides general guidance for the TEDx program, but individual TEDx events are self-organized. All presentations are recorded and shared through TEDx media.
For more information about the event, visit tedxmst.com.