Missouri S&T enters partnership with Kaleidoscope Discovery Center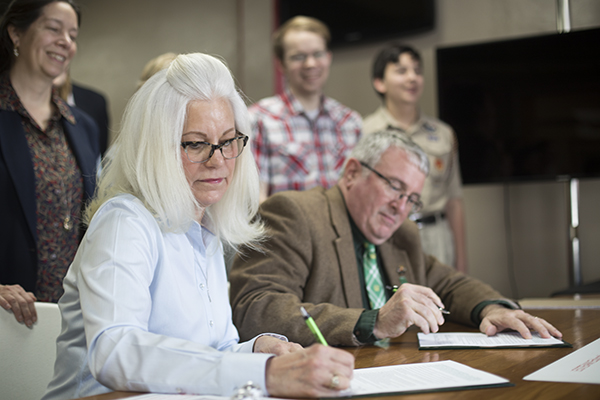 Officials from Missouri S&T and the Kaleidoscope Discovery Center (KDC) met Tuesday, Feb. 27, at the KDC's downtown Rolla headquarters to sign a memorandum of understanding (MOU) that will support both institutions in their promotion of science, technology, engineering and mathematics education.
"Missouri S&T and the Kaleidoscope Discovery Center have enjoyed a strong partnership over the years," says Dr. Chris Maples, interim chancellor of Missouri S&T. "This agreement formalizes that partnership and opens new opportunities to enhance outreach to pre-college students in the Rolla area."
The MOU will allow Missouri S&T to formally support the KDC mission to provide every child in the Rolla community with hands-on exposure to advanced programs in engineering, science, technology, the environment, art and mathematics (ESTEAM), and to grow the next generation of leaders in those fields.
"I want to thank Missouri S&T for this opportunity to solidify the bridge between the university and the discovery center," says Laura Antolak, KDC founder and president. "We believe this partnership will enhance students' experiential learning and encourage volunteerism among faculty and students while allowing them to make a contribution to the region."
The agreement will also establish the KDC as an approved venue for Missouri S&T students to develop and undertake projects that will meet their experiential learning requirement. Beginning with the Fall 2015 class of first-year students, all S&T undergraduates are required to take part in at least one significant experiential learning project. The requirement is designed to prepare students for the real world through a hands-on approach to learning.
In addition to Missouri S&T, the KDC partners with local schools and teachers, scouting programs, local businesses, outreach programs and the St. Louis Science Center, among others. Services it provides include coaching for robot building and programming, summer school with ESTEAM and robotics programming, after-school and weekend programs and hands-on workshops, weekly story time for pre-kindergarten children, and over 12 educational programs for students from kindergarten through 12th grade in areas like mathematics, computer science, biology, stringed instruments.
"Our community may be small but the educational resources are incredible," says Martina Hahn-Baur, KDC co-founder and vice president. "Today marks a formalizing of a relationship that has been in place and growing for almost five years. We are grateful and humbled by the support of the S&T family: students, faculty, staff, alumni, spouses and friends who have put so much time and effort into creating new resources to benefit the children in our region. We look forward to growing together and building additional bridges to link opportunities with our area teachers, parents and students."
In the coming months, leaders from both Missouri S&T and the KDC will develop common policies and protocols to outline the benefits of shared programming and to ensure safety of participants. Missouri S&T will also have official representation on the KDC board of directors.
Participants in the MOU signing included Maples, Antolak, Baur, Dr. David Westenberg, associate professor of biological sciences at Missouri S&T and a member of the KDC board of directors; and Dr. Jyoti Malhotra, who serves in a volunteer role as director for strategic and government relations at the KDC. Malhotra earned a Ph.D. in chemistry from Missouri S&T in 2002.
Several Missouri S&T students who are involved with KDC either as students, coaches or educators were also present.