Missouri S&T geologist named AAAS Fellow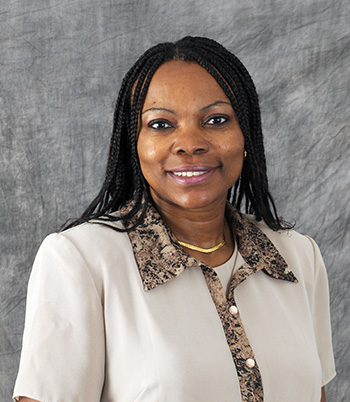 WASHINGTON _ Dr. Francisca Oboh-Ikuenobe of Missouri University of Science and Technology has been named a fellow of the American Association for the Advancement of Science (AAAS) for her contributions to the advancement of palynology ─ the study of organic-walled microfossils such as pollen and spores ─ and her outstanding efforts in educating the next generation of Earth scientists.
This year's nearly 400 AAAS fellows will be formally announced in the AAAS News & Notes section of the journal Science on November 24. New fellows will be also be recognized during the organization's 2018 annual meeting in Austin, Texas, in February.
AAAS, an international nonprofit organization dedicated to advancing science globally, is the world's largest general scientific society.
"Dr. Oboh-Ikuenobe is truly deserving of this prestigious honor," says Dr. David Borrok, Gulf Oil Foundation professor and chair of geosciences and geological and petroleum engineering at Missouri S&T. "Through her research and teaching, she has advanced the field of palynology. But more importantly, she has made a positive impact on hundreds of students. I'm excited that she's being recognized for her amazing contributions."
Oboh-Ikuenobe joined the Missouri S&T faculty in 1991 and has served as program head of geology and geophysics and interim chair of the geosciences and geological and petroleum engineering department. Her research also focuses on sedimentology and paleontology as well as palynology.
In Rolla, Oboh-Ikuenobe was named Missouri S&T Woman of the Year in 2004 in recognition of her student mentoring efforts as well as her role in promoting science education to girls and young women in the local community and at university summer camps.
She holds a Ph.D. in geology from the University of Cambridge in England and a bachelor of science degree in geology and master of science degree in applied geology, both from the University of Ife in Nigeria.
Oboh-Ikuenobe is a fellow of the Geological Society of America, past co-chair of that organization's Diversity in the Geosciences Committee and member of the Public Service Awards Committee, past president of AASP — The Palynological Society, and past director of the Association for Women Geoscientists Foundation. She was a Fulbright Specialist Scholar and is a member of UNESCO's International Geoscience Programme (IGCP) Scientific Board (Global Change Group).
"I am very honored by this recognition and hope to continue inspiring children and young adults about the benefits of education, and the importance of committing to make our society more inclusive — even if it requires them to step outside their comfort zones," she says.