New text highlights application of psychology in design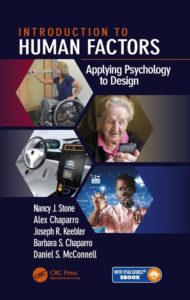 In order to design a user-friendly world, you have to understand how humans use, think about and react to things in their environment, says Dr. Nancy J. Stone, a Missouri University of Science and Technology psychological science professor who recently co-authored a new textbook focused on the field of human factors.
Introduction to Human Factors: Applying Psychology to Design, published this fall by CRC Press, uses everyday, real-world events to illustrate the concept of human factors, an interdisciplinary field that focuses on the design of environments, equipment or tools to help individuals effectively use the environment and devices.
"For example, whether someone is attempting to navigate a college campus, to function effectively in an office or to use a cell phone, our knowledge of psychological science helps us understand how individuals perceive the environment, process information within the environment, and are likely to behave or perform," Stone says. "The goal is to design these environments to increase efficiency and understanding for ease of use, and possibly increased safety. Often, this also leads to a decrease in error."
Designed for undergraduate students, the textbook examines the field of human factors from the psychological perspective, and highlights the importance of considering human factors in designing more effective environments, tools and devices.
"More importantly, this book focuses on environments and devises beyond military and aviation settings, which are traditional human factors areas of study," Stone says. Students will learn how human factors applies to their own lives and to special populations.
"With an understanding of the needs of special populations, students will be able to apply their learning to designs that benefit children, the elderly, or individuals with physical or mental limitations."
Stone joined the Missouri S&T faculty in 2008. Her research interests include environmental design, group processes, team work, student learning, training, program evaluation and the interview process. She was instrumental in the creation of Missouri S&T's master's program in industrial-organizational psychology.
Stone holds a Ph.D. in experimental psychology with an emphasis in industrial and organizational psychology from Texas Tech University. She also holds a master of arts degree from Texas Tech and a bachelor of arts degree in experimental psychology from the University of California, San Diego.
The textbook is available from crcpress.com. Stone's co-authors are Dr. Alex Chaparro, Dr. Joseph R. Keebler, Dr. Barbara S. Chaparro and Dr. Danniel S. McConnell.