Missouri S&T metallurgical engineer named ASM International fellow
A Missouri S&T professor known for both his teaching acumen and research portfolio has been named an ASM International fellow, a top honor in materials science and engineering.
Dr. David Van Aken, a Curators' Distinguished Teaching Professor of metallurgical engineering, is one of 18 inductees in the professional society's 2017 class of fellows. The new members will be formally recognized at an Oct. 10 awards dinner in conjunction with the Materials Science & Technology 2017 annual conference in Pittsburgh.
The award cites Van Aken's "distinguished contributions in metallurgical engineering education and the development of new manganese steels for lightweight military armor and automotive steel." A colleague at Lehigh University who recommended him for the award calls Van Aken "among the top researchers in the world" for his work with ferrous alloys.
"I've known David since my Ph.D. studies at the University of Michigan, and even then, just like today, his track record in the classroom has been highly regarded by both his students and colleagues," says Dr. Greg Hilmas, interim chair of materials science and engineering at Missouri University of Science and Technology, citing his colleague's dozens of campus and department awards for teaching excellence.
"And his research into innovative steel technologies to produce high-strength cast steel has drawn acclaim from both the military and private industry."
Those honors include the Association for Iron & Steel Technology's 2015 Gilbert R. Speich Award for best physical metallurgy technical paper as well as recognition from that organization's 2016 Hunt-Kelly Outstanding Paper Award for the development of two-stage, high strength TRIP steels. He was also awarded a Champion H. Mathewson Medal by the American Institute of Mining, Metallurgical and Petroleum Engineers in 2016 in honor of the "most significant contribution to scientific findings that promote broad engineering application of metallic materials."
Van Aken joined the S&T faculty in 1993 and was named a Curators' Teaching Professor in 2008. He previously taught at the University of Michigan and worked for Caterpillar Inc.
He earned his Ph.D. from the University of Illinois and received the National Science Foundation's Presidential Young Investigator award as well as the Office of Naval Research's Young Investigator award early in his career.
Van Aken also served as associate dean for research and graduate studies in the former School of Materials, Energy and Earth Resources at Missouri S&T. He is the author of more than 140 technical papers as well as the 2008 textbook, Reporting Results: A Practical Guide for Engineers and Scientists.
"This is a great honor," Van Aken says, "but I owe a great deal of my success to my past and current students and to having been able to work with outstanding colleagues on the S&T campus."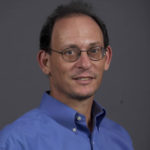 Looking for something?
CASE Department News
CEC Department News
Kummer College Department News