KMST releases results of spring membership drive
Public radio station KMST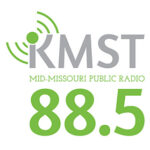 raised over $60,000 during its spring membership drive, surpassing its new member and sustaining member goals with a combined 84 members.
As part of its mission to support other community non-profit projects, KMST and Phelps County Bank partnered to raise $1,350, for "Take A Stand Against Child Abuse." For each membership pledge KMST received during the drive, Phelps County Bank pledged $15 toward the "Take A Stand" program. KMST's past joint fundraising drives included partnerships with the Rolla Animal Shelter and the Tri-County Humane Society, the Friday Backpack Program, the Smile Mobile, Wounded Warriors, Fill-A-Ford for the Holidays and others.
KMST held several sweepstakes this spring. Andrew and Dyann Careaga of Rolla won an iPad Mini; Richard and Maureen Hall of Rolla won a Bose Wave Radio; Dr. Joseph and Kathryn Kirk Malters of Rolla, Ellen Sue Goodman of Dixon, and Michael and Edith Starbuck of Rolla all won a $200 gift certificate to Kabekona Hills Retreat Center; Darrell and Nina Ownby of Rolla won an iPad 2; Norma Jean Harris of Rolla won a Kindle Fire; and Patricia Mahoney won a pastel painting donated by local artist Lorraine McFarland of Rolla.
KMST thanks all of those throughout the communities it serves, volunteers, guest hosts, food donors and partnering businesses for their help in making the spring membership drive a big success.
KMST is a 100,000-watt non-commercial public radio station licensed to the Curators of the University of Missouri System. The station's funding comes from the Corporation for Public Broadcasting, Missouri University of Science and Technology, the Missouri Arts Council, membership investments and underwriting.
KMST offers a mixed format of news from NPR, nationally and locally produced talk shows, and a wide range of music, including classical, jazz, acoustic folk, blues, big band, Celtic, bluegrass and Caribbean. KMST is located at 88.5 FM in and around the Rolla area, 96.3 FM in Lebanon, and is live-streamed online at www.kmst.org. Listeners can also follow the station on Facebook.
Pledges are still accepted by calling 888-776-5678 or online at www.kmst.org.
Need to get in touch with our media relations team? For non-urgent requests, please email news@mst.edu or call 573-341-4328. Or contact one of the staff members below during or after office hours.