Miner Tank fuels student innovation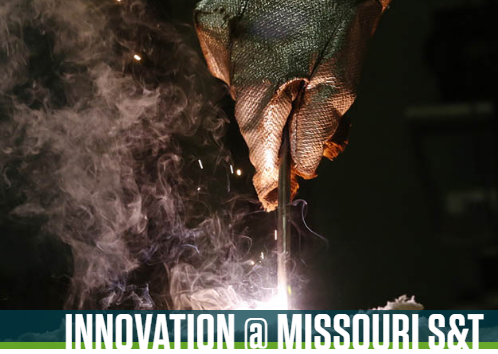 From a proposal to create synthetic amino acids to help meth babies recover from addiction to the design of a new type of robotic joint to simplify complex movements, some inventive ideas of several Missouri University of Science and Technology students are a step closer to reality thanks to the university's Miner Tank project.
Based on the hit TV show "Shark Tank," Miner Tank is a resource for entrepreneurially minded Missouri S&T students, faculty and staff to pitch their ideas for projects before the Missouri S&T Innovation Team, a panel of students, alumni, faculty and staff. Presenters only have six minutes to explain their ideas to the panel, which then follows up with questions for the individuals. The Innovation Team then determines which ideas merit funding and awards grants to support what they select as the best ideas.
Five student projects were among seven projects funded by Miner Tank this year, its third year of operation. The project is part of a broader effort to integrate a spirit of innovation into the Missouri S&T culture, says Rose Horton, executive director of strategy, planning and assessment and member of the Innovation Team. Horton also coordinates the Miner Tank pitch sessions, which are held once a semester.
Three student projects were funded this semester and two were funded in the fall 2016 semester.
This semester's funded student projects are:
The Missouri S&T Solar Car Design Team's proposal to design and build two motors for the team's newest sun-powered vehicle. The funds will help the team design electric motors to meet needs specific to the 2017 World Solar Challenge across Australia's rugged Outback in October. "A purchased motor typically costs around $12,000," says Solar Car Design Team member Will Applegate, a junior mechanical engineering major from Pacific, Missouri, "but by manufacturing our own we can cut costs in half. The largest revision to the motor will be the magnet arrangement, which will allow the motors to be thinner as well as capable of producing more torque."
An effort to create a substitute for methamphetamine to help newborn infants recover from addiction. Chemical engineering major Margaret Pitzer, a senior from Grover, Missouri, was inspired to pitch this idea because of her experience working part time at Phelps County Regional Medical Center. Pitzer works in the nursery, where she sees babies who are born with drug dependencies. While morphine can be used to wean babies off of opiate addictions, no suitable substitute exists for methamphetamine, Pitzer says. "Methamphetamine has a basic structure that resembles naturally occurring amino acids," she says. "My goal is to find a synthesis of naturally occurring amino acids to give a healthier option for babies and even for adults and mothers suffering from addiction. If we can help the mothers find a medicine that won't affect the unborn child, babies can avoid dependencies."
The design and fabrication of a "small-scale, cost-effective liquid propellant rocket" as a prototype for a larger version capable of 5- to 10-mile launch ranges. With the creation of this rocket, Missouri S&T would join a small group of other universities in the U.S. that have design teams working with liquid propellant rockets, says Zachary Martinez, a senior in mechanical engineering from Waynesville, Missouri. "Our research is in an area that isn't commonly pursued due to the size of the initial rocket," Martinez says. "There are aspects of liquid rocket design that are complicated by smaller dimensions. We will be forced to come up with uniquely creative solutions to some of the difficulties encountered in all stages of the rockets' development. We are building and testing technologies that can be scaled and applied to lower cost of access to space."
Student projects receiving innovation grants during the fall 2016 semester:
Development of a DIVO (differential servo) joint for robotics that could simplify the process to make robotic arms and other multi-jointed robotic systems. "Most robotic systems require more than one degree of freedom," says Jonathan Bopp, a senior in mechanical engineering from Kirkwood, Missouri, but "often the ones implementing these systems fail to implement or develop a cost effective solution to the system they are trying create." Bopp's DIVO joint "radically reduces the complexity required to make any type of robotic system," he says.
A video arcade system in which gamers donate the funds used to play the game to charity. This project is the idea of Melton Douglas Parham Jr., a senior in nuclear engineering from University City, Missouri. It's based on systems used in Stockholm Arlanda and Goteborg Landvetter airports in Europe, but Parham's design expands the games to allow for up to four players at one time, "allowing students to enjoy and relax by playing video games and aiding the community all at once." Assisting Parham are fellow Missouri S&T students George Holmes, a graduate student in mechanical engineering from Florissant, Missouri; Luis Pereira, a senior in computer science from Sedalia, Missouri; Keaten Matheny, a senior in nuclear engineering from Leslie, Missouri; and Alexander Scheppert, a junior in nuclear engineering from Granby, Missouri.
In addition to these initiatives, the S&T Innovation Team also awarded grants to researchers for two other projects: the 3-D printing of materials for use in separating gases to potentially remove carbon dioxide from indoor environments and a study of radioactive nanoparticles for possible cancer treatment.
Members of the Missouri S&T Innovation Team are Dr. Delbert Day, Curators' Distinguished Professor emeritus of ceramic engineering at Missouri S&T and founder of Mo-Sci, a Rolla-based manufacturer of specialty medical glasses; Dr. Petra DeWitt, assistant professor of history and political science at Missouri S&T; Dr. Dennis Goodman, director of Missouri S&T student health services; John Lovitt, a Missouri S&T graduate and entrepreneur; Dr. Nancy Stone, professor of psychological science at Missouri S&T; Keith Strassner, director of the office of technology transfer and economic development at Missouri S&T; Connor Wolk, a Missouri S&T student, entrepreneur and vice president of S&T's Technical Innovators and Entrepreneurs Society; and Dr. Joan Woodard, executive vice president emeritus of Sandia National Laboratories and a Missouri S&T graduate.
For more information about Miner Tank, visit innovate.mst.edu.