Curators approve update of Missouri S&T Campus Master Plan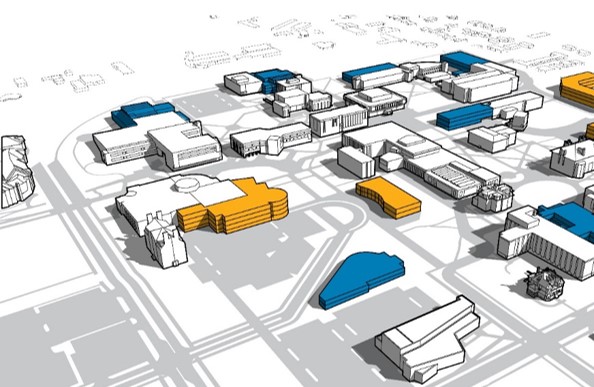 Improved athletics facilities, a new clearly defined "arrival district" off of U.S. Highway 63, student housing and academic districts, and continued growth of corporate partnerships with further development of Innovation Park are all planned changes at Missouri University of Science and Technology, as outlined in an updated Campus Master Plan.
The University of Missouri System Board of Curators approved the updated plan during its meeting on the Missouri S&T campus on Thursday, April 27.
The Campus Master Plan is designed to guide Missouri S&T's long-range physical development over the next 20 years. It was guided by the themes of Missouri S&T's strategic plan with three primary drivers:  to improve safety along U.S. Highway 63, to renovate and right-size facilities to improve use, and to reduce deferred maintenance.
"By right-sizing and reprogramming some of our existing facilities, we are making do with what we have," says Ted Ruth, director of design and construction management at Missouri S&T. "Some new facilities are planned, but much of the improvements will involve renovations and additions to current facilities and other smaller-scale projects."
Missouri S&T's Campus Master Plan update includes the following improvements:
Redevelopment of the Missouri S&T Golf Course. Missouri S&T is currently in the design phase of new driving range expected to open in Spring 2018. A portion of the range will serve the Missouri S&T golf team and a portion will be open to the public. The existing clubhouse will be removed and the maintenance shed will be reconstructed to support the driving range. The redevelopment also calls for a 2-kilometer walking and jogging trail, a disc golf course, a new turf-covered soccer field and additional multipurpose turf fields.
The northwest corner of the property will feature a parking lot to provide parking for approximately 50 information technology staff members who will move their offices to a portion of the former Mercy Medical Building, which S&T has leased from Phelps County Regional Medical Center. That parking lot is expected to open in December 2017.
Additional parking is planned near entrances to the driving range, athletics fields and jogging trails, to allow multiple points of entry to the area, Ruth says. Other planned athletics improvements include a new field house, expanded field space and support facilities that support student-athletes, intramural programs and general student recreation.
Creation of an "arrival district." In January Missouri S&T entered into a Transportation Development District (TDD) in partnership with officials from the city of Rolla, Phelps County and Phelps County Regional Medical Center. Among the projects planned by the TDD is a realignment of University Drive into the intersection of U.S. Highway 63 and Miner Circle, to improve safety along U.S. Highway 63 and create a front door for the university. The arrival district includes a new interdisciplinary research building, an expanded Havener Center and moves admissions to a new building located at the front door of the university.
Creation of an "academic district." The academic district would redistribute current and future academic buildings with Curtis Laws Wilson Library and Learning Commons at the center. With continued campus growth, academic areas will be centralized on campus and additional student support facilities and services will be located on the periphery.
Creation of new student housing districts. New student housing includes the creation of a residence hall and dining facility at the site of the former Quadrangle Residence Halls, as well as mixed-use buildings along Pine Street with apartments and office and commercial space.
Corporate partnerships. Continued growth of Innovation Park and the creation of a new "innovation campus" along Interstate 44 near the University Drive interchange will further expand entrepreneurship and partnerships with private industry and opportunities to commercialize Missouri S&T discoveries.
The master plan update involved feedback from students, faculty, staff, alumni and community leaders between October 2016 and March 2017.
Missouri S&T leaders presented their plan for capital improvements to the UM System Board of Curators during the April meeting. The Curators are expected to vote on proposed capital appropriations requests for all four campuses at their June meeting.