Associate S&T engineering dean earns outstanding educator award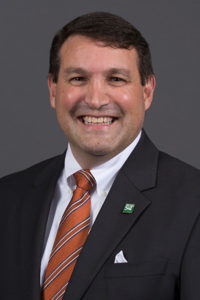 A Missouri University of Science and Technology structural engineering professor who also oversees academic affairs in the university's College of Engineering and Computing has been selected as a top educator by the Architectural Engineering Institute.
Dr. John Myers helped lead the development and implementation of the architectural engineering curriculum at S&T in 2000, soon after his arrival on campus. He spent a portion of the 2015-16 academic year as CEC acting vice provost and dean before returning to his position as the college's associate dean of academic affairs.
Myers was recognized as the Architectural Engineering Institute's 2016 Outstanding Educator at the organization's recent annual conference in Oklahoma City. The award honors career excellence in teaching, research and service.
"I very sincerely cannot think of a better candidate who in so many ways demonstrates broad excellence for our campus," says colleague Dr. Joel Burken, chair of the civil, architectural and environmental engineering department at S&T. "He answers the call when put forth."
Myers holds a Ph.D. in civil engineering from the University of Texas at Austin, a bachelor of science degree in architectural engineering from Pennsylvania State University and a master of science in civil engineering from the University of Texas at Austin.
He has received numerous awards for teaching, research and service excellence, is a fellow of the American Society of Civil Engineers, the American Concrete Institute and the Masonry Society and has published nearly 300 technical articles and reports.
As a CEC administrator, Myers heads all curriculum and instruction efforts within the college, along with development and implementation of strategic planning related to academic programs as well as faculty development and recruitment efforts.
"It's extremely humbling to have been selected for this honor among academicians who teach and support architectural engineering curriculums throughout the country," Myers says. "And it's been tremendously rewarding to watch the growth and development of our architectural engineering program since its inception.
"What I'm most impressed about is the impact of our graduates. In a relatively short period of time since we started the program, our alumni have contributed to the design and construction of many prominent facilities in the U.S., including high-rise commercial facilities, retail structures, medical and mixed-use buildings and even the new Yankee Stadium. It's been such a thrill to see what started as a conversation among two faculty members in an office 17 years ago have such a state and national impact."
Missouri S&T is home to one of 20 architectural engineering programs in this country accredited by ABET, the Accreditation Board for Engineering and Technology.