Missouri S&T announces 2017 Honorary St. Pat and Honorary Knights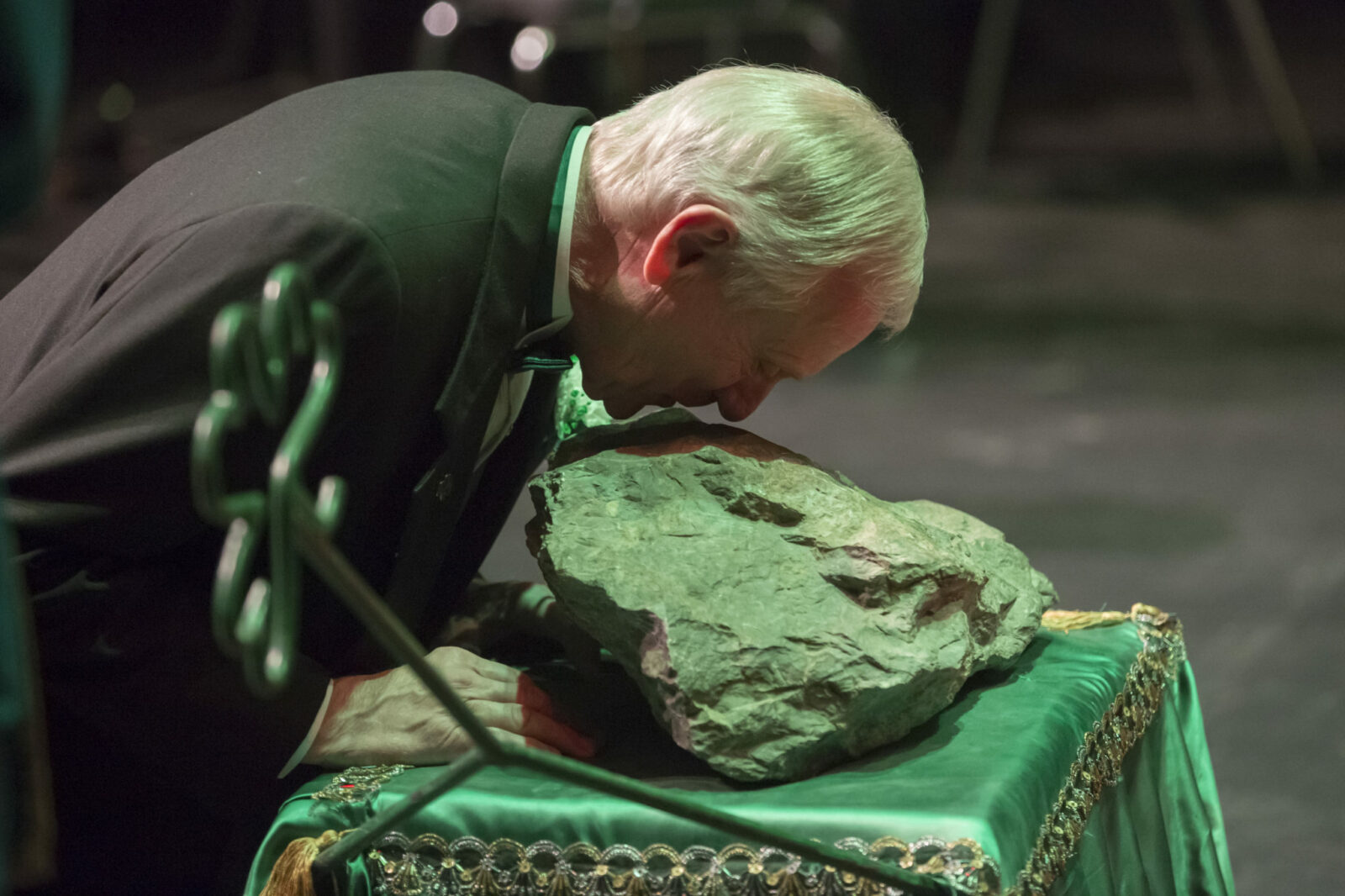 The St. Pat's Celebration Committee at Missouri University of Science and Technology has announced Bob Edwards as Honorary St. Pat and parade marshal for the 109th St. Pat's celebration. The committee also announced the 2017 list of Honorary Knights of St. Patrick. The eight Honorary Knights are Dr. Susan Bowles, Walt Branson, Alisa Green, Dr. Barbara Hale, Oscar Kemp, Dr. Ashok Midha, Dr. Melanie Mormile and Dr. David Russell.
The new knights will be honored during a public coronation at 9 p.m. Friday, March 17, in Leach Theatre of Castleman Hall on the Missouri S&T campus.
The Honorary Knights will also be a part of the 2017 St. Pat's Parade, which begins at 11 a.m. Saturday, March 18, on Pine Street in Rolla. Biographical information is as follows:
— 2017 Honorary St. Pat and parade marshal Bob Edwards
Bob Edwards of Rolla, Missouri, co-leads Grellner Sales & Service Inc. with his wife, JoAnn. Grellner is one of the largest beverage distributorships in Missouri. An honorary St. Pat's Committee representative, Edwards was named an Honorary Knight in 2014. He is a fourth-degree Knight of Columbus who serves on the board of the Pregnancy Resource Center of Rolla and is a past St. James Ambulance Board member. Edwards is active in the Association of the United States Army (AUSA), Phelps for the Fort, Rolla and St. James Chambers of Commerce and other philanthropic organizations. He and his wife have five children and 12 grandchildren.
— 2017 Honorary Knight Dr. Susan Bowles
Dr. Susan Bowles of Rolla, Missouri, is the health careers coordinator with the Mid-Mo Area Health Education Center at Phelps County Regional Medical Center. Bowles has spent her entire career in Missouri's educational programs. She has previously served as principal of Wyman Elementary School and director of the Rolla Parents as Teachers program. She earned a bachelor of science degree in art education and a Ph.D. in educational leadership and policy analysis from the University of Missouri-Columbia, and a master's degree in administration from Missouri State University. She and her husband, Steve, have three children and one grandchild. Bowles has served on the a boards of numerous area organizations, and is a Delta Gamma alumna and a member of the Rolla Cancer Gala committee.
— 2017 Honorary Knight Walt Branson
Walt Branson of Rolla, Missouri, is vice chancellor for finance and administration at Missouri S&T. Branson joined the Missouri S&T staff in August 2013. He oversees the university's budgeting, planning, business operations and environmental management functions, as well as the campus's grounds, maintenance, physical plant operations and university police. Branson has been active in the national and central associations of college and university business officers and is a university representative to community organizations. In addition, he is a member of the Phelps Regional Health Care Foundation board of directors. Prior to coming to Missouri S&T, Branson served at Indiana University-Purdue University Fort Wayne and Purdue University in various capacities.
— 2017 Honorary Knight Alisa Green
Alisa Green of Rolla, Missouri, is co-owner of Key Sport Shop, along with her husband, Tom. Key Sport Shop is a full-service screen printing, embroidery, retail and team athletic supplies business. Since buying the business in 1979, Green has worked closely with the St. Pat's Committee. Green's direct involvement with the St. Pat's celebration dates back to over 30 years ago, when she was a candidate for the Queen of Love and Beauty. Green and her husband are Corvette car aficionados, members of the National Corvette Restorers Society and are the reason new Honorary Knights are driven in style in the St Pat's parade. Green also regularly hosts an annual initiation of Lambda Chi members in their home. She and Tom, have one daughter and two grandchildren.
— 2017 Honorary Knight Dr. Barbara Hale
Dr. Barbara Hale of Rolla, Missouri, is a professor of physics and senior investigator in the Cloud and Aerosol Sciences Laboratory at Missouri S&T. Hale joined the university in 1969 with her husband, Dr. Edward B. Hale, professor emeritus and former chair of physics. She earned a bachelor of science degree in physics from Syracuse University in 1960 and a Ph.D. in physics from Purdue University in 1967. In addition to her academic activities, Hale serves Missouri S&T as secretary of the Faculty Senate, chair of the Faculty Budgetary Affairs Committee and faculty advisor for the campus chapter of Chi Omega sorority, which she helped to found in 1979. She was named Missouri S&T's 2013 Woman of the Year, and is a recipient of National Chi Omega's Lifetime Service Award and Missouri S&T's  Faculty Excellence and Teaching awards. Her present labor of love is serving as house corporation treasurer for the 100-year-old Chi Omega Chapter house at Syracuse University, where she lived as an undergraduate.
— 2017 Honorary Knight Lt. Oscar Kemp
Oscar Kemp of Rolla, Missouri, is a lieutenant with the University Police at Missouri S&T. Kemp has over 14 years of law enforcement experience and joined the University Police in 2009. Kemp has spent his tenure at Missouri S&T developing strong partnerships with students, faculty and staff. He serves as advisor to Kappa Alpha Psi Fraternity Inc. Kemp earned a 2014 Missouri S&T Staff Excellence Award, as well as University Police Meritorious Service Awards in 2011 and 2014. One of his most prized awards is the 2016 Special Olympics Outstanding Volunteer/Unsung Hero Award. Kemp has organized fundraising efforts on campus for Special Olympics Missouri for several years, beginning with co-hosting a "Dunk-a-Cop" booth for the St. Pat's Committee. Each year he is the campus representative for Law Enforcement Torch Run T-shirt sales. Recently, Kemp has worked alongside Sigma Tau Gamma to institute the Cops and Miners Paintball Challenge, which has grown to become an annual event.
— 2017 Honorary Knight Dr. Ashok Midha
Dr. Ashok Midha of Rolla, Missouri, is a professor of mechanical engineering and director of the Product Innovation and Creativity Center at Missouri S&T. Midha served as chair of mechanical and aerospace engineering from August 1997 to December 2010. Prior to joining S&T, he served on the faculty at Purdue University for 14 years, at Pennsylvania State University for five years and at Michigan Technological University for one year. Midha led Missouri S&T's $30 million department renovation and expansion project, which resulted in a 144,000-square-foot modern facility. An American Society of Mechanical Engineers (ASME) Fellow, Midha earned the ASME Design Engineering Division's Mechanisms and Robotics Award in 1998. Beginning in 2012, the ASME Mechanisms and Robotics Conference has named a track as the "Ashok Midha Symposium in Compliant Mechanisms," in recognition of his pioneering contributions to this growing and fruitful research community. Midha's research interests include rigid-body and compliant mechanism design, high-performance machinery analysis, and machine vibration and stability.
— 2017 Honorary Knight Dr. Melanie Mormile
Dr. Melanie Mormile of Rolla, Missouri, is associate provost of faculty affairs and a professor of biological sciences at Missouri S&T. Mormile joined S&T as an assistant professor in 1999, was promoted to associate professor in 2004 and was named professor in 2010. Prior to joining S&T, she was a postdoctoral fellow at Pacific Northwest National Laboratory. In recognition for her service in advocating for female students and faculty, she was named Missouri S&T's Woman of the Year in 2008. She was awarded her fifth Faculty Excellence Award in 2008. She is faculty advisor for the Mars Rover Design Team. Mormile has published 37 peer-reviewed papers in highly ranked journals in her fields of expertise and has secured over $5 million in research funding from a mixture of government, industry and university sources in support of her research. She holds two patents on the use of a haloalkaliphilic bacterium for biohydrogen gas production and one for the conversion of waste glycerol to propanediol. Mormile is a member of the Missouri Branch of the American Society for Microbiology, where she is a part of its Committee on the Status of Women in Microbiology within the Public and Scientific Affairs Board.
— 2017 Honorary Knight Dr. David Russell
Dr. David Russell of Columbia, Missouri, is commissioner emeritus of the Missouri Department of Higher Education and interim chief of staff at the University of Missouri System. Russell retired from public service in March 2016, after completing nearly six years as commissioner of higher education for the state of Missouri. Prior to assuming leadership of the Missouri Department of Higher Education, Russell had a 19-year career with the University of Missouri System, where he served successively as director of university relations, senior associate vice president, and chief of staff and general officer. He returned to the University of Missouri System in September 2016 as interim chief of staff in the Office of the President. Russell serves on the boards of Columbia College and Western Governors University-Missouri. He is chair of the board of directors for the Community Foundation of Central Missouri. Prior to his career in higher education, Russell served in the United States Army as a commissioned officer. He and his wife, Lee, have six sons and 11 grandchildren.