Learn locally, act globally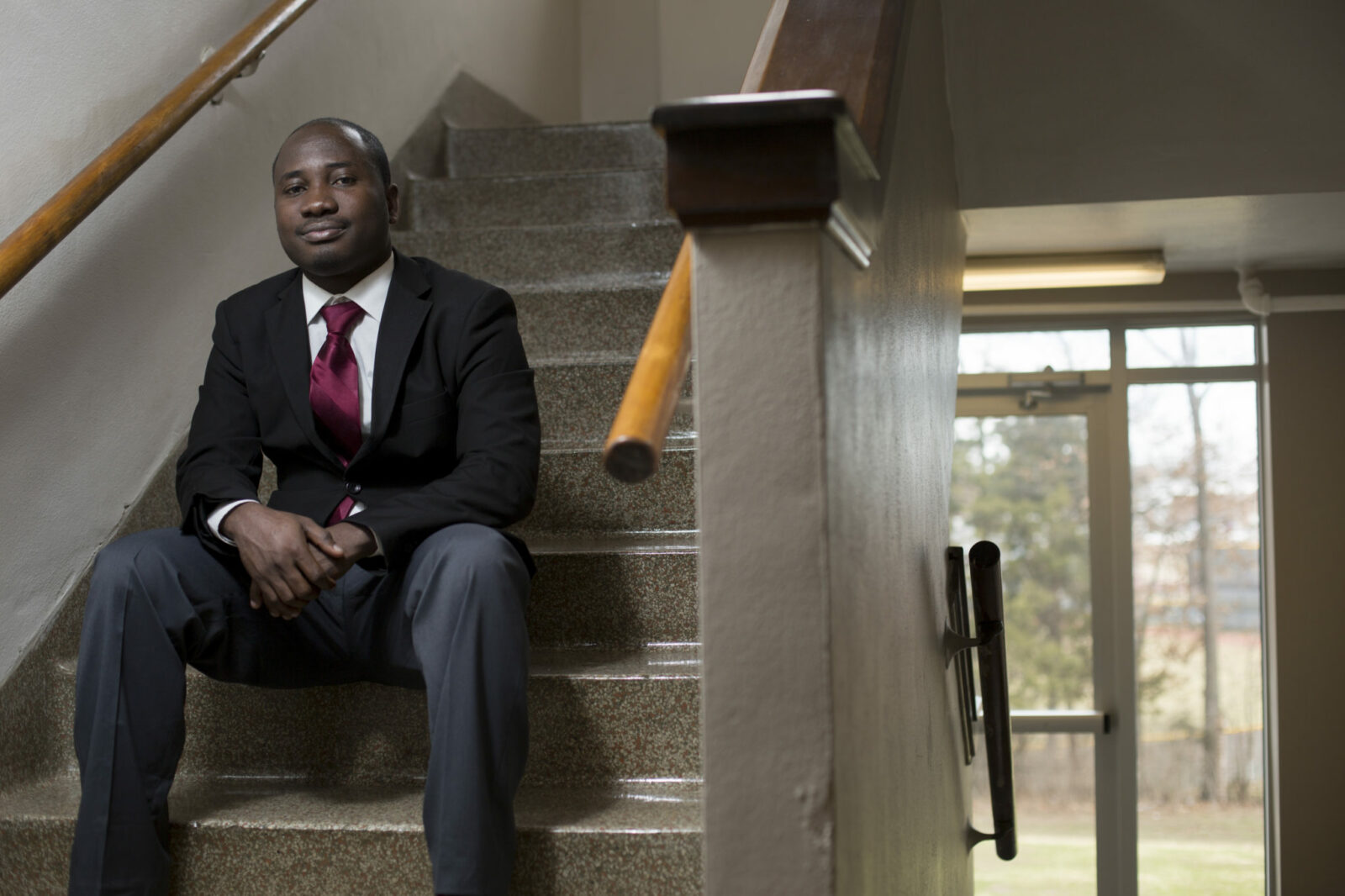 African Ph.D. student works on small-scale mining safety in Ghana
As a doctoral student in mining engineering, Kenneth Bansah works, learns and lives nearly 10,000 miles from his boyhood home of Tarkwa, Ghana, a gold mining hub in western Africa.
But even as he fine-tunes his dissertation on mitigating sinkhole hazards and other karst formations − and takes care of three children ages four and under while his wife completes her own graduate studies in Michigan – the subsistence gold miners of Ghana are never far from Bansah's mind.
Or his heart.
It's known as "galamsey," illegal mining by untrained workers who routinely brave dangerous conditions and toxic exposure to feed their families, in some cases using picks and shovels to sift through the leftovers ignored by industrialized mining operations. The term is derived from the English phrase, "gather them and sell."
The World Bank estimates that more than 20 million people globally living in the "poorest and most remote rural areas, with few employment alternatives" practice what's also known as small-scale or artisanal mining.
In Ghana, such mining (both legal and illegal) accounts for nearly one third of gold production in a nation that before gaining its independence 60 years ago was known as the Gold Coast. Diamonds are also mined in Ghana, although on a much smaller scale.
Government regulations enacted in the late 1980s to monitor artisanal mining have failed to keep pace with the growth of the market – witness the arrest and expulsion of thousands of illegal Chinese miners in 2013. Armed with crude excavators and pumps, the modern-day gold rushers left behind pockmarked forests, abandoned mines susceptible to collapse, and rivers contaminated by the mercury used to extract gold.
The artisanal miners who remain often engage in those same harmful practices, albeit on a smaller scale, says Bansah. Many are women whose children are forced by economic necessity to work. Pulled from school at an early age, the children usually remain trapped in the cycle of poverty, he explains.
"I was fortunate," says Bansah, a police officer's son who taught at the University of Mines and Technology in his home country after earning an advanced degree there. "But there are many people in my country who have no source of income other than subsistence farming. They can't take care of their children. So they look at mining as a means of survival."
In 2016, Bansah enlisted several colleagues, including former students, to create the nonprofit group Mining & Community Research. Its goal: using scientific rigor and technical expertise to promote sustainable development.
Over the recent winter break, he returned to Ghana to work on three projects: a series of "Getting Children Out of Galamsey" community workshops; skills training for female artisanal miners; and an infrastructure improvement effort to raise money for a village's new clean water drinking system.
Photos from Bansah's visit convey the depth of the challenges more acutely than any academic journal article could ever hope.
In one set of images, some preteen boys in the coastal town of Ghana Nungua frolic in brown murky water contaminated by illegal artisanal mining. In another, a colleague of Bansah's holds a cloudy water sample for which a lab test would only confirm what is plainly visible.
"Often times, we do a lot of research that is not directly affecting the lives of the people we do the research about," Bansah says. "You spend a whole lot of money doing research, and the reports gather dust on a shelf."
Neil Anderson, Bansah's thesis adviser, describes him as an "exceptionally mature" scholar whose dedication to improving his homeland is uncommon among the ranks of more singularly-focused graduate students.
In Bansah's case, that meant teaching short courses on mining engineering while back in Ghana to help cover the costs of his nonprofit. While at S&T, he's also worked as a teaching fellow at a Saudi Arabian university to raise additional money for those efforts.
"Very few students are broad-based enough to look around and understand there are other important issues (beyond their dissertation)," says Anderson, a professor of geological engineering.
"For most, their other activities are more like hobbies."
"I think he's going to do amazingly well," Anderson adds. "He's very, very determined and very committed."
At S&T, Bansah works out of the Rock Mechanics and Explosives Research Center, where his 3-year-old daughter sometimes joins him on a break from daycare. After his wife put her own academic career on hold for several years once their children were born, the 33-year-old father embraces his role as primary caregiver.
"She's been out of the classroom for some time now," he says. "I didn't want to burden her."
Bansah anticipates receiving his doctorate in December. He then plans to return to his home university, and continue working at both the nonprofit as well as the Safety & Environmental Research Consultancy, a for-profit consulting firm he established in 2010.
"The little things I can do, I have to do," he says. "Many of the stories you hear would break your heart."