Super sleuth: S&T biology graduate helps track down issues in women's health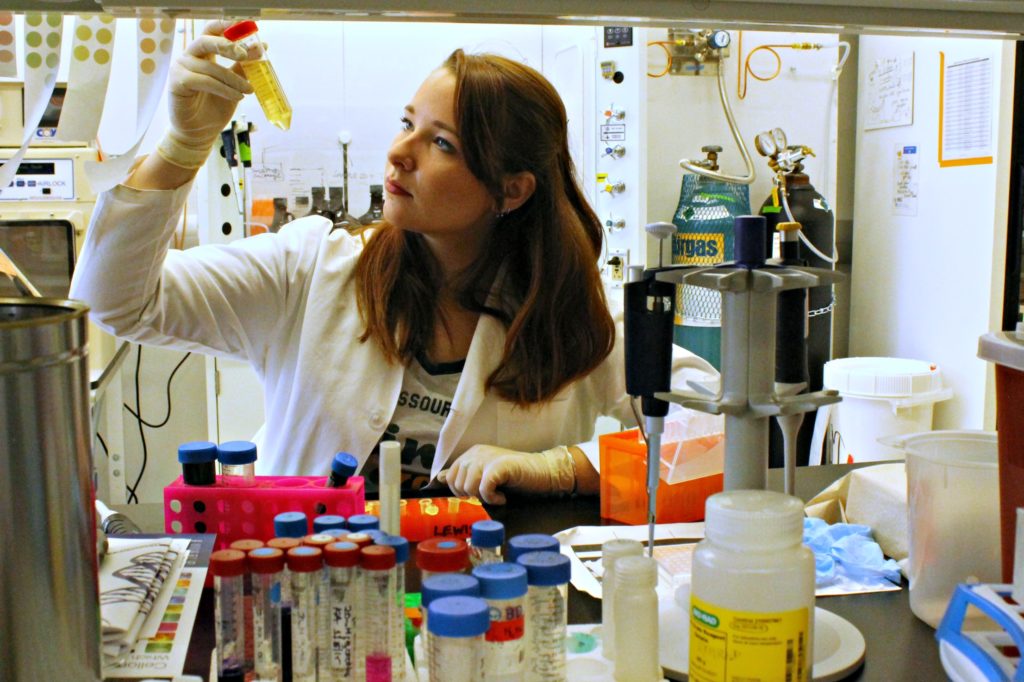 Grace Deitzler in her lab at Washington University. Photo by Kim Deitzler.
Grace Deitzler had a problem.
With wide-ranging interests in high school, she couldn't decide what she wanted to focus on when she went to college. Music education? Interesting, but no. Theater? More of a hobby, so no to that, too. Environmental engineering? With all the math that's needed, thanks, but no thanks.
Biology? Yes? Yes.
A December 2016 biological sciences graduate from Missouri S&T, Deitzler's chosen field became clear when she took teacher Julie Ertmann's advanced placement biology class her senior year at University City High School in the St. Louis suburbs. That beginning led Deitzler to where she is today, a research scientist in the Washington University (St. Louis) Lewis Lab of Microbial Glycobiology & Women's Health. And that is leading Deitzler to where she wants to be, as a Ph.D. physician and scientist helping unlock the secrets to treating infectious diseases.
"Having a Ph.D. as well as an MD will allow me to go into research that is clinically applicable," Deitzler says.
Actually, she's doing that kind of research right now.
Women's health
Deitzler spent the summers in 2014-16 as an intern and research technician in the Lewis Lab tackling problems with women's health — and more specifically with women's reproductive health. She did research on urinary tract infections and on bacterial vaginosis in pregnant women.
According to the Centers for Disease Control and Prevention, bacterial vaginosis — the most common vaginal infection in women ages 15-44 — can lead to premature birth and low birth weight. It also can increase a women's risk of contracting a sexually transmitted disease, including HIV.
"I've always kind of been interested in women's health," Deitzler says. "It's fulfilling to me because we're working on issues that can apply to women around the world."
The team at Washington University pushes her to be her best, Deitzler says, but the work is rewarding.
"I think maybe she says we challenge her because we think she is a gifted young scientist, she works hard and we think she can make important contributions to women's health, or at least to help better understand the biology of disease in the female reproductive tract," says Dr. Amanda Lewis, the lab's director. "Grace is a wonderful part of our team. She strives to be a conscientious experimental biologist and brings a welcome boisterousness to the lab that makes the science even more fun."
Deitzler's work has helped expand the knowledge of "genome sequences of nine gram-negative vaginal bacterial isolates" and the "genome sequences of 14 Firmicutes strains isolated from the human vagina." These papers were published on the American Society for Microbiology's Genome Announcements website, and because of Deitzler and the team's work, the genomes have been sequenced and both the genomes and strains are available for public use.
On those two open-access papers, Deitzler was the lead author, and on two others she was named as the second author.
It is not typical, Lewis says, for undergraduates to be listed first on research papers.
"Usually, in our field, this means the person did an important share of the work and wrote the first draft of the manuscript," she says. "In this case, Grace isolated the bacterial strains along with a team of others who were working on this project. We sent the strains to a team funded by the Human Microbiome Project to have them sequenced. Grace did a good job writing up the first drafts of these manuscripts."
Well-rounded
Although Deitzler knows where she wants to go, she hasn't pursued that goal with a single-minded focus that excludes all other pursuits. On the contrary.
Her last two semesters at Missouri S&T, Deitzler served as editor-in-chief of the Missouri Miner student newspaper after previously working there as a writer. She has worked on-air at KMNR 89.7FM — and has shown others the ropes at the radio station.
Deitzler's outside activities didn't stop there. The Helix Life Sciences Club, the Miner League Theater Players/Alpha Psi Omega theater honors fraternity, and the Phi Sigma biological sciences honors fraternity were just a few of her other activities.
She also volunteered as an Opening Week mentor for incoming freshmen at S&T. She helped raise money for the Russell House and the Rolla Animal Shelter. She helped Rolla's G.R.A.C.E. adopt-a-family program.
Deitzler credits her parents, Ed and Kim Deitzler, with instilling a curious nature in their daughter.
"They have always been my biggest supporters in whatever I've decided to pursue, especially in science, and I owe a lot of my success to their encouragement," she says.
And Ertmann isn't surprised at all of Deitzler's activities at Missouri S&T because she saw the same kind of devotion when Deitzler was in high school. When it came time to send in college applications, Ertmann wrote Deitzler a letter of recommendation.
"One of her best qualities is curiosity," Ertmann wrote. "She often drives class discussion by asking thought-provoking questions, which leads others to comment and participate as well."
For her part, Deitzler gives Ertmann perhaps the best recommendation a teacher can receive.
"Her passion about the subject opened my eyes that biology was more than just a class I was taking," Deitzler says.
And now, it's Deitzler's passion, too, one that has led her to Missouri S&T — and, she hopes, beyond.
While she works in Lewis' lab, Deitzler is also studying for the Medical College Admission Test (MCAT), and if she does well, she'll start applying to medical schools in September. Or she could go back to school and work on a Ph.D. first and then apply for medical school.
Either way, her goal remains the same.
"I want to be able to solve national and global problems of infectious diseases and other health epidemics," Deitzler says, "and this desire has been inspired by the knowledge I gained in my undergraduate program."