'Mickey's Christmas Carol' to show at Leach Theatre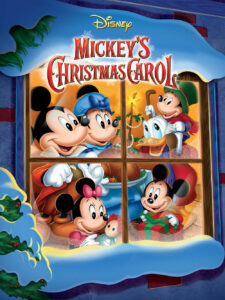 Get in the holiday spirit by watching Mickey's Christmas Carol, the holiday movie in the Leach Theatre Family Film Series, which will be shown at Missouri University of Science and Technology in December.
The film begins at 11 a.m. Saturday, Dec. 10, in Leach Theatre, located in Missouri S&T's Castleman Hall at 10th and Main streets in Rolla. Tickets are $4 and will be available for purchase at the Leach Theatre Box Office at 10 a.m. the day of the show.
The film, released in 1983, was Mickey Mouse's first movie since 1953. It follows the story of Mickey, Minnie and all their friends as the characters in Charles Dickens' beloved holiday classic "A Christmas Carol." When Scrooge McDuck has no Christmas spirit, three ghosts try to show him the error of his ways.
There will be multiple showings of the film from 11 a.m. to 1:30 p.m. Santa's Workshop will begin at 11:30 a.m. and will continue until 2 p.m. Santa Claus will visit and give children the chance to tell him their Christmas wish list. Santa's Workshop will give children the opportunity to purchase gifts for family and friends for $1.50 each.
Lunch, including a main dish, side and drink, will be available for purchase in the lobby of Leach Theatre after the film. Admission and lunch can be purchased for $6. In the lobby following the film, a special holiday-themed project will be available for $1, other crafts and coloring pages will be available for free.