Three Missouri S&T choirs to perform Nov. 14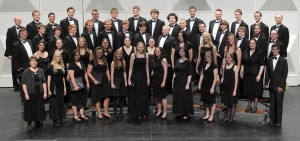 Hear an evening of music at Missouri University of Science and Technology's fall choir concert this November. The Chamber Choir, Men's Chorus and University Choir will all perform at the event, titled "Modern Choral Masterpieces."
The performance will be held at 7:30 p.m. Monday, Nov. 14, in Leach Theatre of Castleman Hall, located at the corner of 10th and Main streets in Rolla. Lorie Francis, an assistant teaching professor in arts, languages, and philosophy at Missouri S&T, will conduct the choirs.
The concert will begin with Chamber Choir performances of "Alma Redemptoris" by Gyorgy Orban and "Miniyama Nayo" by Paul John Rudoi. Following those two pieces, the Men's Chorus will perform "Sure on This Shining Night" by Morten Lauridsen, "Danny Boy" by Kevin Memley and "Nothin' Gonna Stumble My Feet" by Greg Gilpin.
The University Choir will perform "Chindia" by Alexandru Pascanu and "Gloria" by Craig Courtney. To conclude the program, the Chamber and University choirs will jointly perform "Northern Lights" by Ola Gjeilo.
Tickets are $5 for the general public and free for Missouri S&T students who present a valid ID, and youth age 18 and younger. Tickets can be purchased 9 a.m. to 4 p.m. Monday through Friday in the Leach Theatre Box Office located in the vestibule of the main entrance of Castleman Hall, facing 10th Street, or by calling 573-341-4219.
For more information on the concert or Missouri S&T choirs, contact Francis at lorief@mst.edu, or call the Missouri S&T performing arts office at 573-341-4185.