Missouri S&T mining expert helps write new rules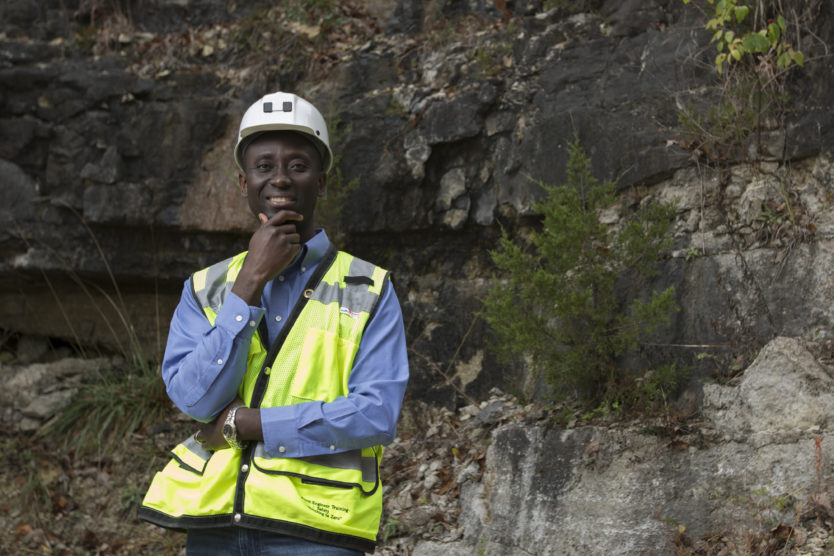 A mining expert from Missouri University of Science and Technology lent a hand in writing new Securities and Exchange Commission (SEC) mining disclosure rules that could guide the industry for the next 20 to 30 years.

Dr. Kwame Awuah-Offei, associate professor of mining engineering at Missouri S&T, worked for the SEC from early February 2015 to mid-August 2016 in Washington, D.C., to craft guidelines on disclosures on mine property and payments by publicly traded mining companies. The current mining property disclosure rules have been in place for 30 years, and if accepted, the new ones — designed to bring the United States more in line with international standards — should last at least that long.
"You don't want to make rules that are obsolete quickly," Awuah-Offei says. "The hope is that they apply today, but also to new techniques and ways of working in the future."
Mineral resources and reserves are at the heart of the property rules.
During the past 30 years, many foreign countries adopted disclosure standards based on the Committee for Mineral Reserves International Reporting Standards (CRIRSCO). Those standards differ from U.S. rules. The CRIRSCO standards require companies to disclose material mineral resources; require that any public report about a company's exploration results, mineral resources and mineral reserves be prepared by a "competent or qualified person"; and permit disclosure of mineral reserves to be based on a preliminary feasibility study or a final feasibility study.
Resources are the material in the ground that companies think can be economically mined but have not yet demonstrated — by a full engineering and economic feasibility study — that it can be mined at a profit. It is material that has "economic potential," Awuah-Offei says. Reserves, on the other hand, are the resources that companies have demonstrated — after an engineering and economic feasibility study —can be mined at a profit.
Under the current rules, a U.S. company can only disclose its reserves, not its resources. Other countries, such as Canada, can report on their resources, which can make them more attractive to investors. Even though their reserves may be the same as a U.S. company, by reporting their resources they look like a company with more valuable mining properties. And that's important because it matters to engineers and geologists, companies, employees, investors and financial advisors who make decisions based on the value of these properties, Awuah-Offei says.
In crafting guidelines, Awuah-Offei worked with a team from the Division of Corporation Finance with input from other offices — such as the Office of the General Counsel, and the Division of Economic and Risk Analysis — to propose rules for the Commission's consideration.
"It's not enough to say the language is clear to an engineer or scientists, it has to be clear to a jury," Awuah-Offei says. "You have to be very precise. I thought I was a good writer, but this was a whole other game."
Once the Commission proposed the rules, a public comment period began. As of early November, more than 70 companies, law firms, associations and individuals had sent suggestions, complaints or questions. The agency will consider these comments in deciding whether to adopt final rules, and, if so, what form the final rules will take.
His appointment with the SEC was longer than the original one-year period. During the extended period, he also worked on the final rules for payments by companies engaged in resource extraction. Previous resource payment rules were challenged, and on July 2, 2013, the U.S. District Court for the District of Columbia vacated them. In September 2015, the court ordered the SEC to enact a final rule, which it did in December 2015.
The final payment rule went into effect on Sept. 26, 2016, and mining, oil and gas companies must comply with it for fiscal years ending on or after September 2018.
Basically the rules say a company must disclose all of the payments it makes "to further the commercial development" of minerals, oil and gas. These include taxes, royalties, licenses and bonuses, among many others. The rule also allows a company to aggregate projects as long as they work toward a common end.
Staying in Washington longer than originally intended had its benefits. Awuah-Offei and his family — wife Meta and children Immanuel and Sarah — visited historical sites and museums in the Capitol. They also took a trip to New York and did all the touristy things, such as visiting Central Park, Times Square, the Empire State Building and the 9/11 Museum.
With a bigger Ghanaian population in and around the Capitol, the family easily found traditional foods such as Shito, "a kind of spicy hot sauce," he says, and gari, which is made from the cassava root. To get these in Missouri, a trip to St. Louis is necessary.
Despite the experiences, Awuah-Offei is glad to be back at work at Missouri S&T, with the familiar rhythms he is used to in the Ozark foothills.
"There's a small-town feel here in Rolla," he says. "You don't have people immediately honk at you if you slow down at an intersection."
###