Westenberg named interim chair of biological sciences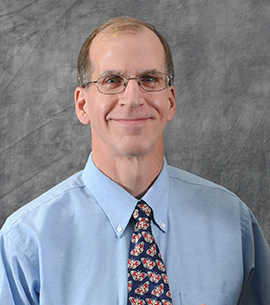 Dr. David J. Westenberg, associate professor of biological sciences at Missouri University of Science and Technology, has been named interim chair of biological sciences. The appointment took effect Sept. 1.
Westenberg took over for Dr. Yue-wern Huang, professor of biological sciences, who had served as interim chair since July 2015 following the retirement of former chair Dr. Robert Aronstam. Huang will remain on the faculty and return to his active research program.
"Dr. Yue-wern Huang was a passionate and effective advocate for his department's interests during his appointment as interim chair throughout the past year," says Dr. Stephen Roberts, dean of the College of Arts, Sciences, and Business at Missouri S&T. "It was a great pleasure to work with him in this role, and I am grateful for his dedicated service to the faculty and students in biological sciences."
Westenberg joined the Missouri S&T faculty in 1997 and was named associate professor in 2003. His research interests include antibacterial materials, microbiology education and rhizosphere microbiology.
"Dr. Dave Westenberg has a long history of outstanding teaching and service to this university, and I have great confidence in his ability to lead the department of biological sciences in the coming year," Roberts says.
This past summer, Westenberg, who is also co-director of the Missouri S&T Science Education and Quantitative Literacy (SEQL) program, led a series of interactive workshops for local children and the general public, as well as K-12 teachers, to show the importance of synthetic biology and its role in everyday life. Synthetic biology is a discipline that combines engineering and biology.
Last fall Westenberg was named as one of 15 research ambassador for the German Academic Exchange Service (Deutscher Akademischer Austausch Dienst). In 1991, he served as a visiting scientist at the University of Göttingen for two years. He also served as a visiting scientist at Philipps University in Marburg, Germany, in 2005.
Westenberg earned a bachelor of science degree in microbiology and public health from Michigan State University in 1982 and earned a Ph.D. in microbiology and molecular genetics from the University of California-Los Angeles in 1991.